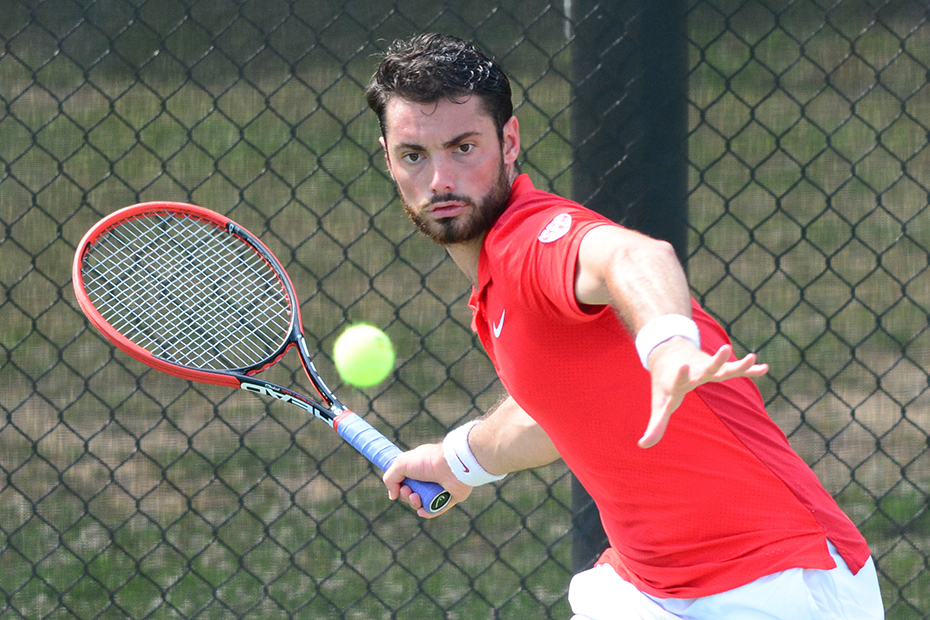 No. 18 Arkansas Falls In SEC Tournament
COLUMBIA, S.C. — Playing South Carolina for the second time in five days, the No. 18 Arkansas men's tennis team fell to the Gamecocks by a score of 4-1 in the opening round of the Southeastern Conference Tournament on Thursday morning.
Giammarco Micolani earned the lone point for the Razorbacks (19-8, 7-5 SEC), winning for the 11th-straight time on court 4 with a straight-set victory over Alex Fennell. During his win streak at the No. 4 spot, Micolani has dropped only three sets out of 25 total played.
South Carolina (14-14, 4-8 SEC) claimed the doubles point with wins at No. 1 and No. 2, then took two of the first three singles results to jump out to a 3-1 lead. After dropping the first set 6-2, Johan den Toom responded with a 6-0 win in the second, but his opponent Wood Benton outlasted the junior 6-3 in the deciding set to give the team match to the host Gamecocks.
"South Carolina was just too good again; give them a lot of credit for playing well today," head coach Andy Jackson said. "We will take a break, regroup and see if we can play better leading up to our next match. We're excited to find out where we land for the NCAA Tournament."
UP NEXT
Arkansas will wait to learn its postseason seeding until the NCAA Tournament Selection Show on Tuesday, May 3. The event will begin at 4:30 p.m. CDT and stream live online.
TODAY'S RESULTS
DOUBLES
1. No. 67 Gabriel Friedrich/Harrison O'Keefe (USC) def. No. 19 Giammarco Micolani/Mike Redlicki (AR) 6-4
2. Alex Fennell/Sam Swank (USC) def. Jose Salazar/Adam Sanjurjo (AR) 6-1
3. Yancy Dennis/Andrew Schafer (USC) vs. Santiago Munoz/Johan den Toom (AR) 4-5, unfinished
SINGLES
1. No. 58 Gabriel Friedrich (USC) vs. No. 25 Mike Redlicki (AR) 4-6, 6-4, 5-2, unfinished
2. Harrison O'Keefe (USC) vs. No. 72 Jose Salazar (AR) 6-7 (5), 6-6, unfinished
3. Andrew Schafer (USC) def. Santiago Munoz (AR) 6-1, 6-0
4. Giammarco Micolani (AR) def. Alex Fennell (USC) 6-3, 6-3
5. Thomas Mayronne (USC) def. Adam Sanjurjo (AR) 7-6 (6), 6-0
6. Wood Benton (USC) def. Johan den Toom (AR) 6-2, 0-6, 6-3
ORDER OF FINISH
Doubles (2,1); Singles (3,4,5,6)