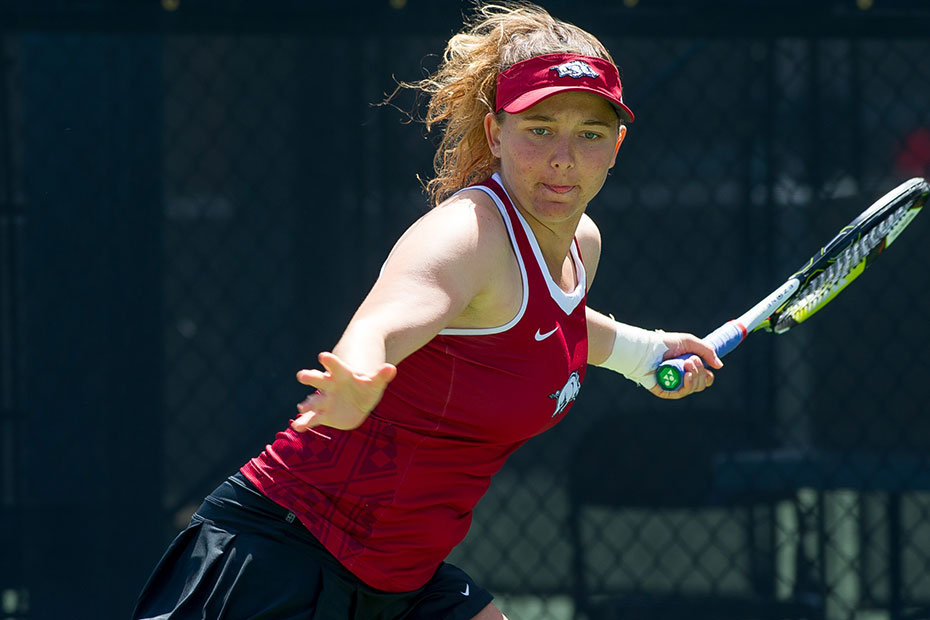 No. 21 Kentucky Outlasts Razorbacks
FAYETTEVILLE, Ark. – The No. 27 Arkansas women's tennis team dropped a 4-3 decision to No. 21 Kentucky at the George M. Billingsley Tennis Center Friday.
"This one certainly stings because we played so well at home, and we had our chances to get the win," head coach Michael Hegarty said. "Credit Kentucky for that. We have a great opportunity Sunday, and I expect we will turn around very quickly from today."
The setback moved the Razorbacks' record to 16-9 overall and 5-5 in Southeastern Conference play. The Wildcats improved to 15-7 and 4-6 in conference action.
Kentucky gained the early 1-0 advantage by claiming a tight doubles point. The Wildcats' 82nd-ranked pair of Nadia Ravita and Justina Mikulskyte earned a 6-2 victory over the Razorbacks' senior duo of Makenzie Craft and Flavia Araujo at the No. 2 position. Arkansas' tandem of sophomore Mia Jurasic and freshman Ana Oparenovic responded with a 6-2 win at No. 3 over Wildcats Akvile Parazinskaite and Kirsten Lewis. The opening point came down to the top spot where Kentucky's second-ranked duo of Mami Adachi and Aldila Sutjiadi held off Arkansas' 77th-ranked pair of senior Yuliya Lysa and junior Shannon Hudson 7-6 (0).
Lysa tied the overall match 1-1 by defeating Kentucky's No. 56 Mikulskyte 6-4, 6-1 at the No. 1 singles position. The win upped her record to 11-4 in dual matches and 7-3 in SEC play.
Kentucky took the lead again with a 6-4, 6-2 victory from Sutjiadi over Oparenovic at No. 2.
The Wildcats went on to pick up back-to-back victories on courts three and six to clinch the overall match at 4-1. Kentucky's Ravita defeated Hudson 7-5, 6-2 at No. 2, while Lewis defeated Arkansas junior Sasha Shkorupeieva 7-5, 6-3.
After the clinch, Kentucky retired from the final two matches. Craft was tied with Kentucky's Parazinskaite 6-4, 2-6, 1-1 at No. 4, and Jurasic trailed Kentucky's Adachi 6-7 (0), 5-2.
The Razorbacks will remain home to host defending national champion No. 5 Vanderbilt Sunday at noon.
Singles Competition
1. No. 34 Yuliya Lysa (ARK) def. No. 56 Justina Mikulskyte (UK) 6-4, 6-1
2. No. 53 Aldila Sutjiadi (UK) def. No. 86 Ana Oparenovic (ARK) 6-4, 6-2
3. Nadia Ravita (UK) def. Shannon Hudson (ARK) 7-5, 6-2
4. Makenzie Craft (ARK) def. Akvile Parazinskaite (UK) 6-4, 2-6, 1-1, retired
5. Mia Jurasic (ARK) def. Mami Adachi (UK) 6-7 (0), 5-2, retired
6. Kirsten Lewis (UK) def. Sasha Shkorupeieva (ARK) 7-5, 6-3
Doubles Competition
1. No. 2 Mami Adachi/Aldila Sutjiadi (UK) def. No. 77 Yuliya Lysa/Shannon Hudson (ARK) 7-6 (0)
2. No. 82 Nadia Ravita/Justina Mikulskyte (UK) def. Makenzie Craft/Flavia Araujo (ARK) 6-2
3. Mia Jurasic/Ana Oparenovic (ARK) def. Akvile Parazinskaite/Kirsten Lewis (UK) 6-2
Order of finish: Doubles (2,3,1); Singles (1,2,3,6)