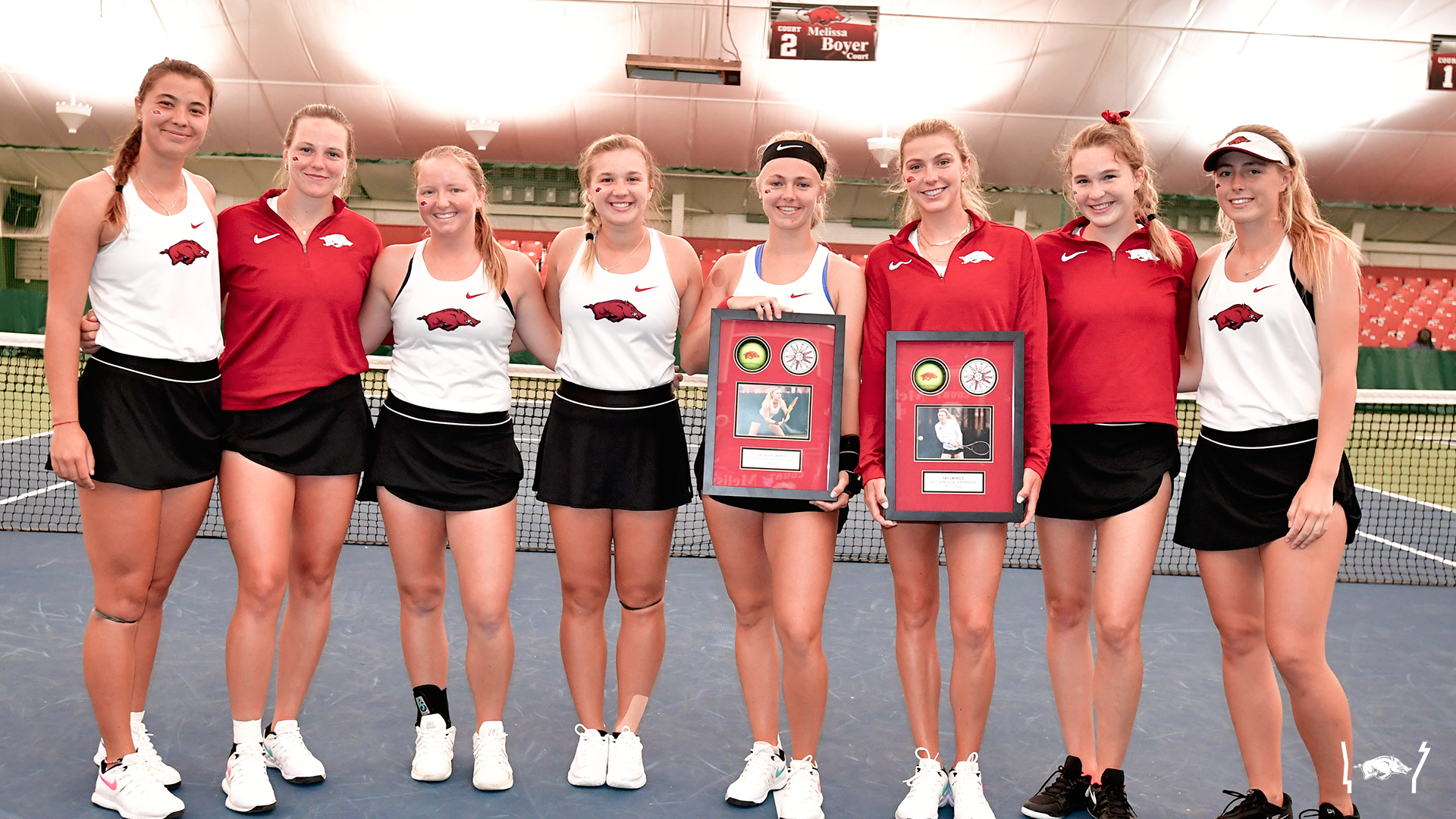 No. 33 Women's Tennis Sweeps LSU, 7-0
FAYETTEVILLE, Ark. – The No. 33 University of Arkansas finished the regular season with eight Southeastern Conference wins with the 7-0 win over No. 69 LSU, its most conference wins since 2009. The Razorbacks improve to 15-8 overall and 8-5 in conference play.
Arkansas took a 1-0 lead, clinching the doubles point over the Tigers. The No. 43 tandem of Morgan Cross and Tatum Rice took the first doubles win on court one, defeating Tigers' Safiya Carrington and Taylor Bridges. On court two, Lenka Stara and Laura Rijkers gave the Hogs the advantage headed into singles play with a 6-2 win.
The Hogs kept the momentum rolling into singles play, claiming the first set on six courts. Sophomore Kelly Keller struck first, grabbing a 6-3, 6-1 win on court two over LSU's Nina Geissler. Keller finishes the regular season with a 6-6 record at the No. 2 position.
Graduate student No. 99 Tatum Rice took court one 6-3, 6-4 over No. 83 Safiya Carrington to put the Razorbacks up 3-0. Rice gets her fourth straight win, all over ranked opponents to improve to 12-7 at the No. 1 position for the Razorbacks.
On court five, sophomore Morgan Cross clinched the match win for Arkansas in second-set tiebreaker 6-1, 7-6 (7-4). Sophomore Lenka Stara added on to the wins, taking 12-straight sets to defeat her Tigers opponent Bridges 3-6, 6-0, 6-0 on court four. Indianna Spink battled back from a first-set loss to take the next two in a 2-6, 6-1, 6-4 defeat over Ena Babic on court three.
Looking to complete the sweep, senior Laura Rijkers forced a tiebreaker in the third set on court six. Rijkers closed out the match in a 6-3, 3-6, 7-6 (7-5) to give Arkansas its first complete sweep of the season.
The Razorbacks are back in action next week in Gainesville, Fla. for the SEC Tournament. Arkansas will be the five-seed, taking on the winner of #13 Mississippi State vs. #12 Missouri on Thursday, April 20 at 8 a.m. CT.
For the latest information on all things Arkansas Women's Tennis, follow the Hogs on social media by liking us on Facebook (Arkansas Razorback Women's Tennis) and following us on Twitter and Instagram (@RazorbackWTEN).