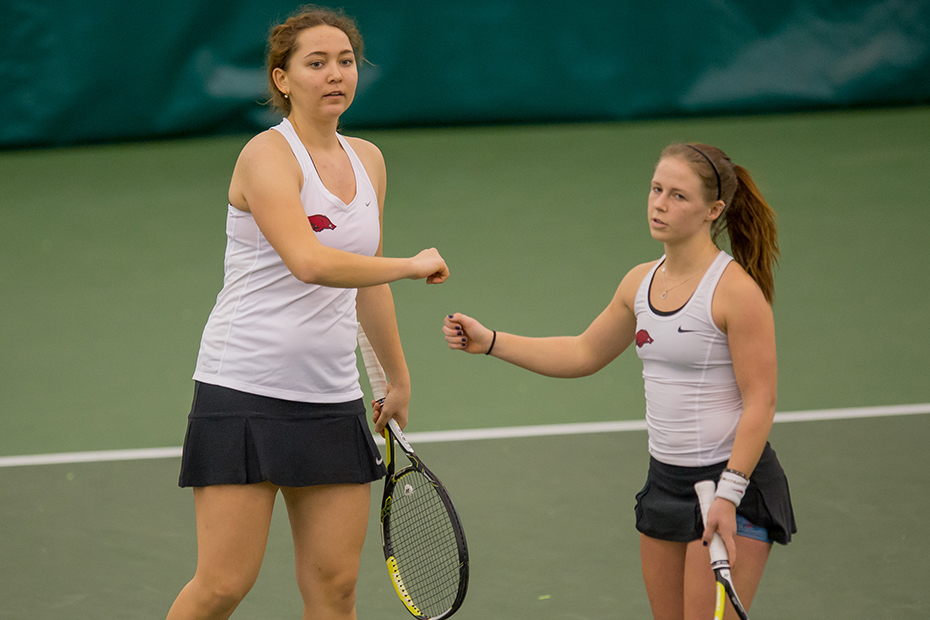 No. 38 @RazorbackWTEN On The Road To Play Two Ranked Foes
LIVE SCORING (Both matches)
FIRST SERVE
Off to a 10-2 record to open the season, the University of Arkansas women's tennis team heads north this weekend to West Lafayette, Ind., to play two ranked opponents. The No. 38 Razorbacks play at No. 32 Purdue Feb. 20 at 2 p.m. CT and then turn around for a neutral site match against No. 54 Memphis Feb. 21 at 11 a.m. CT. Both matches will be contested from the Schwartz Tennis Center on the campus of Purdue. 10-2 is the best start to the season since 2011, when the Razorbacks opened the campaign 12-2. The Razorbacks are also one of two teams (Auburn) in the Southeastern Conference to have already recorded double-digit wins this season.
"We have been pleased with our progress during non-conference play," head coach Michael Hegarty said. "This weekend is another great test of our level as we get close to SEC action."
LAST POINT PLAYED
Playing its first match since Feb. 1, Arkansas beat Jackson State on Feb. 15 in three separate matches, improving its record to 10-2. All three victories were claimed by a 4-0 margin.
NOTES FROM JACKSON STATE (Feb. 15)
• Arkansas improves to 5-0 all-time against Jackson State
• Behind her three wins Sunday, junior Yuliya Lysa leads the team in singles wins this spring with a 9-1 record
• Sophomore Oleksandra Shkorupeieva is second on the team in singles wins, posting an 8-2 record. Four of her wins have come by a 6-0, 6-0 shutout of the opposition.
• Arkansas remains unbeaten this season on court four, amassing a 9-0 mark.
IN THE POLLS
In the Feb. 17 ITA poll, the Razorbacks checked in at No. 38, marking the third straight poll in which Arkansas has moved up. Arkansas has been ranked in 119 consecutive weekly ITA polls dating back to 2008.
AGAINST NON-CON RANKED FOES
This weekend's matches will mark the third and fourth ranked opponents Arkansas has faced in non-conference play. The Razorbacks are 1-1 against ranked teams in the non-conference this season, dropping a 4-3 decision to No. 55 Wichita State and beating No. 24 Oklahoma 4-3. All-time under Coach Hegarty, the Razorbacks are 33-28 (.541) against non-conference ranked opponents.
POINTING OUT PURDUE
The No. 32 Boilermakers will be playing their fifth match of the season on Friday, entering the match against Arkansas with a 2-2 and 0-1 Big Ten mark. Purdue has played ranked opponents in all four of its matches, defeating No. 42 Washington and No. 25 Tulsa, and falling to No. 14 Clemson and No. 23 Northwestern. In singles, senior Daniela Vidal is ranked No. 105, holding a 2-2 mark in dual play on the top court. In doubles, Vidal and Tess Bernard-Feigenbaum are ranked No. 24, while posting a 3-1 record. Arkansas is 0-2 all-time against Purdue, losing 5-2 in the last meeting between the schools on Feb. 16, 2014. Laura Glitz is in her eighth season as head coach.
MINGLING WITH MEMPHIS
The Tigers enter Saturday's match ranked No. 54 nationally with a 6-5 record. Memphis is 1-5 against ranked foes this season, beating No. 60 Furman and losing to No. 4 Duke, No. 11 Vanderbilt, No. 26 Texas Tech, No. 45 Utah, and No. 62 William & Mary. Sophomore Anki Wind owns a 5-2 record when competing on the No. 1 singles court this season. Wind teams with Alyssa Hibberd on the top doubles court, as the duo owns an 8-1 record thus far. Arkansas is 16-1 all-time against Memphis, winning the last meeting between the schools 6-1 on Feb. 26, 2010. Hayden Perez is in his first season as head coach of the Tigers.
STRENGTH IN THE MIDDLE
While the team posts a combined 42-13 (.764) dual play singles record, the Razorbacks have been particularly strong in the middle of the lineup. Courts three and four unite to tally a 20-1 mark, including a perfect 9-0 on court four. Junior Yuliya Lysa accounts for five of the wins on court four, while junior Makenzie Craft is responsible for four wins on court three.
FOLLOW THE LEADER
Junior Yuliya Lysa leads the team in singles wins this spring, with a 9-1 record. Sophomore Oleksandra Shkorupeieva is second at 8-2, freshman Mia Jurasic is 7-2, and sophomore Shannon Hudson is 5-1.
HOME COOKING
The Razorbacks opened the season with eight straight matches at the Billingsley Tennis Center and 11 of their first 12 were at home. Overall the Razorbacks will have a total of 18 home matches on 12 home dates. Under Coach Hegarty, the Razorbacks have defended their home alleys tough, with a record of 95-51 (.651) at home since the 2003-04 season.
TOUGH SLATE AHEAD
Coach Hegarty has certainly lined up a challenging schedule for his talented group of Razorbacks this season. Arkansas will face a total of 18 ranked opponents, including six of those coming in the non-conference. In fact, among SEC teams, the Razorbacks will face the second-most non-conference ranked opponents, trailing only Vanderbilt who has seven non-con ranked teams on its schedule.
HUDSON YEAR TWO
After a dynamic freshman season in which she lead the team in dual wins with 13, sophomore Shannon Hudson is back for more. The Virginia Beach, Va., native and fourth-generation Razorback competed primarily on court two in singles last season and has been near the top of the lineup again this spring. Hudson is fourth on the team in dual wins, posting a 5-1 record including an unbeaten 4-0 when playing on court two.
TEAM UKRAINE
With junior Yuliya Lysa enrolling at Arkansas this spring semester, she joins sophomore Oleksandra Shkorupeieva as the second Ukrainian on the roster. Shkorupeieva was also a spring semester enrollee last season as she joined the team in January 2014. Both Lysa and Shkorupeieva have begun their 2015 season on high notes as the two have combined for a 17-3 singles mark.
SASHA'S SUCCESSES
Following her freshman year, where she was second on the team in dual wins with 12, sophomore Oleksandra "Sasha" Shkorupeieva is continuing her solid play. During the 2014 fall schedule, Shkorupeieva racked up a 12-2 record, the most wins on the team. Her spring season has picked up where her fall season left off, as she is second on the team in singles wins, posting an impressive 8-2 record.
GETTING CRAFT-Y
After transferring in this season from Baylor, junior Makenzie Craft has certainly made quite the splash in her first few months as a Razorback. Craft has brought a championship pedigree with her to Fayetteville as she helped Georgia win the SEC Championship in 2012-13 and Baylor win the Big 12 Championship in 2013-14. She continued her winning ways with Arkansas during the fall 2014 schedule. Craft produced an 8-7 overall singles mark, including a run to the round of 16 at the ITA Central Regional Championship and a runner-up finish in her flight at the Oklahoma Sooner Invite. Expected to be a key contributor to the lineup this spring, Craft owns a 4-2 singles mark thus far, including winning her match on court three against No. 24 Oklahoma to complete the Razorbacks' furious team comeback.
ROLL CALL
Fresh faces are abound in the George M. Billingsley Tennis Center this season. A total of eight newcomers come aboard for the Razorbacks this season. Here's a breakdown of the newcomers. Junior Makenzie Craft (Frisco, Texas) transferred in after spending her freshman season with Georgia and her sophomore season with Baylor. Craft certainly brings with her a championship pedigree as she was a part of Georgia's 2013 SEC Championship team and Baylor's 2014 Big 12 Championship team. She compiled a 27-22 overall singles record during her first two collegiate years. Junior Nicole Breaux (Lafayette, La.) comes to Fayetteville after transferring from Louisiana-Lafayette. Breaux competed at the top of the singles and doubles lineup for the Ragin' Cajuns, amassing a 28-34 singles record over two seasons. Junior Yuliya Lysa is in her first season and comes to Arkansas by way of Khmelnytsky, Ukraine. Sophomore Nastassia Rubel (Minsk, Belarus) is in her first season with the Razorbacks, bringing with her a world ranking of No. 188 on the ITF junior tour. Sophomore Elly Fryberger (Littleton, Colo.) is in her first season after transferring from Kansas. Freshmen Mia Jurasic (Ogulin, Croatia) and Peyton Jennings (Tulsa, Okla.) will both be competing in their first collegiate matches. Jurasic is the Croatian 16 and under national champion while Jennings claimed back-to-back Oklahoma state titles at No. 1 singles her junior and senior year.
The eighth newcomer is assistant coach Luc Godin. Godin joins Hegarty's staff and the Razorbacks after previously serving as the men's and women's assistant at Louisiana-Lafayette in 2013-14. He is familiar with the SEC, however, as he was an assistant for the Auburn women's team from 2011-13.
ARAUJO NAMED RED TIE HONOREE
Junior Flavia Araujo was named a 2014-15 Red Tie Honoree for the Spirit of the Razorback Award, as announced by the University of Arkansas Athletic Department and the Razorback Foundation on Dec. 31. Each year, the Razorbacks recognize student-athletes whose performance throughout his or her career serves to lift up their sport to new heights and whose character exemplifies the goals of the athletic department. The 18th annual Red Tie Dinner will be held Feb. 21, 2015, in Rogers, Ark. A steady contributor on the court, Araujo was also named the 2013-14 Lee Spencer Individual champion for her community service endeavors and overall commitment to the university.
COACH'S CORNER
Arkansas women's tennis all-time winningest coach with a record of 157-131 (.545), Michael Hegarty (Auburn, '94) is in his 12th season as head coach of the Razorbacks. He has led the Hogs to seven NCAA Tournament appearances in his first 11 years.
2013-14 OVERVIEW
The Razorbacks finished the 2013-14 season with a 13-16 overall mark, including 2-11 in SEC play. Arkansas finished the season ranked No. 59 in the final ITA poll.
Arkansas brings back three players from last year's squad. Returning are junior Flavia Araujo and sophomores Shannon Hudson and Oleksandra Shkorupeieva.
AT A GLANCE: 2014 FALL
The Razorbacks competed in six team tournaments throughout the fall schedule. Sophomore Oleksandra Shkorupeieva led the team in wins, posting a 12-2 record. Additionally, she won her flight championship at the Oklahoma Sooner Invitational and also won three straight matches at the ITA Central Regional Championships, advancing out of the qualifying bracket and into the main draw's Round of 32. Sophomore Shannon Hudson was selected to compete in the singles qualifying draw at the Riviera/ITA Women's All-American Championships and finished the fall with an 8-6 singles record. Junior Makenzie Craft posted an 8-7 fall singles record and advanced all the way to the Round of 16 at the ITA Central Regional.
The ITA Shortened Format:
•    No-ad scoring in singles and doubles.
•    Three doubles matches played, each match one set to 6, with a tie-break at 6-all.
•    Followed (after a brief intermission; time TBD) by six singles matches, each match 2 out of 3 sets, with tie-breaks at 6-all.
•    No warm-up with opponents (in doubles and in singles)