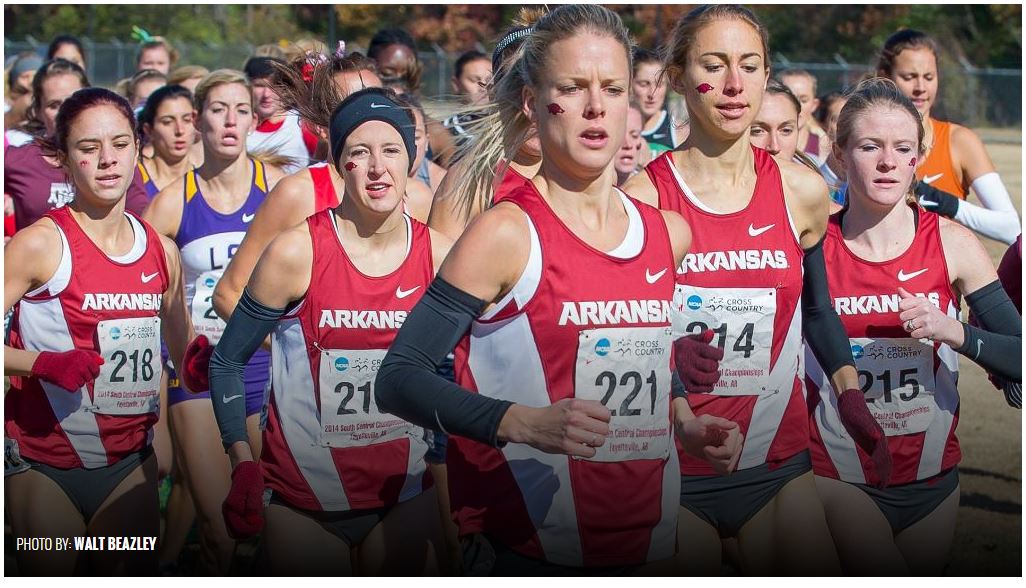 No. 4 Women's @RazorbackTF Seeks Program's First NCAA Cross Country Title
TERRE HAUTE, Ind. — The No. 4-ranked Arkansas women's cross country team concludes its dominant 2014 campaign on the sport's biggest stage, as they will participate in the 2014 NCAA Cross Country Championships in Terre Haute, Ind., on Saturday morning. Race time from Wabash Valley Family Sports Center is slated for 11 a.m.
For the second straight season, the Razorbacks come to Terre Haute ranked inside the United States Track & Field and Cross Country Coaches Association (USTFCCCA) Top 5. The Razorbacks return four of the seven runners from last year's team that finished 15th. Head coach Lance Harter's squad brings in a ton of NCAA Cross Country Championship experience, as four of the seven scheduled runners have competed in two Championship meets going into Saturday.
2013 NCAA All-American Dominique Scott, who placed 28th at last year's Championship, is the highest-placed returnee from for the Razorbacks, as she looks to become just the ninth harrier in program history to earn multiple NCAA All-American honors.
It's been an astonishing 2014 season for Scott, as she set the school's record for a 5-kilometer race and tied a single-season record with five individual event titles. Back on Oct. 4, the Cape Town, South Africa native completed the 5K course at Agri Park in 16:01.00 to win the Chile Pepper Festival and set a new Arkansas standard in a 5-kilometer race. The redshirt junior also joined Lilli Kleinmann (2000) and Amy Yoder-Begley (1998) as the only runners to win five individual titles in one season.
In her last race, Scott captured her first career NCAA Regional Individual Title by winning the NCAA South Central Regional in 19:43.80. It was another dominating performance for the two-time Southeastern Conference Runner of the Year, as she crossed the finish line 21.4 seconds before second-place finisher Rachel Johnson of Baylor and earn her third career NCAA All-Region accolade.
As for the rest of last year's returners, redshirt senior Grace Heymsfield looks to improve on her 21:20.10 (102nd overall) time from ago. This race marks the third NCAA Cross Country Championship that the Elkins, Ark., native has competed in. Her best finish came during the 2012 Championship, as she was the top-finisher for Arkansas, coming in at 55th with a time of 20:25.50.
It will also be the third NCAA Cross Country Championship event for senior Jessica Kamilos and redshirt junior Diane Robison. Kamilos ran in back-to-back Championship races in 2011 and 2012, but did not compete in last year's meet. The Neosho, Mo., native posted a personal-best time 21:01.70 at the NCAA Championship during her freshman year to place 100th overall. While for Robison, this will be her third-straight NCAA meet, as she is coming off a 21:25.30 (116 overall) in last year's race.
Race Notes
The top 40 runners will earn All-American honors.
Eight of the last nine NCAA Cross Country Championships have been held in Terre Haute, Ind. The lone exception was in 2012, when the race was ran in Louisville, Ky.
This year marks the fourth-straight season Arkansas has competed as a team at the NCAA Championship.
The Razorbacks have complied finishes of 15th ('13), 18th ('12) and 14th ('11) in the last three Championships.
Dominique Scott looks to become the ninth runner in program history to win multiply NCAA All-American titles and the first since the 1999, 2000 seasons when Lilli Kleinmann earned back-to-back honors.
Deena Drossin ('92) and Amy Yoder-Begley ('99) each hold the highest finish for an Arkansas runner (2nd) at the NCAA Championship.
The Razorbacks highest team finish at the NCAA Championship is second ('91, '92, '93, '99).
Arkansas has placed on the podium (Top 4) five times ('91, '92, '93, '94, '99).
Head Coach Lance Harter has lead Arkansas to eight Top 10 finishes at the NCAA Championship.
The last Top 10 finish at the NCAA Championship came in 2006 when they placed fifth.
Expected Arkansas Runners
| | |
| --- | --- |
| Runner | Personal-Best 6K Time |
| R-Jr. Dominique Scott | 19:22.74 (Oct. 31, 2014) |
| R-Sr. Grace Heymsfield | 19:32.21 (Oct. 31, 2014) |
| Sr. Jessica Kamilos | 20:05.80 (Oct. 31, 2014) |
| R-Jr. Diane Robison | 20:16.17 (Oct. 31, 2014) |
| Sr. Shannon Klenke | 19:59.00 (Oct. 19, 2013) |
| So. Regan Ward | 20:54.26 (Oct. 31, 2014) |
| Fr. Kelsey Schrader | 20:42.76 (Oct. 31, 2014) |