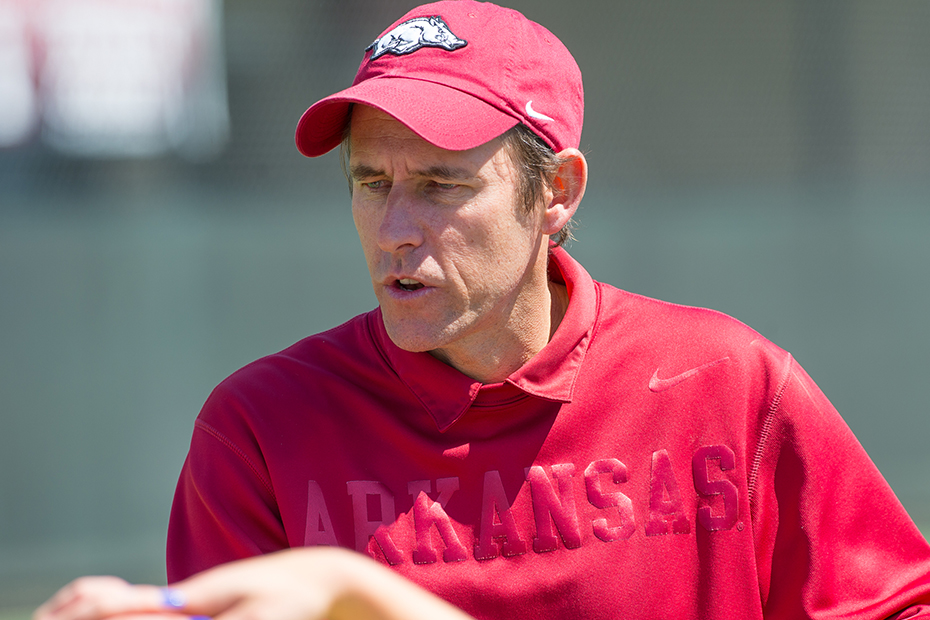 No. 41 @RazorbackWTEN Loses To No. 16 Cowgirls, 5-0
STILLWATER, Okla. – The University of Arkansas women's tennis team lost its second match of the season Sunday afternoon at the Greenwood Tennis Center, falling 5-0 to the No. 16 Oklahoma State Cowgirls. The loss snaps a seven-match winning streak for the No. 41 Razorbacks.
Arkansas' record stands at 7-2 overall. Oklahoma State is already the third-ranked opponent the Razorbacks have faced in the first month of the 2015 season, holding a 1-2 mark against ranked foes.
"I was impressed with both teams out there today, it was a high-quality match," 12th-year head coach Michael Hegarty said. "Obviously we could have won on courts three, four and five in singles so it's important for us to get off to a better start in doubles."
Opening the match, Arkansas lost the doubles point for the fourth time this season. Sophomore Shannon Hudson and junior Yuliya Lysa played the No. 5-ranked doubles team in the country of Viktoriya Lushkova and Kelsey Laurente tough but ended up losing by a break, 6-3. The Razorbacks also lost on court two.
In singles, Arkansas was able to claim two first sets but overall could not mount a match comeback. Lysa won her first set on court three, however, she ultimately fell in three sets to Vladica Babic, 5-7, 6-0, 1-0(10-5). Sophomore Oleksandra Shkorupeieva was up a set 6-4 and on serve 3-2 in the second set on court five, although the match would end up going unfinished. The Razorbacks dropped matches on courts one, two, three and six to give the Cowgirls a 5-0 victory.
Arkansas is off this coming week and will be back in action Feb. 14 at home against Jackson State. First serve is set for 12 p.m. and admission is free.
RESULTS – NO. 16 OKLAHOMA STATE 5, NO. 41 ARKANSAS 0
Doubles:
1) #5 Lushkova/Laurente (OSU) def. Hudson/Lysa (UA) 6-3
2) Adamovic/Babic (OSU) def. Craft/Jurasic (UA) 6-2
3) Alvarez/Tur Mari (OSU) vs. Shkorupeieva/Araujo 4-4, unf.
Singles:
1)#10 Viktoriya Lushkova (OSU) def. Shannon Hudson (UA) 6-3, 6-0
2) Kelsey Laurente (OSU) def. Makenzie Craft (UA) 6-0, 6-1
3) Vladica Babic (OSU) def. Yuliya Lysa (UA) 5-7, 6-0, 1-0 (10-5)
4) Karyn Guttormsen (OSU) vs. Nastassia Rubel (UA) 7-6(6), 2-1, unf.
5) Maria Alvarez (OSU) vs. Sasha Shkorupeieva (UA) 4-6, 3-2, unf.
6) Carla Tur Mari (OSU) def. Mia Jurasic (UA) 6-1, 6-4