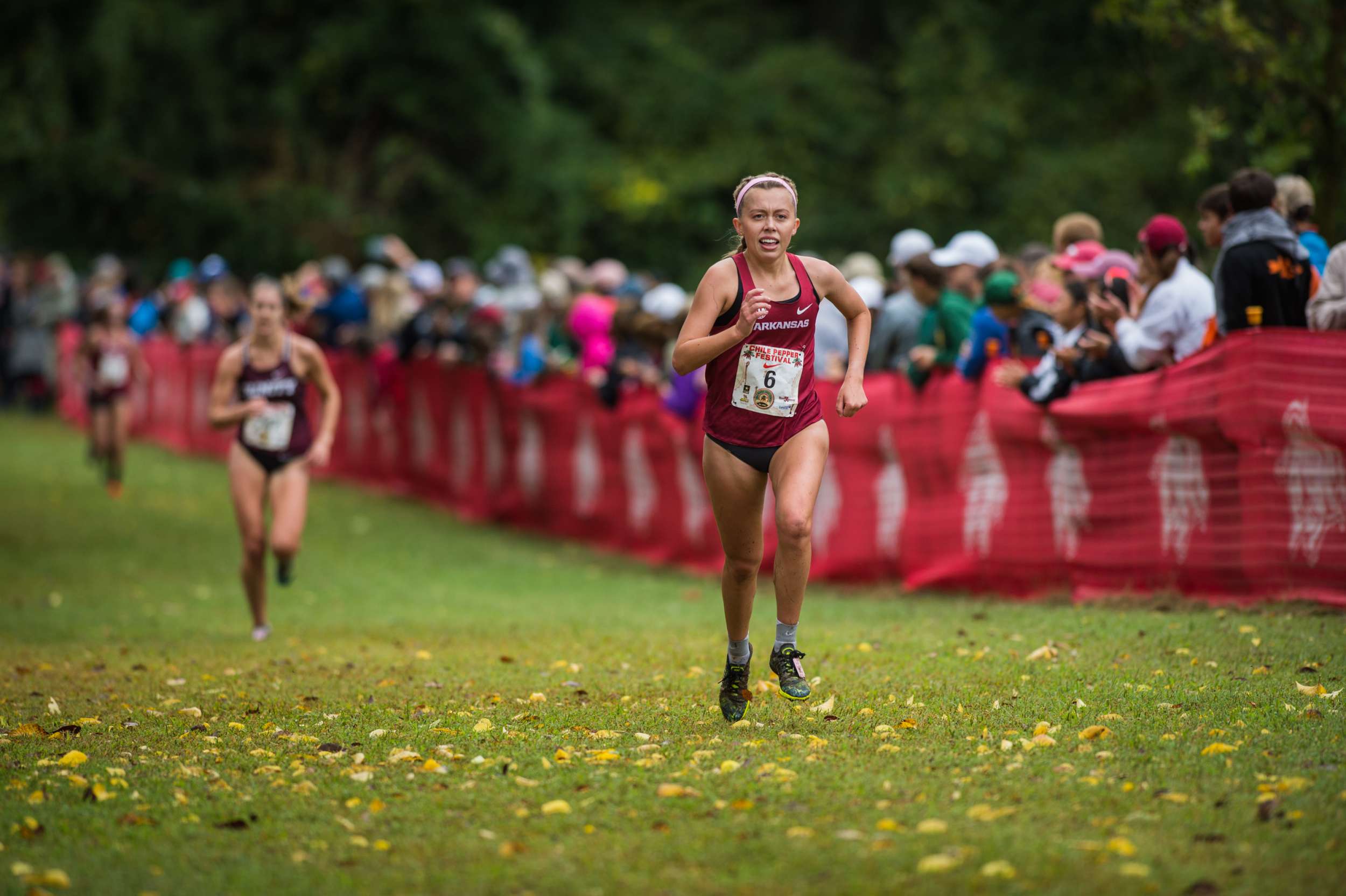 No. 8 Arkansas Takes Hurricane Invitational Title

| | | |
| --- | --- | --- |
|  Pos. | Arkansas | Time |
| 1 | Abby Gray | 12:46 |
| 2 | Isabel Van Camp | 12:58 |
| 3 | Quinn Owen | 13:00 |
| 8 | Adoette Vaughn | 13:02 |
| 14 | Greta Taylor | 13:31 |
|  Pos. | Team Results | Score |
| 1 | Arkansas | 28 |
| 2 | Tulsa | 46 |
| 3 | Oklahoma | 69 |
| 4 | Oklahoma State | 81 |
| | | |
TULSA, Okla. – The No. 8 Razorback women's cross country team wrapped up the first meet of the season claiming the team title with a score of 28-points, paced by individual champion Abby Gray, Saturday morning at the Hurricane Invitational hosted at Mowhawk Sports Complex.
"I was super excited to see them get out there and compete today," said head coach Lance Harter.
"We had a lot of new faces, but the one veteran that reappeared was Abby Gray. Today's meet was a great breakthrough for her to be able to take command of a race midway through the meet, and being able to capitalize on a win and hopefully that gives her confirmation of how much she worked this summer to get back to her old form and the payoff started today and hopefully it'll continue in the weeks to come."
Abby Gray had a breakthrough performance, leading the Razorbacks with a first-place finish needing only 12 minutes, 46 seconds to complete the two-mile course in Tulsa.
"Isabel Van Camp, Quinn Owen, and Adoette Vaughn were three freshmen who made their debuts in uniform and had very positve efforts on the course.  The whole theme of the race was to just be competitive. I didn't care about time or place really, I just wanted them to go out and be competitive," Harter continued.
"Overall I'm very pleased with our performance today. We'll go back to work for a few weeks and rejoin their teammates and hopefully, everyone rises to the occasion for our next meet on Sept. 21." Harter finished.
Following Gray, were the aforementioned Van Camp (12:58) and Owen (13:00) who finished second and third, respectively. Rounding out the scoring for the Razorbacks were Vaughn (13:02) and Greta Taylor (13:31) in eighth and 14th-place.
Next up for the Razorbacks will be a split trip to the site of the 2019 NCAA Championships, The LaVern Gibson Championship Cross Country Course, for the John McNichols Invite on Sat, Sept. 21 in Terre Haute, Ind. and the Missouri Southern Stampede in Joplin, Mo.
For more information on Arkansas Cross Country including in-meet updates, follow @RazorbackTF on Twitter.