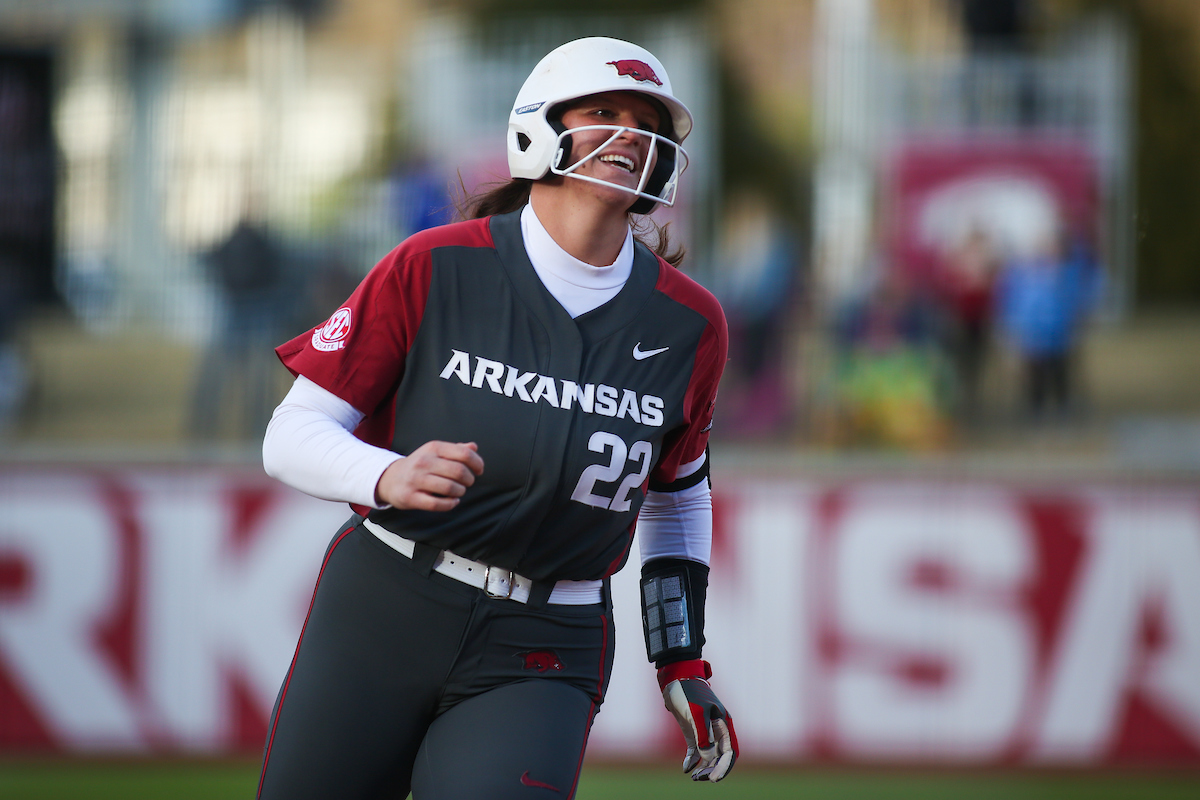 No. 9 Arkansas Blasts Past No. 17 Auburn
FAYETTEVILLE, Ark. – The Bogle Bombers were back in action as No. 9 Arkansas erupted for four home runs to climb past No. 17 Auburn, 7-4, in the series opener Friday night at Bogle Park. Senior Linnie Malkin led the way with two blasts in her fourth career multi home run outing.
Junior Chenise Delce (6-2) filed the win after spinning four commanding innings, waving seven batters while surrendering just one hit and no runs. The Oklahoma City product retired eight straight in the game's final three innings. Delce's drop ball kept the Tigers on their toes, limiting Auburn to a .077 batting average and allowing zero extra base hits.
With the victory, Arkansas improves to 26-7 and 7-3 in SEC play. The Hogs look to clinch their fifth-consecutive SEC series win in game two versus the Tigers Saturday.
All seven of the Razorback's runs resulted from home runs. Malkin starred at the plate, rocketing two home runs in the first and third while continuing to illustrate the threat she possesses in the Razorback lineup, especially with two outs. Sophomore Hannah Gammill went 2-for-3 on the night, smoking a three-run homer in the first and lining a two-out double in the third. Graduate Taylor Ellsworth took care of business in the three-hole, accounting for the Hogs' other home run on a solo shot to center while forcing a walk. Senior Danielle Gibson continued to shine, going 2-for-3 with a run. KB Sides, Hannah McEwen and Valerie Ventura totaled a hit each.
How It Happened
McEwen got the Razorbacks started early, slinging a one-out single through the right side. Gibson kept the inning alive on a two-out single through the right side. Then, Gammill clobbered a three-run jack to right center for the Hogs' first three runs. Malkin followed with a solo shot to grant Arkansas an early 4-0 lead.
Auburn made it even at four in the top of the third, but an Ellsworth solo home run and a Malkin two-run tank in the bottom frame gravitated a permanent 7-4 lead for Arkansas.
Hog Highlights
Arkansas registered its 18th multi home run game of the season
Linnie Malkin recorded her fourth multi home run game of her career
Malkin is the first Razorback to hit two home runs in a game since Danielle Gibson did in the series finale vs. Ole Miss on April 3
The last time the Arkansas hit four or more home runs was against Ole Miss on April 3
The Hogs have homered 12 times in their last four games
The win secures Arkansas' fifth win over a ranked opponent this season
Chenise Delce retired eight-consecutive batters in the game's final three innings
Up Next
Arkansas and Auburn kick off game two at 1 p.m. Saturday. The game will be broadcast on SEC Network.