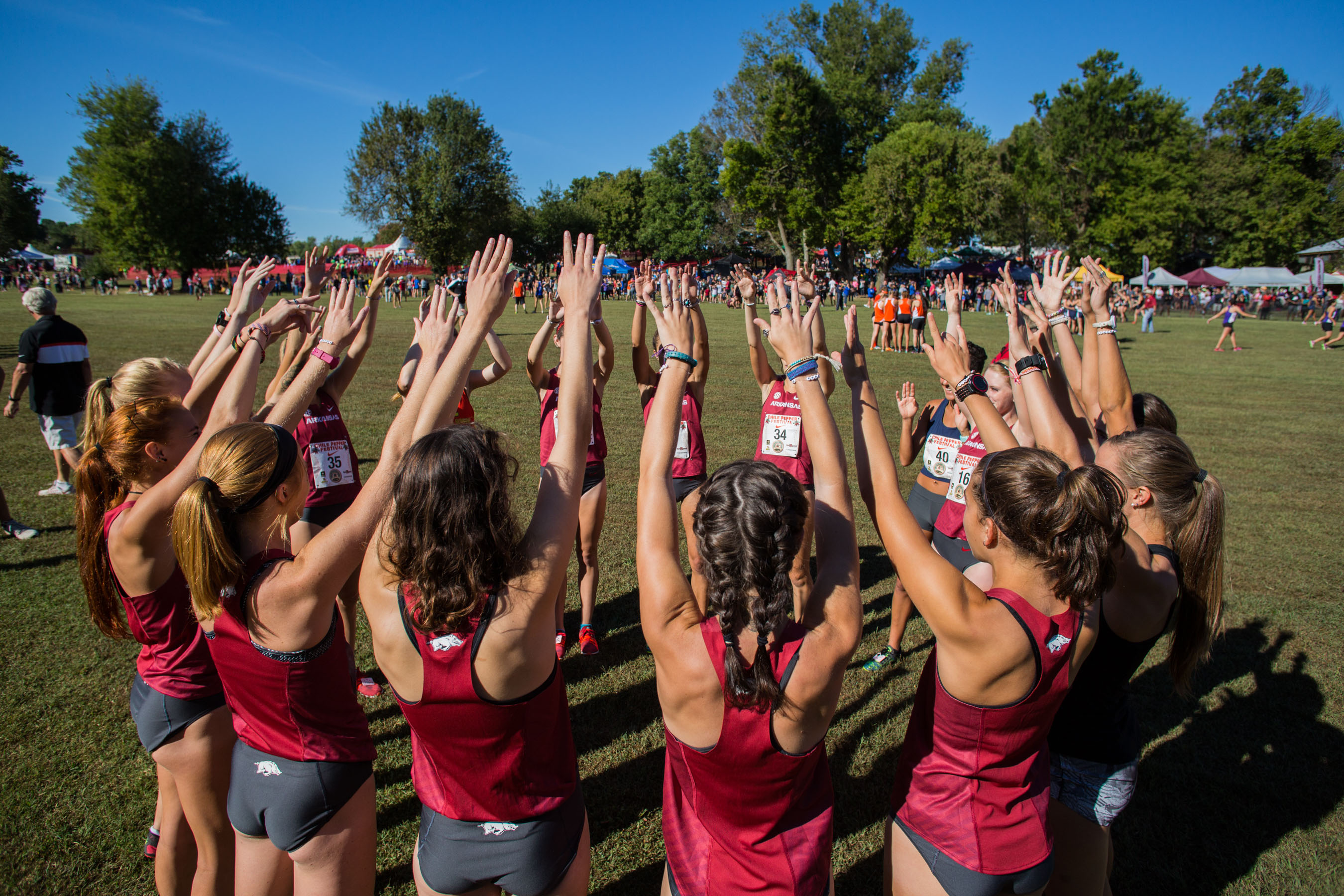 No. 9 Arkansas Set For 30th Annual Chile Pepper Festival
FAYETTEVILLE, Ark. – The No. 9 Arkansas women's cross country team will welcome 52 teams to Agri Park Saturday, Sept. 22, as it hosts the 30th Annual Chile Pepper Festival in Fayetteville.
"We always look forward to Chile Pepper," head coach Lance Harter said. "It's our backyard; we train on the course at least three days a week. It's a meet where we bring in great competition, we get a chance to monitor ourselves and see where we're at compared to years past. This year it may be a little wetter than in years past. The kids are super excited; their families come, their roommates come, their teammates from the track team come, it's a situation where it's all inclusive for them to be able to strut their performances on the course."
The Razorbacks dropped one spot to their current position at No. 9 in the latest USTFCCCA National Coaches' Poll, announced Tuesday. Arkansas remained the top-ranked team in the South Central Region for the third-straight week.
"We have a new freshman superstar in Katrina Robinson that'll add to the fold. The other two that can assert themselves into the top-five and add leadership are Devin Clark and Lauren Gregory, we're going to make a 'gameday' decision, and then Sydney Brown is our fifth-year senior. She's kind of the 'old lady' of the group, and she makes sure everybody is put together," Harter finished.
The Chile Pepper Festival women's 5K race will begin at 10:20 a.m. CT Saturday morning.
Agri Park/Chile Pepper Festival Fast Facts
Chile Pepper Festival established in 1988
Agri Park became Arkansas cross country's home course in 1996
Chile Pepper Festival 5K course/meet record: 16:01.00 | Dominique Scott (Arkansas), 10/4/14
The Chile Pepper Cross Country Festival was created to bring together three Northwest Arkansas cross-country races under a single event. The Chile Pepper Cross Country Festival is now one of the premier running events in America.
Each year over 80 college teams and 120 high school teams battle for prestige and unique Chile Pepper themed awards. Additionally, 750 individuals participate in the Open 10k and 5K Fun Run plus the Tom Lewis 1 Mile Pepper Dash on Friday Night.
2018 Cross Country Schedule
| Date | Meet | Location |
| --- | --- | --- |
| Sat, Sept. 1 | Hurricane Invitational | Tulsa, Okla. |
| Sat, Sept. 15 | Missouri Southern Invite | Joplin, Mo. |
| Sat, Sept. 22 | Chile Pepper Festival | Fayetteville, Ark. |
| Fri, Sept. 28 | Nuttycombe Wisconsin Invitational | Madison, Wis. |
| Sat, Oct. 13 | Wisconsin Pre-Nationals | Madison, Wis. |
| Fri, Oct. 26 | SEC Championships | Auburn, Ala. |
| Fri, Nov. 9 | NCAA South Central Regional | College Station, Texas |
| Sat, Nov. 17 | NCAA Championships | Madison, Wis. |
For more information on Arkansas track and field including in-meet updates, follow @RazorbackTF on Twitter.