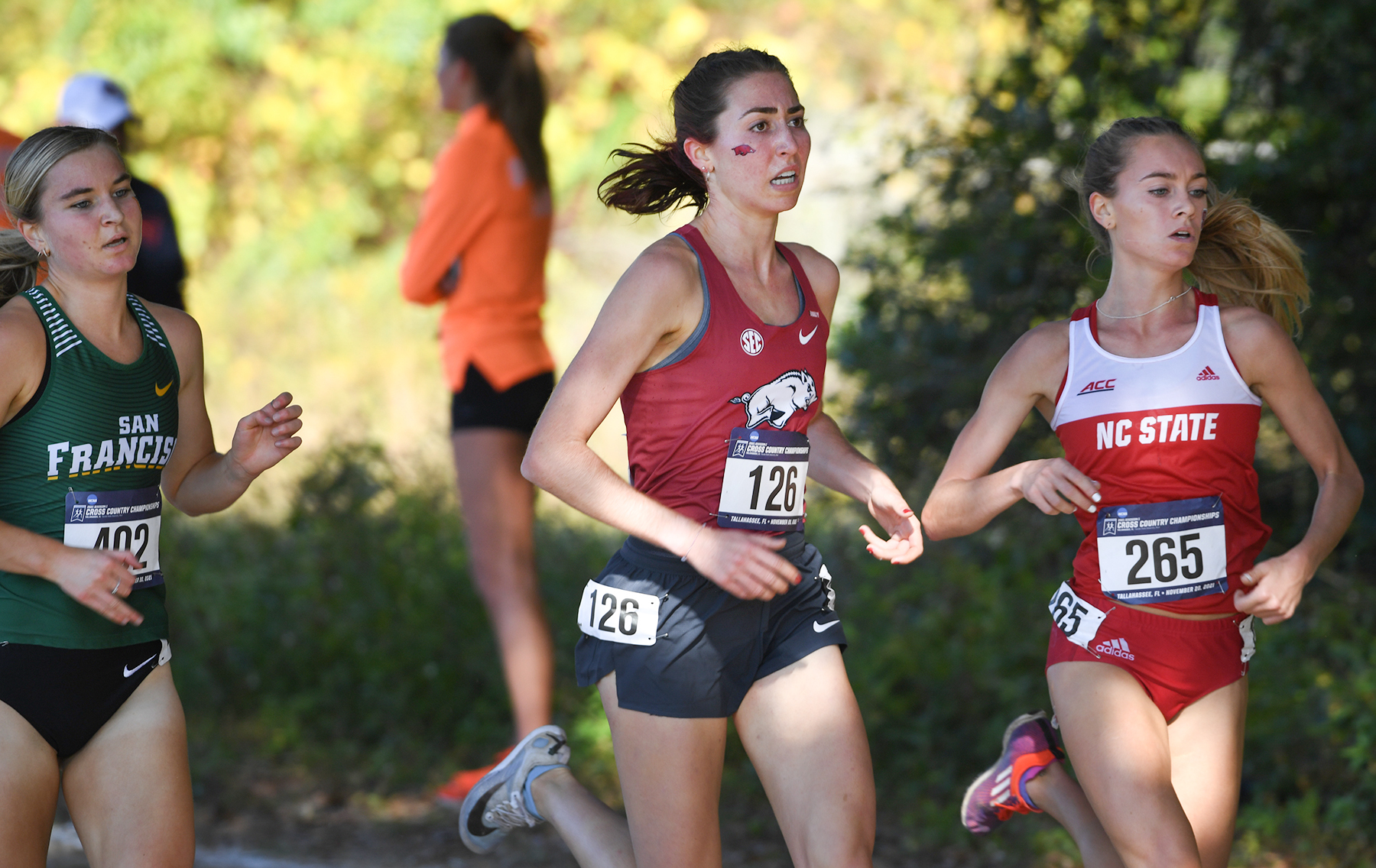 No. 9 Razorbacks face early test in Jamboree elite field
STILLWATER, Okla. – Arkansas, ranked No. 9 nationally, will race a full squad for the first time this season as the Razorbacks compete in Oklahoma State's Jamboree on Saturday morning amid a field that features six of the top nine teams in the nation.
In total there will be 12 of the top 30 nationally ranked schools racing over 6,000m on the challenging OSU cross country course, which will host the NCAA Championships in November.
Race time is 7:45 a.m. and admission is free. Live results will be available here: https://live.athletic.net/meets/18214
"We will run everybody," stated Arkansas women's head coach Lance Harter. "Six of the top nine teams in the nation will be in this meet, all with the same purpose as us, to get a grasp of how to race this course. It's so challenging and demanding.
"This particular weekend they've moved the start time to 7:45 a.m. because the heat index is supposed to be around 100 early in the day. It's going to be the ultimate challenge for a lot of our young people, because the competition is going to be very keen."
Host Oklahoma State and Colorado lead the women's field as they share the No. 3 position in this week's national coaches' poll. They are followed by No. 5 Stanford, No. 6. Washington, No. 7 BYU, and No. 9 Arkansas.
Additional nationally ranked programs in the Jamboree include No. 12 Michigan, No. 17 Ole Miss, No. 20 Harvard, No. 22 Northern Arizona, No. 27 Utah Valley, and equal No. 29. Kentucky.
Teams receiving votes in the national poll include Syracuse and Toledo. Other schools in the Jamboree field include Air Force, North Texas, and Tulsa.
"I think that we're going to get educated," noted Harter. "Because the quality of the competition is something we've not seen and since we have so many novices in this competition that I hope to get a top eight finish. If they are in the top six, I'll be elated."
Isabel Van Camp, who earned three first-team All-America honors this past year – one each during cross country, indoor and outdoor seasons, makes her season debut along with redshirt freshman Sydney Thorvaldson and true freshman Mia Cochran.
"Isabel has been on a continual trajectory of her progression," noted Harter. "She had a fabulous cross country season last year, earning All-American, then followed with All-America honors during the indoor and outdoor seasons. To get three out of three is a very rare occurrence.
"She's had a great summer, and this will be her first race of the season. I think she's excited to see the quality of competitors that is going to be in the Jamboree race. Some of the athletes in this race will definitely contend for the national title. We want her to experience those people as much as possible."
The rest of the Razorback squad previously competed on the OSU course in a 3,000m race held in early September during the Cowboy Preview. They were led by individual winner Taylor Ewert.
Razorback transfers who have made an impact through two meets into the season include Katie McCune and Nyah Hernandez.
McCune, a senior who competed at Drury, won the Missouri Southern Stampede with a time of 16:50.8 over a 5k course and was the second Arkansas finisher behind Ewert at the OSU Preview.
Hernandez, a junior who previously competed for Kennesaw State, placed 11th at the Preview as the fourth Razorback and finished fifth as the third Arkansas runner in the Stampede race.
"They have both been pleasant surprises for us," said Harter of McCune and Hernandez. "They've adapted to our training, and they're not used to seeing this level of competition. So, it's the philosophy of learning by doing. Hopefully, we learn quickly."