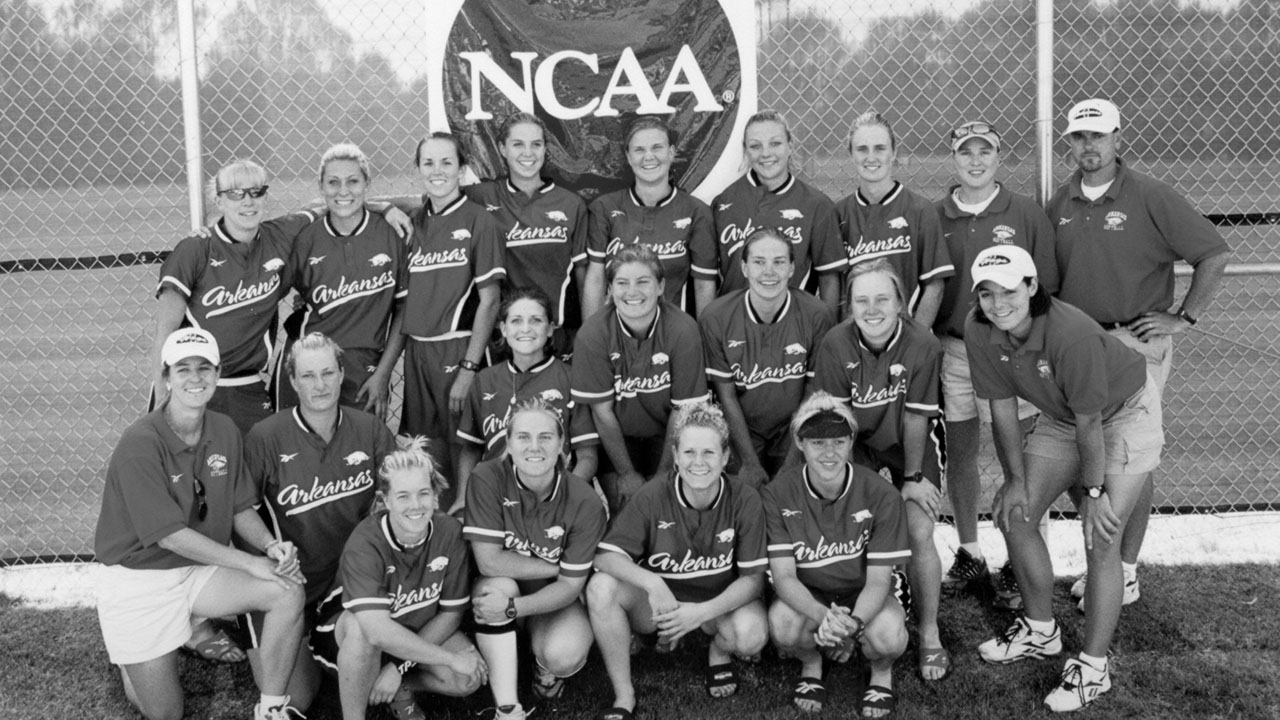 On This Day: 20th Anniversary of First Arkansas Softball Postseason Run
Twenty years ago, the University of Arkansas softball team made its first foray into postseason play in the NCAA Tournament. The program was only four years old in 2000 when the call came that the Lady'Backs were in and being led by a young and hungry head coach and a senior class that would not go away quietly.
The 1999 squad finished the year with a 46-29 record (season game limits were not around in those days) but was not selected to the NCAA's 48-team tournament field. Fourth-year head coach Carie Dever-Boaz beefed up the schedule the following year and played seven non-league games against nationally ranked competition. Despite falling short in those contests, the Lady'Backs won seven top-25 games in SEC play to bolster their strength of schedule and wrapped up the 2000 campaign with a 44-31 overall record and a 19-11 league mark. That ledger was good enough for a fourth place conference finish and helped fuel the fire for an eventual semifinal appearance in the SEC Tournament.
"It was the beginning of the end of the first recruiting class," said Dever-Boaz, who is now in her fifth season as the head coach at the University of West Alabama. "They really wanted to leave their mark, and they weren't going to be denied. The year before in 1999, we had a phenomenal season but did not get into the NCAAs, so they felt like they had been shunned. They put it on their backs that when they came to the program, they were going to put University of Arkansas softball on the map."
The offense was led by a group of seniors including third baseman Brett Erickson who led the team with a .352 batting average, 80 hits and 21 doubles while only striking out 17 times in 227 at-bats. Her totals for hits and doubles still sit atop the school single-season record book and she was the program's first ever NFCA All-Region award winner that season. Senior catcher Jen Cirigliano led the club with 36 runs driven in, while senior outfielder, Dana Gulick, swiped a team-best 17 bases.
Even with a talented offense, inside the circle was where the team truly shined. The trio of senior Tammy Kincaid, junior Jennifer Bottoms and sophomore Rachel Talley baffled opposing hitters to the tune of a 1.49 ERA, the 29th best mark in the nation. Kincaid was the workhorse for the Lady'Backs, totaling 244.1 innings while appearing in 51 games with a 1.32 ERA. She fired seven shutouts, earned a 24-14 record and contributed five saves out of the bullpen. Talley posted a 1.26 ERA in her 172.2 frames and gave Arkansas a formidable one-two punch.
"This team was so special because it was comprised of a whole bunch of girls that took a chance on an unknown of just saying 'yeah I want to be a part of starting something'," remarked Dever-Boaz. "From Tammy Kincaid to Brett Erickson, Jen Cirigliano, Dana Gulick and Aly Sartini, those were a bunch of girls that came across the country from California to Arkansas to be a part of something. It was a rough start in the first couple of years building a program because I threw them against the dogs, babies went up against the top 10 teams in the country. When they were able to put it together and believe and get the reward it was pretty cool."
As all good teams do, the squad was playing its best ball of the season on its trek toward the postseason in April and May. Despite suffering a sweep in a four-game series at the hands of No. 7 LSU, the Lady'Backs responded to win their last eight games heading into the SEC Tournament including sweeps over Tennessee, Kentucky, and Ole Miss. Arkansas blanked the Rebels in the first three games of the four-game set and won a, 7-3, 11-inning thriller to claim the regular season finale.
As the four seed at the SEC Tournament in Columbus, Ga., the team went 3-2 and recorded wins against No. 22 Mississippi State (2-1), Florida (2-1) and No. 25 South Carolina (3-1) but ultimately dropped the semifinal to the Gamecocks (2-1). The team played its last two games without senior star third baseman Erickson, after she suffered a third-degree ankle sprain against the Gators after sliding into third and twisting her ankle.
"The team knew they were going to the NCAA Tournament despite not winning SECs," said Dever-Boaz. "The emotion for me was knowing there is enough human element to the decision of who is getting in. Knowing we had been denied the year before and had done so well and my fingers were crossed that another conference tournament winning team did not steal a bid which would cut us out. I don't think I could have looked at them one more time and told them they were denied."
The NCAA Selection Committee tabbed Arkansas for the Norman Regional hosted by Oklahoma. The close proximity of Norman, just a four-hour drive from Fayetteville, proved fortunate after the Lady'Backs had difficulty leaving the SEC Tournament due to an aircraft maintenance issue while leaving Atlanta.
"I remember the girls sleeping on a baggage carousel while we were waiting for a flight," remarked Dever-Boaz. "The end of the SEC Tournament was Sunday and we had to get ready for a Tuesday or Wednesday Regional game, so we made the decision to fly into Norman because we were getting so close to game dates and practice times. People were bringing stuff from Fayetteville to make the Regional possible, so we were on the road for 12 or 13 days together."
The Lady'Backs were pitted against Cal State Northridge, a program just a handful of years removed from a Women's College World Series runner-up finish. Kincaid was masterful and danced around Matador bats by allowing only four hits in the 5-0 complete game Arkansas triumph. Center fielder Andy Wharton singled, walked, and scored two runs, however the most memorable at-bat of the game came from Erickson, who wanted an opportunity to compete in the Regionals despite her gimpy ankle.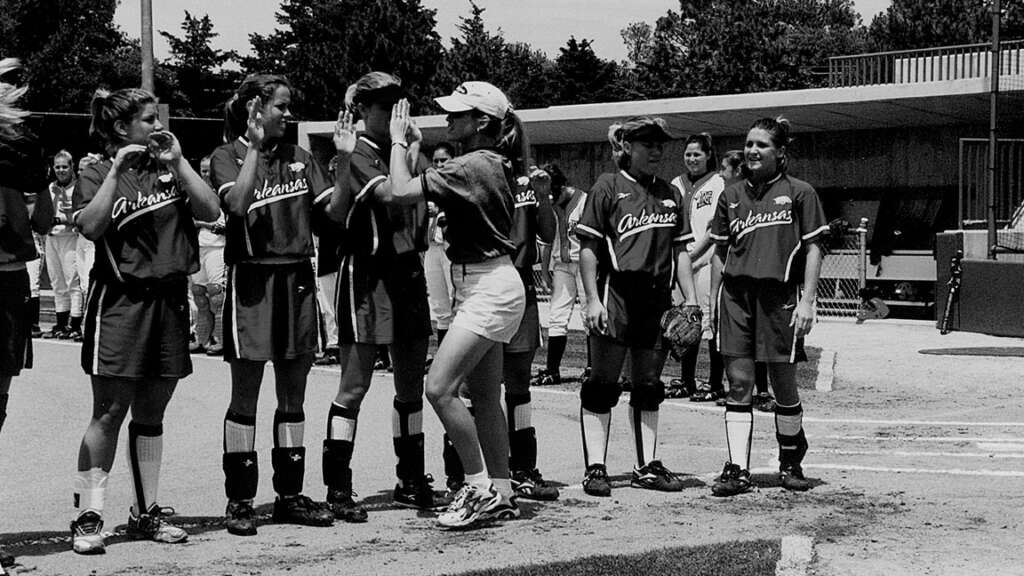 "She [Erickson] wanted a chance to be able to play in the Regionals. Our athletic trainer, Julie Cain, said 'you can bring her in but she's not going to able to run'," remembered Dever-Boaz. "I called her to pinch hit with a runner in scoring position hoping she could do it, and she got a hit to plate a run. She had to hobble down to first base, but that defines who that team was, blue collar kids. I remember when she hit it how excited everybody was and the tears coming out of her eyes, just because she was so happy she played in a Regional."
The Lady'Backs dropped their next two games, 4-1 to Oregon State, and 5-0 against Northwestern, but it was truly an accomplishment for a program not even five years old to compete and win a game in the NCAA Tournament.
Dever-Boaz still follows Arkansas softball when she can especially because of her ties to current Razorback head coach Courtney Deifel. While she was coaching at Fresno State she gave Deiefel's sister, Amanda Scott, pitching lessons and her bullpen catcher was younger sister Courtney.
"When I saw Courtney got the Arkansas job, I was like that's it, keep it in the family. It was so cool to see her at the 20-year program anniversary because I remember her as a 10-year old snot-nose kid and here she is a grown woman with a national title playing for Cal and head coach at Arkansas."
Some teams lose their close-knit bond over the years, but not the 2000 Lady'Backs. Dever-Boaz wasn't much older than her players as a twenty-something year old leading a startup SEC program, and their connection continues to this day including a cluster from the team having a group chat and texting roughly once per week.
"It's pretty cool we still share each other's lives and we made lifelong friendships out of it. We haven't seen each other in about 10 years, and they have been trying to get me to go on a cruise, and I don't do cruises," joked Dever-Boez. "After this coronavirus, we've all said oh hell we're all getting back together, let's go do this."