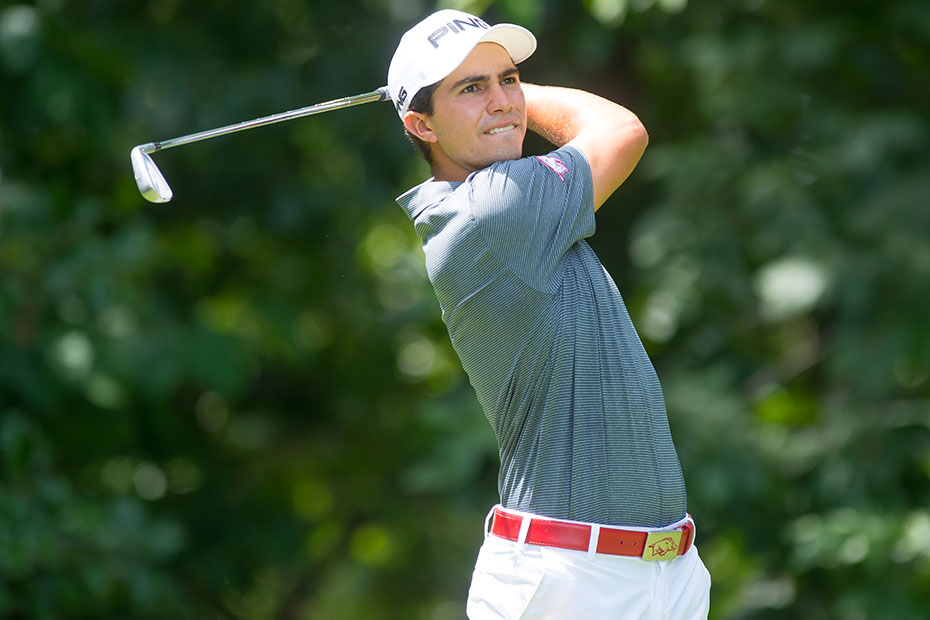 Ortiz Has Good Weekend
EVIAN-les-BAINS, France – University of Arkansas graduate Alvaro Ortiz wrapped up match play at the 2018 Palmer Cup at Evian Resort Golf Club on Sunday.
The United States claimed 18 of 24 points in the final round singles matches to pull away for a 38.5-21.5. This year's edition of Team USA is the first side to win as the visiting team since the 2010 Americans. Neither side had retained the cup since the US in 2011. The United States now leads the all-time series 12-9-1.
Ortiz played his way to three match wins in four events. He opened pairing with fellow Razorback Maria Fassi and the duo won the Mixed Four-Ball match on day one. They were again paired in round two for the Mixed Foursomes but dropped the match.
Ortiz rebounded that same afternoon teamming with KK Limbhasut picking up the 5&4 win in Four-Ball pairings. Ortiz dropped the final match of the tournament on Sunday, 1-up. It was a match that saw Ortiz hold as much as a two hole lead through the first nine holes. His opponent squared the match on the 15th hole and birdied the 16th hole. He would hang on for the one-hole win.
Arnold Palmer Cup
Evian Resort Golf Club
July 6-8
United States 38.5 Defeats International 21.5
Mixed Four-Ball Results
Match 6: Jiwon Jeon/Lorenzo Scalise, International def. Sahith Theegala/Alana Uriell, United States, 3&2
Match 8: KK Limbhasut/Pimnipa Panthong, International def. Zach Bauchou/Dylan Kim, United States, 4&3
Match 12: Maria Fassi/Alvaro Ortiz, International def. Sophia Schubert/Justin Suh, United States, 2&1
Mixed Foursomes Results
Match 19: Dylan Kim/Justin Suh, United States def. Maddie Szeryk/Andy Zhang, International, 5&3
Match 20: KK Limbhasut/Pimnipa Panthong, International def. Brad Dalke/Alana Uriell, United States, 2-up
Match 23: Stephen Franken/Emilia Migliaccio, United States def. Maria Fassi/Alvaro Ortiz, International, 5&4
Four-Ball Pairings
Match 31: Wenyung Keh/Patty Tavatanakit, International def. Jamie Freedman/Alana Uriell, United States, 5&3
Match 33: Dylan Kim/Emilia Migliaccio, United States def. Jaravee Boonchant/Pimnipa Panthong, International, 1-up
Match 34: KK Limbhasut/Alvaro Ortiz, International def. Stephen Franken/SM Lee, United States, 5&4
Match 35: Kristen Gillman/Kaitlyn Papp, United States def. Maria Fassi/Ainhoa Olarra, International, 5&4
Final Round Singles Results
Match 37: Sophia Schubert, United States def. Maria Fassi, International, 2&1
Match 49: Alana Uriell, United States def. Pimnipa Panthong, International, 2&1
Match 50: Zach Bauchou, United States def. Alvaro Ortiz, International, 1-up
Match 60: Dylan Kim, United States def. Ainhoa Olarra, International, 1-up