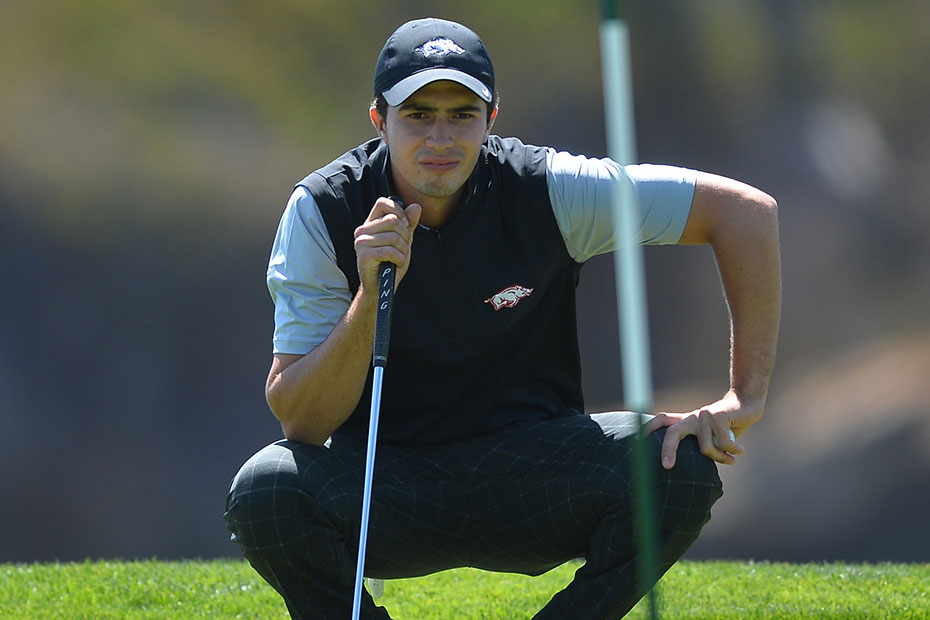 Ortiz Makes Opening Statement At LAAC
La ROMANA, Dominican Republic – With an invitation to the 2016 Masters Tournament on the line, Arkansas men's golf sophomore Alvaro Ortiz wasted no time putting his name among the contenders at the Latin America Amateur Championship (LAAC) held at Casa de Campo. One of two current Razorbacks in the field along with a future Hog in the 2016 signing class, Ortiz fired a four-under 68 to sit in a tie for the lead after the first round.
Ortiz's four-under 68 is tied with Jose Andres Miranda to sit atop the 107-player field. At even-par through eight holes, Ortiz birdied his next three holes and the 18th to earn a share of the lead. He played his final 14 holes of the day bogey-free.
The winner will earn a spot in this year's Masters Tournament along with an exemption into The Amateur Championship and the U.S. Amateur Championships. The final three rounds of the Latin America Amateur Championship can be seen live on ESPN2 and the WatchESPN app. The broadcast begins at 1 p.m. CT on Friday, 11 a.m. on Saturday and 10:30 a.m. for Sunday's final round.
Senior Nicolas Echavarria overcame a double-bogey on his first hole of the day with a birdie on the very next hole and was one-under on the back nine to shoot even-par 72. Recent NLI signee Luiz Garza got off to a hot start, using four birdies in his first seven holes to grab a piece of lead during his front nine. Garza made the turn at two-under and stayed that way with an even-par 36 on the back.
Invitations for the championship are sent to the leading players from the 29 IOC-recognized countries and territories from this region that are current members of the International Golf Federation.  Each country is automatically provided with two positions, which are to be filled by their best-ranked players from the World Amateur Golf Ranking (WAGR). The remainder of the field is filled by taking the next best-ranked players from WAGR.
Razorbacks At LAAC
T1. Alvaro Ortiz – 68 (-4)
T13. Nicolas Echavarria – 72 (E)
Future Razorbacks At LAAC
6. Luis Garza – 70 (-2)