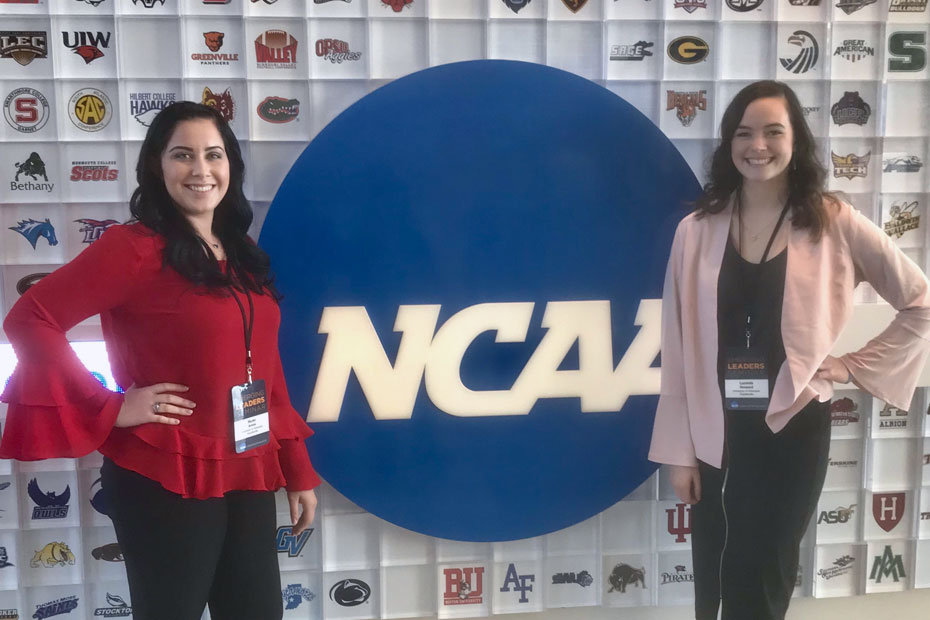 OSAS Continues To Develop Emerging Leaders
FAYETTEVILLE — For the third consecutive year, Office of Student-Athlete Success (OSAS) Graduate Assistants were accepted and attended the NCAA Emerging Leaders Seminar in Indianapolis, Indiana, on January 24-26.
Skyler Ames and Lucinda Howard, both first year GAs, were joined by over 200 interns and graduate assistants from across the country to participate in the annual conference. During the conference, participants engage in programs that explores topics such as self-awareness and group dynamics, and along with a large group of your peers, evaluate their impact on the leadership within athletics departments. Upon completion, participants will return to their current role with the applicable skills and knowledge that will help you succeed in the next steps to becoming a college athletics professional.
"Biggest takeaways were: creating your own set of values that help with determining what success means to you, creating relationships with others who share similar values, and assessing the personality types you encounter in the workplace and be willing to adapt to work with others," Lucinda Howards states.
"I would highly recommend the Emerging Leaders Seminar to any graduate assistant, intern, or anyone else in collegiate athletics who thinks that they may have even a slight interest in pursuing a full-time career in this field. This experience not only allows you to learn valuable information about gaining employment and moving up in athletics, but it also encourages you to learn a lot about yourself. It forced me to go outside of my comfort zone and meet new people that I probably would have never had the chance to meet, otherwise. It also showed me how important it is for those of us in this field to share information with one another and encourage each other because we all share similar goals. It was also great to learn about the different personality types and how each of us can change our behaviors to best fit the groups we work with – a skill anyone can take with them out into the work force." – Skyler Ames
"Others should attend this conference to learn about the importance assets that contribute to decisions in career and life. Speakers from the NCAA and athletic department speak on their experience, allow question, and answer sessions. At ELS, there is an opportunity to network and speak with other individuals similar to yourself who are in the field. The most important part of this conference is to assess yourself and find where your passion is based on your values and learning how to execute." – Lucinda Howard
Written by Savannah Hall