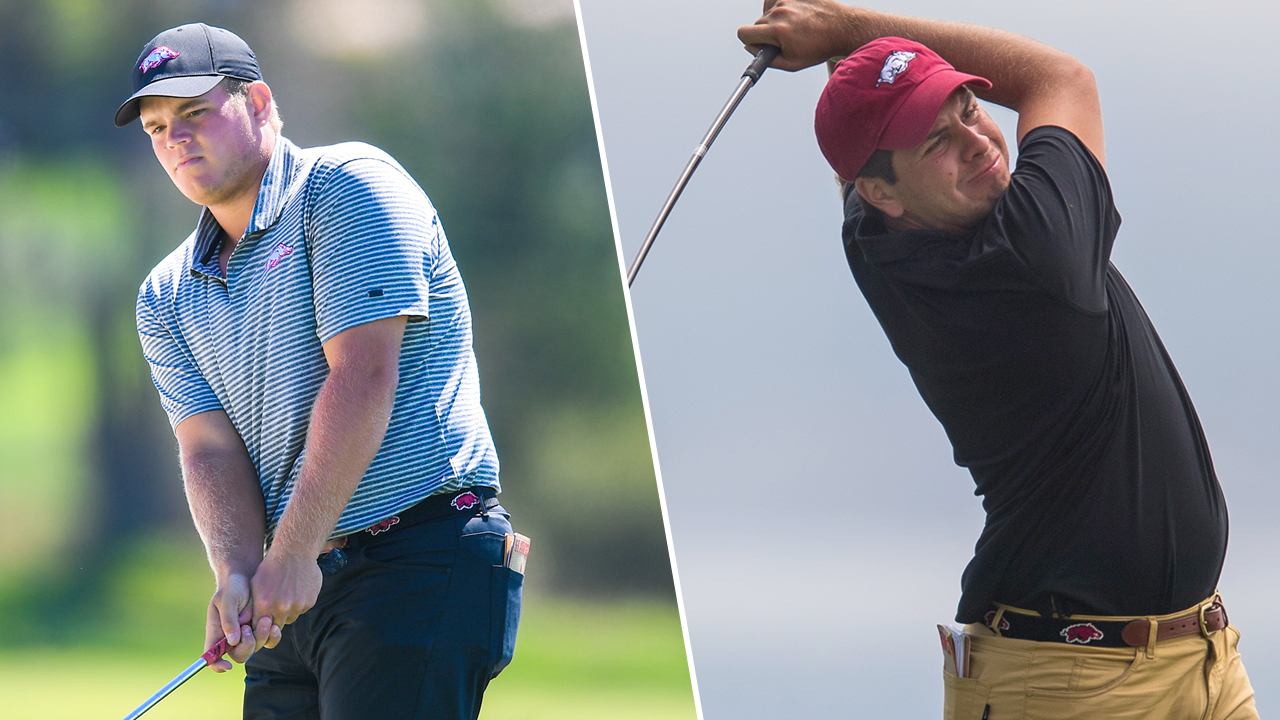 Overstreet and Perico Travel to El Paso
FAYETTEVILLE – Razorbacks Mason Overstreet and Julian Perico are set to play in the 45th annual Sun Bowl Marathon All-America Golf Classic Nov. 24-26 at El Paso (Texas) Country Club (par 71, 6,889 yards).
Sunday, November 24 (all times Mountain)
9 a.m. Titleist Long Drive
10 a.m. PING Putting Contest
12 p.m. Pro-Am
Monday, November 25
8 a.m. First & Second Rounds
Tuesday, November 26
8 a.m. Final Round
This will be Overstreet's third appearance at the Sun Bowl Classic. The senior placed seventh in 2017 and was 17th last season. Perico will be making his first trip to the annual event.
Overstreet and Perico will be a part of the largest field ever at the Sun Bowl Marathon All-America Golf Classic
"Players are invited to this tournament because of their many college achievements and outstanding amateur career and ranking," said Tournament Director Bob Kimble. "I can assure the fans that many future PGA Tour players will be out on the course during this tournament."
The Sun Bowl Marathon All-America Golf Classic is one of the premier amateur golf tournaments in the country. Some of golf's brightest stars have traveled to El Paso to compete in the tournament since its inaugural year in 1974.
Jordan Spieth, Tiger Woods, Phil Mickelson, Davis Love III, Justin Thomas, Notah Begay and Jerry Pate are just a handful of past participants who went on to have successful PGA careers. College All-America Golf Classic Alumni have combined to win 53 major championships and have earned over $2 billion in career earnings.
The annual event starts with the Titleist Long Drive Contest and PING Putting Contest on Sunday, Nov. 24 at 9 a.m. (MT). The best opportunity for fans to get photos with the future PGA players and obtain autographs is on Sunday immediately following the two contests.
Rounds one and two are scheduled for Monday, Nov. 25 with a shotgun start scheduled for 8 a.m. (MT) while the final round is set for 8 a.m. (MT) on Tuesday, Nov. 26. The Lee Trevino Trophy will be presented to the winner immediately following Tuesday's play.
For more information on Arkansas Men's Golf, follow @RazorbackMGolf on Twitter.