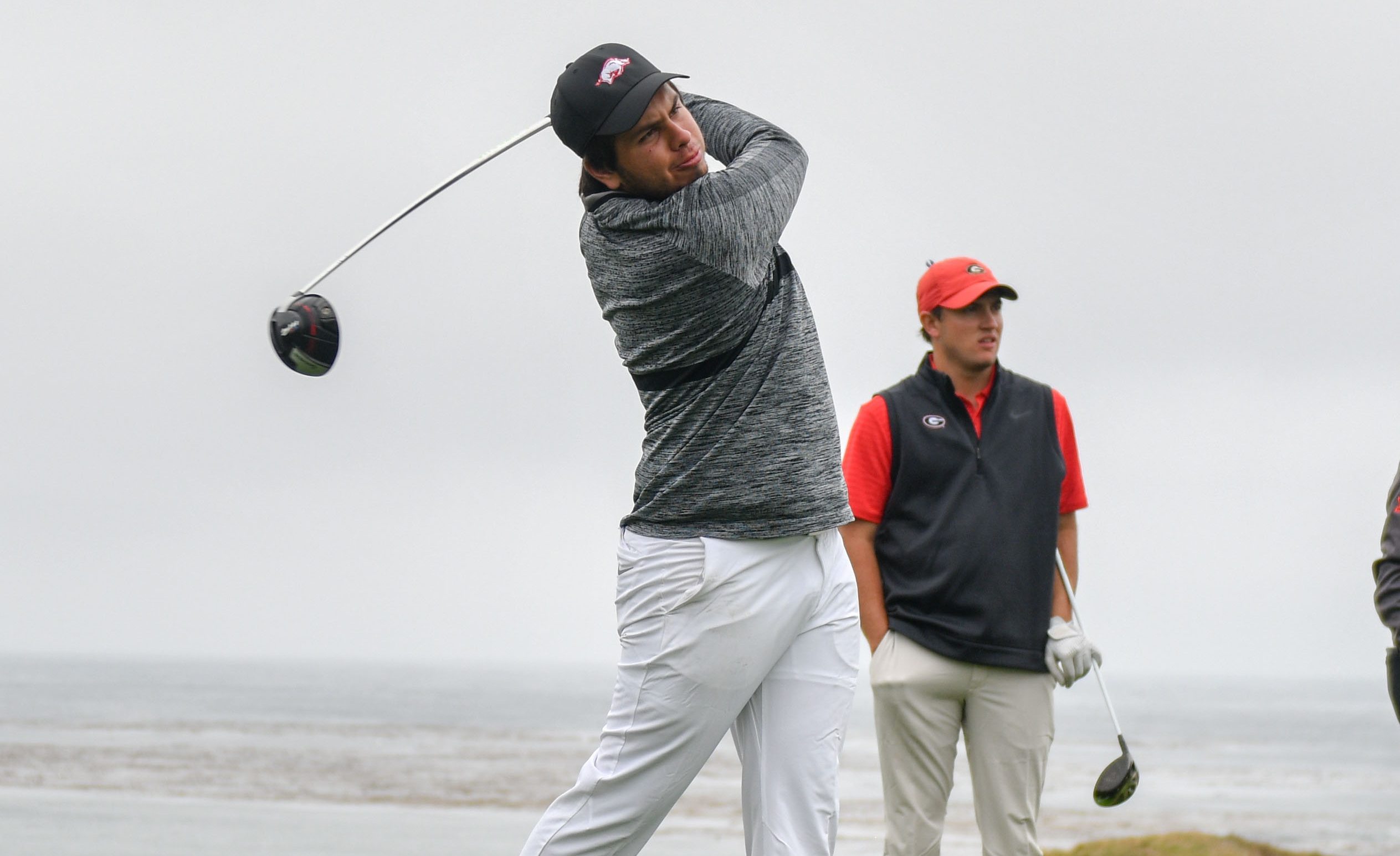 Perico 2nd; 3 Hogs in Top 10 After Rd2 at Carmel Cup
PEBBLE BEACH, Calif. – For the second consecutive day, Arkansas sophomore Julian Perico fired a 4-under-par 68 while senior Tyson Reeder carded a bogey-free, 5-under 67 at the Carmel Cup, played at Pebble Beach Golf Links (par 72 – 6,828 yards). The Razorbacks were 8-under in round two and stand in third place with a 36-hole score of 705 (-15).
Oklahoma holds the lead after two rounds, shooting a 10-under 350 Saturday and stands at 21-under (699) through 36 holes. Texas Tech turned in the best round of the day (-17) and moved up one spot to second with a score of 701. The Razorbacks (-15) and Georgia (-6) are the only teams under par after two days.
Perico is one stroke out of the lead after posting his second straight 68. He shared the lead most of the back nine after recording birdies on holes 10, 11 and 12. He finished his round with six straight pars and leader Garrett Reband (Oklahoma) had a birdie on the 17th hole to take the one-stroke lead. Overall, Perico had five birdies and leads the field on par 4 scoring with an average of 3.80.
Reeder was the big mover for the Razorbacks Saturday, climbing 11 spots into a tie for 10th thanks to his bogey-free round of 67. The senior got off to a strong start with an eagle on the par 5, second hole. He then birdied the fourth hole. He added birdies on holes 10 and 13 and finished with 14 pars. He has 26 pars through 36 holes – the third-best total in the field. Reeder, like Perico, is one of the field's best playing the par 4's with a scoring average of 3.85.
Mason Overstreet used four birdies to shoot a 1-under-par 71 Saturday. He remains in the top 10 with a 36-hole score of 5-under-par 139.
William Buhl offset four bogeys with four birdies for an even-par round of 72. He is in 17t place with a 36-hole total of 143 (-1). Luis Garza turned in a 2-over-par 74, collecting 16 pars and two bogeys on the day. Despite being tied for 29th place standing, Garza leads the field with 28 pars through 36 holes. Freshman Mauricio Figueroa is tied for 46th (79-79-158).
The third and final round will be played Sunday (Sept. 1).
For more information on Arkansas Men's Golf, follow @RazorbackMGolf on Twitter.