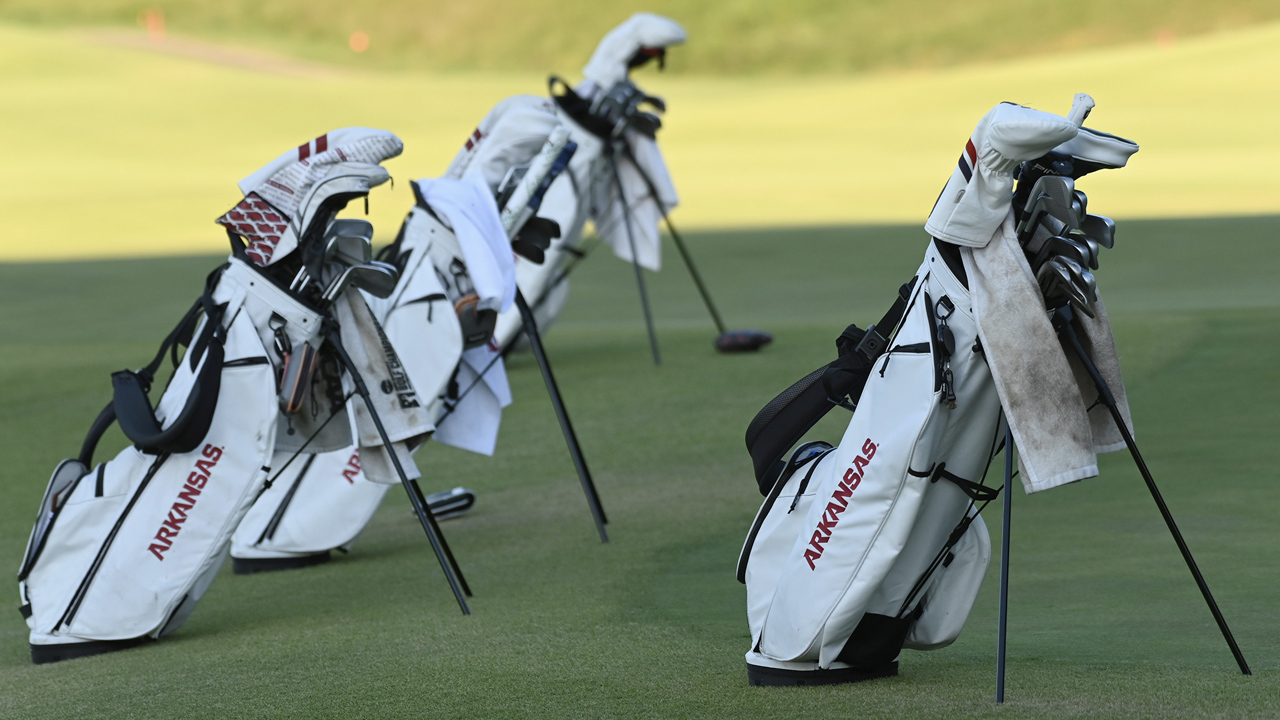 Perico 2nd As Rd2 at Stephens Cup Suspended
JUNO BEACH, Fla. – Arkansas struggled in the morning session but were a 4-under-par in the afternoon before play was suspended with the Razorbacks needing to play 1-to-3 holes to complete their round. Arkansas was in seventh place at (+2) when play was suspended through 33 holes. The Razorbacks are being led by fifth-year senior Julian Perico, who is second at 8-under-par with three holes left to play in his second round.
Arkansas (+2) after 33 holes Monday and Oklahoma State (+1), who finished all 36 holes, are battling for the sixth and final spot in the seven-team field to advance to match play on Wednesday.
Perico was tied for eighth after the opening round, carding a 3-under-par 69. Perico got off to a hot start with back-to-back birdies and he was 4-under after seven holes with consecutive birdies on holes 5, 6 and 7. He was 1-over on the back nine to finish round one with a 69. He then opened the second round on hole 10 and was 5-under through his first six holes with birdies on holes 11, 12 and 15 and an eagle on hole 14. Perico dropped a shot on hole 16 but rallied with birdies on holes 1 and 3 to stand at 6-under. He bogeyed hole 4 and reeled off pars on holes 5 and 6 before his round was halted due to darkness.
Mateo Fernandez de Oliveira is in 23rd. He was 1-over in the morning and is 1-over in round two with three remaining holes to play. Segundo Oliva Pinto and Manuel Lozada are tied for 30th. Each shot 77 in the opening session and both, with two holes to play, were even par in round two prior to the suspension. Redshirt freshman Matthews Griggs, making his debut in the lineup, is 34th as he was 3-over in round one and 3-over in round two with one hole left to play.
Four of the seven teams completed both rounds including leader North Carolina (-32). Florida State (-15). Notre Dame (-13) and Oklahoma State (+1). Stanford, currently in third at -14, and Texas, currently T4th at -13 are in the same groupings as Arkansas (+2) and have from 1-to-3 holes left to play.
Team Standings:
1. #13 North Carolina 272-272=544 (-32)
2. #14 Florida State 281-28=561 (-15)
3. #3 Stanford 279 (-14) *
T4. #19 Texas (-13) *
T4. #20 Notre Dame 278-285=563 (-13)
6. #11 Oklahoma State 286-291=577 (+1)
7. #26 Arkansas (+2) *
* – did not complete round two, score in parenthesis is score when play was suspended
For more information on Arkansas Men's Golf, follow @RazorbackMGolf on Twitter.