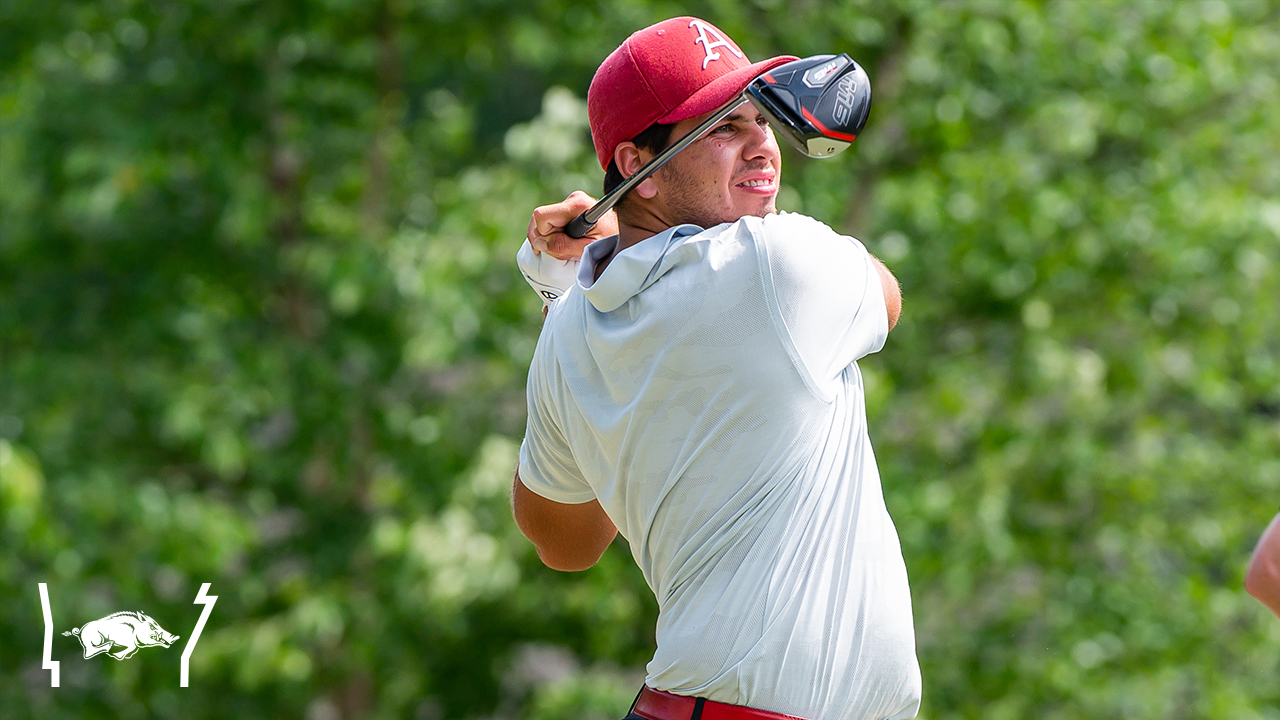 Perico Finishes 4th; Razorbacks 10th at Cabo
CABO SAN LUCAS, Mexico – Julian Perico fired a 2-under-par 69 in the final round and climbed 11 spots on the leaderboard to finish in a tie for fourth at the 10th Annual CABO COLLEGIATE, presented by CFO4Life. Arkansas finished 10th with a score of 861 on the par 71, 6,807-yard Cabo del Sol Cove Club Course.
Perico, who had a double eagle on the 550-yard, par 5 16th hole Tuesday, posted a 54-hole score of 208 (-5) and records his third top 5 finish of the season – sixth of his career. Senior William Buhl was 1-under (212) through three rounds and tied for 19th, his sixth top 20 of the season.
Arizona State, ranked ninth, carded a 10-under-par round Tuesday to win the 15-team CABO COLLEGIATE with an overall score of 832 (-20). Rounding out the top 10 were #6 Texas A&M (840), #20Vanderbilt (842), #14 Arizona (847), #13 Baylor (849), #35 Stanford (853), #42 Alabama (855), #47 Florida State (855), #25 Oklahoma State (856) and #50 Arkansas (861).
Perico had three birdies in the final round and led the field with 16 over 54 holes.  However, the highlight of the day was Perico's double eagle on the par-5, 16th hole as he holed out on his second shot on the 550-yard hole. The sophomore briefly took the lead through 14 holes thanks to his double eagle on his eighth hole and birdies on his 11th, 12th and 14th holes. He finished with a 2-under-par 69 Tuesday and three-day total of 208 (-5), three off the lead.
Buhl, who was second in the field with 39 pars, had four birdies Tuesday and posted a 1-over 72. He opened the tournament with back-to-back 70's and finished tied for 19th with a score of 212 (-1). Mason Overstreet also carded four birdies in the final round and finished in a tie for 49th (71-73-75=220).
William McDonald, playing as an individual, was one stroke off Overstreet's pace. The freshman tied for 52nd with a three-day total of 221 (77-69-75). Tyson Reeder and Luis Garza rounded out the Razorback contingent. Reeder finished in a tie for 57th (73-71-79) and Garza was 74th (83-71-80).
Arkansas returns to action Mar. 16-17 at the Valspar Collegiate Invitational, played at The Floridian (Palm City, Fla.)
For more information on Arkansas Men's Golf, follow @RazorbackMGolf on Twitter.