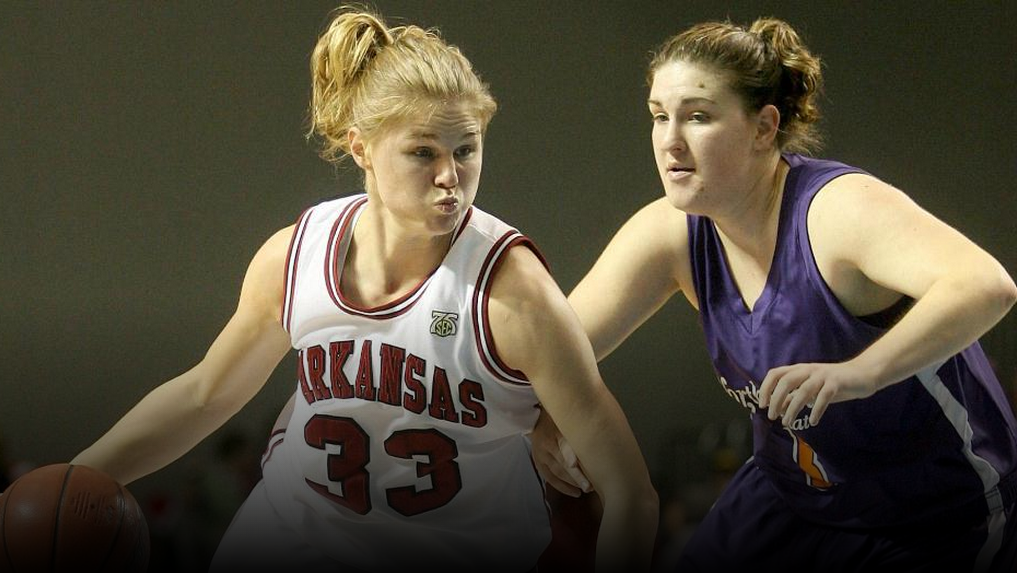 Pfeifer Selected as SEC Legend
BIRMINGHAM, Ala.– Former University of Arkansas women's basketball player Sarah Pfeifer is among the 2015 class of the Southeastern Conference Women's Legends, the league announced Thursday.
Each legend, one from each of the 14 SEC members, will be celebrated individually on each Sunday and Thursday between January 11 and February 26.
The class will be honored at the 2015 SEC Women's Basketball Tournament, March 4-8 in Little Rock, Ark.  Each legend will be honored during half-time of their teams first game of the tournament, all 14 individuals will also be honored as a group, as well as participate in an autograph session during the tournament.  Complimentary posters of the Legends will be available at the session.
Sarah Pfeifer was a member of the Arkansas Razorback women's basketball squad from 2002-08. A team captain from 2004-07, she helped the Razorbacks to appearances in the 2003 NCAA Tournament and the 2005 WNIT. Along the way, Pfeifer endured two different major injuries that kept her from playing two seasons, suffering a season-ending shoulder injury in 2003-04 and then suffering a torn ACL just prior to the 2005-06 season. In her career, she played in 124 games, scoring 1,056 points and earning 565 rebounds.
Pfeifer's name is still sprinkled throughout the Razorback record books. She ranks 24th in career points, and 23rd in career rebounds.
Pfeifer, a native of Ozark, Ark., earned a bachelor of science degree in industrial engineering in 2006 and a master's of education in recreation, sport management in December, 2008. A standout student, Pfeifer was twice named the SEC Scholar Athlete of the Year in 2005 and 2007, was a two-time CoSIDA Academic All American in 2006-07 and 2007-08 and was a five-time selection to the SEC Academic Honor Roll list.
Pfeifer was a member of Arkansas' student-athlete advisory committee, Arkansas Athletes Outreach and a coordinator for the Sweat Hogs outreach program. She was selected to the industrial engineering department's Outstanding Design Team in 2006 and was a recipient of and SEC postgraduate scholarship.
Pfeifer returned to the Northwest Arkansas area and works as a teacher and coach at Lakeside Junior High in Springdale, Ark.
For more information on Arkansas women's basketball, follow @RazorbackWBB on Twitter.