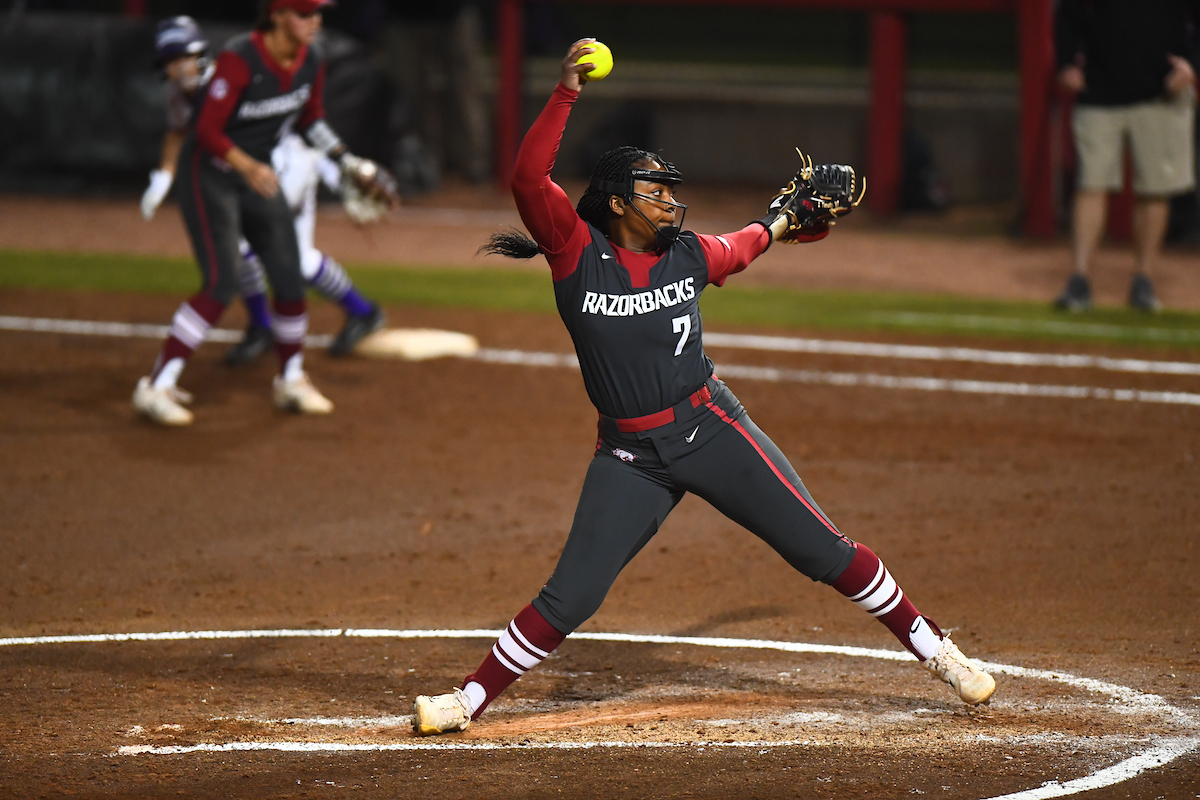 Pitcher's Duel Goes UCA's Way
FAYETTEVILLE, Ark. – Despite a potent outing by senior righthander Chenise Delce (8-2), No. 7 Arkansas (19-4) was unable to scrap together runs late as it fell 2-1 to Central Arkansas (14-5) Monday night at Bogle Park.
Tossing her fifth complete game of the season, Delce recorded her third double-digit strikeout contest after totaling 10 on the day. The Oklahoma City native retired the first 13 batters she faced before giving up a walk in the fifth. Delce curbed the Bears to two runs on four hits in seven innings.
The Razorbacks outhit Central Arkansas 5-4.
Reagan Johnson led Arkansas offensively, going 2-for-4 with a stolen base and scoring the Hogs' one run in the first. Finishing with two hits, Johnson has compiled 10 multi-hit outings through her first 23 collegiate games.
Raigan Kramer, Lauren Camenzind and Kacie Hoffmann recorded a hit apiece. Redshirt junior Rylin Hedgecock drove in Arkansas' lone run on her sacrifice fly to left in the first.
How It Happened
Reagan Johnson mashed a leadoff single to left in the first and then moved into scoring position after stealing second a few pitches later. Hannah Gammill's fly out to right moved Johnson to third with one out. Hedgecock's sacrifice fly allowed speedy Johnson to safely cross home and give Arkansas an early 1-0 lead.
Arkansas loaded the bases in the fourth and fifth frames but came up empty.
The Razorbacks held onto the lead until Central Arkansas plated two in the sixth.
Not letting up, Kacie Hoffmann pinch hit and roped a leadoff single to left to start the seventh. Spencer Prigge, who pinch ran for Hoffmann, moved to second on a fly out to right, but the Hogs were unable to score her and tie the game up.
Up Next
No. 7 Arkansas opens SEC play March 10-12, welcoming Texas A&M to Bogle Park for a three-game set. The Razorbacks and Aggies open the weekend with a 6 p.m. first pitch Friday on SEC Network+.