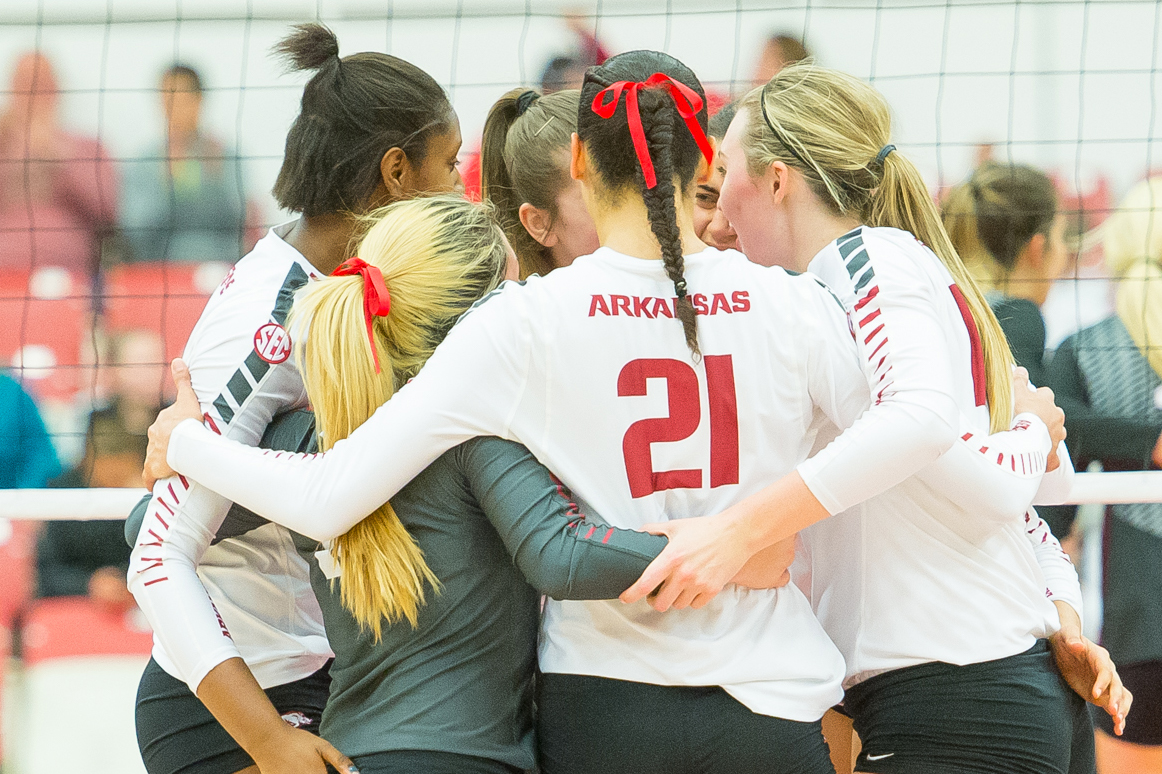 Player Development Leads to Program Accolades
FAYETTEVILLE, Ark. – With this week's announcement of AVCA All-Region accolades, the Razorback volleyball team is within reach of the program's fourth-consecutive year with at least one All-America honor. Arkansas is one of just five SEC programs with a streak that long. Junior outside hitter Pilar Victoria is eligible for national selection as a member of the 14-player All-South Region Team.
Since 2009, Arkansas Volleyball student-athletes have combined to earn six AVCA All-America honors, 13 AVCA All-South Region selections and 17 All-SEC accolades. The Razorbacks will look to add to its national awards when the AVCA office announces its 2015 All-America Teams on Wednesday, Dec. 16.
Victoria would become the fifth Razorback in the past seven seasons to receive AVCA All-America recognition and extend the program's current three-year run with an All-American. In that time, Arkansas' list of All-Americans includes Roslandy Acosta (2012), Meredith Hays (2013-14), Jasmine Norton (2009, '12) and Raymariely Santos (2013). Overall, the Razorback program has 11 All-America nods spread among nine student-athletes.
Victoria was one of three Razorbacks to collect regional honors Tuesday along with South Region Freshman of the Year Okiana Valle and All-South Region honorable mention performer Breana Jones. Arkansas last collected three AVCA All-Region honors in 2013 when Hays, Santos and Emily Helm received regional accolades. Valle is the third South Region Freshman of the Year in program history and first since Norton in 2009.
In the classroom, the Razorbacks are coming off the program's first AVCA Team Academic Award having qualified for honors with a 3.405 cumulative grade-point average during the 2014-15 academic year. Additionally, the program earned its third-consecutive NCAA public recognition for its performance in the APR. Arkansas had 11 student-athletes earn all-conference academic accolades last season and set to add to its total when the 2015 SEC Fall Academic Honor Roll is announced this winter.
The program's player development continues beyond the collegiate stage as eight Razorbacks have extended their careers to the professional level since 2012. The program's global reach has taken former standouts Amanda Anderson, Roslandy Acosta, Kasey Heckelman and Ashley Vazquez to current stops in the Philippines, Germany, France and Greece, respectively. Arkansas' pipeline to Puerto Rico also continues with Santos and Janeliss Torres-Lopez set to play in their home country this spring.
For more information about Arkansas volleyball, follow @RazorbackVB on Facebook, Instagram, Snapchat and Twitter.