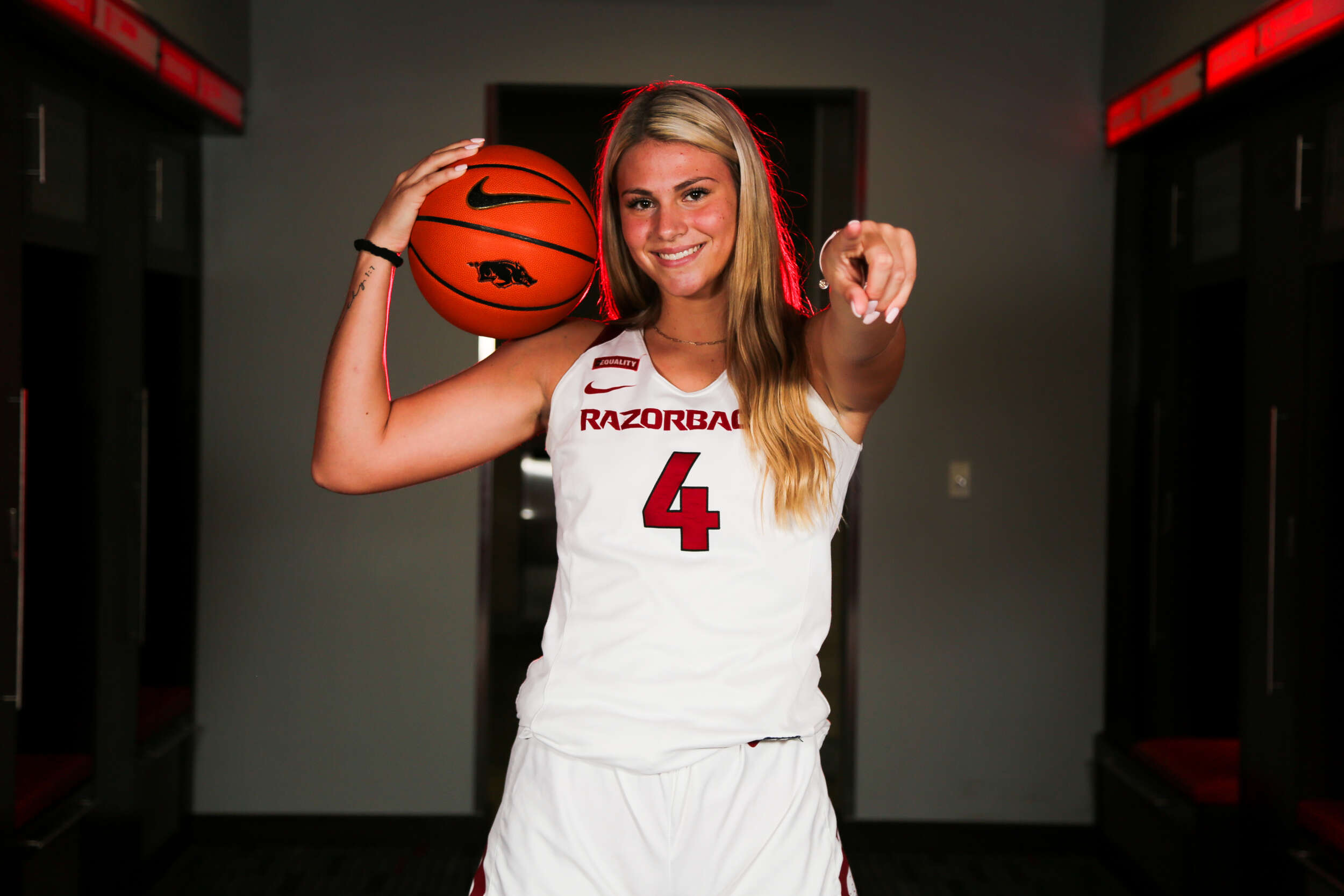 Poffenbarger Signs With Hogs
FAYETTEVILLE, Ark. – The Hogs backcourt got even deeper on Friday, as Head Coach Mike Neighbors announced the addition of Saylor Poffenbarger. Poffenbarger, who will transfer to Arkansas from UConn, will not appear in games until the fall of 2022.
"My staff continues to amaze me in their ability to cultivate and maintain the relationships so vital to recruiting the best student-athletes to be Razorbacks," Neighbors said. "That coupled with the unprecedented success of all 19 sports on our campus right now, we have truly created a competitive village that elite players want to be a part of. When you walk through the Jones Center, you see SEC Champions and National Champions. You see people who are chasing excellence. Saylor Poffenbarger is exactly that. Razorback fans will sense that immediately and she will impact our team, university and city for the next four years."
The Hogs continue to pile up quality players in Fayetteville, as Poffenbarger was a highly touted player coming out of Middletown High School in Maryland. At the time of her signing, Poffenbarger, a 6-2 guard, was ranked as the 30th player in the country in ESPN's 2021 HoopGurlz Recruiting Rankings. Neighbors and the Razorbacks now have three of the top 30 players from that class, as Jersey Wolfenbarger was ranked seventh, while Maryam Dauda was ranked 13th. Poffenbarger will also be the second player that hails from Maryland on the roster, as Makayla Daniels is originally from Frederick, just 10 miles west of Middletown.
"Saylor is a great person who has a lot of potential. Wherever she goes, she'll be able to reach her goals and benefit her future home," UConn coach Geno Auriemma said in a statement. "We wish Saylor and her family the best as she continues her career."
During her brief career at women's basketball powerhouse Connecticut, Poffenbarger played in 12 games, but received limited minutes. She scored three points twice, which was her career-high, during her brief stint in Storrs. In high school, Poffenbarger did it all – during her junior season at Middletown High, the last year of her high school career due to COVID, she averaged 21.2 points, 12.7 rebounds and 5.5 assists per game. Poffenbarger was a two-time Frederick News-Post Player of the Year, and was named Ms. Basketball in Maryland in 2020. She also has international experience, as Poffenbarger won gold at the 2019 FIBA Americas U16 Championship. She averaged 7.2 points, 4.3 rebounds and 3.7 assists in the tournament.
For more information about Arkansas Women's Basketball, follow us on Twitter and Instagram at @RazorbackWBB and on Facebook at Facebook.com/RazorbackWBB. Be sure to subscribe to our YouTube Channel, "Kickin' It In The Neighborhood" for an inside look at the Razorback women's basketball program and check out The Neighborhood podcasts at CoachNeighbors.com.