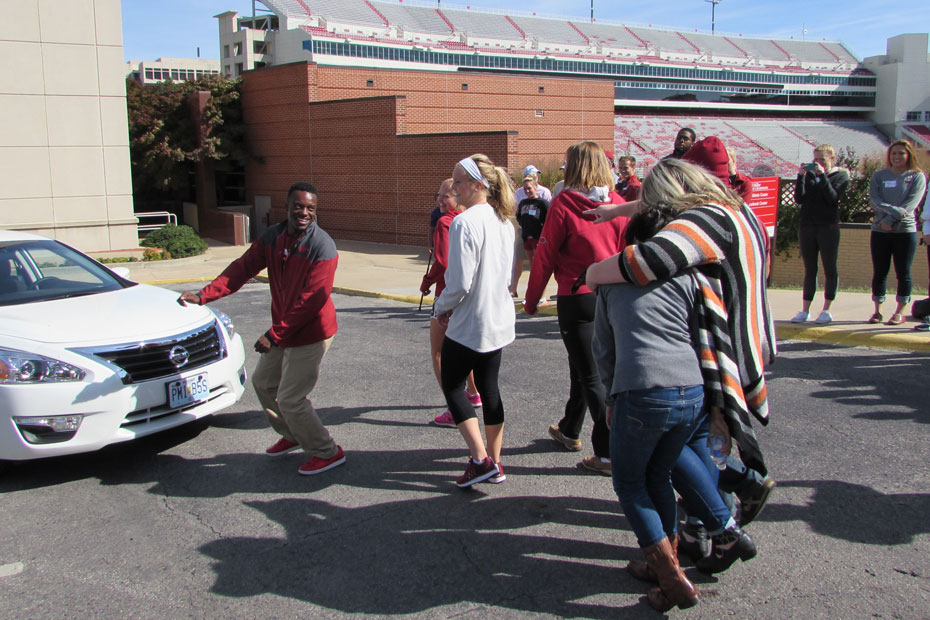 Preventing Risky Behaviors
Universities around the country are striving to meet the changing needs of student-athletes and the Arkansas Razorbacks' Office of Student-Athlete Success (OSAS) has taken innovative approaches to current events by creating programming that directly addresses hot topics and the changing landscape of college athletics.
This article is the fifth in a five part series titled The Changing Landscape of College Athletics: Meeting the Needs of our Razorbacks that will highlight those efforts and the unique learning opportunities. The articles will focus on the education and instruction that will benefit the next generation of young professionals on the following subjects:
June 12: Financial literacy
June 22: Career education and job attainment
July 16: Working with the Millennials and Generation Y
Aug. 5: The role of our Student-Athlete Advisory Committee (SAAC)
Social spotting to help address risky behaviors
In addition to excelling academically, the Razorbacks take pride in excelling athletically. Preparation and conditioning continuously resonate as a key component to success. Razorback student-athletes have access to an outstanding strength and conditioning staff. In addition, competing in the weight room, student-athletes are encouraged and trained to make responsible decisions in the weight room. For example, strategies related to spotting in the weight room are utilized to prevent injuries and promote efficiency.
Coach Todd Barbour, Arkansas Head Strength and Conditioning Coach for Olympic Sports describes the importance of spotting:
"Spotting is something that we teach our kids during their orientation phase in the weight room. The weight room is an uncomfortable place, as it should be, and we move more weight than our athletes ever thought possible. Learning how to Spot your teammates is as important as learning the lift itself. We learn how to spot with 1 person, 2 people and if it's a really big weight we learn the team spot which is a 3 person spot (just like in life, sometimes it takes more than one teammate, family member or friend to keep you on track and to have your back). With 30-40 athletes in the weight room at any given time and only 3-5 coaches the athletes need to learn to count on each other to spot and not rely on a coach spotting them all the time. Learning to spot the right way gives the athletes confidence in each other and they know that their teammates have their back when they need it the most."
The student-athlete development program takes a similar approach as it relates to bystander intervention. The student-athletes are encouraged to learn skills and participate in training related to social spotting. The student-athletes learn to avoid risky behaviors and assist teammates when in comprising situations through social spotting. Student-athletes attend guest speaker presentations and attend workshops that involve interactive activities and role playing. National presenter, Elaine Pasqua spoke to student-athletes on September 21st. The previous fall the student-athlete development unit collaborated with campus police, the student conduct and standards office and theater department to create realistic situations to practice social spotting strategies and skills. Similar to spotting in the weight room, Razorback student-athletes are expected to assist their teammates with avoiding risky behaviors through social spotting.