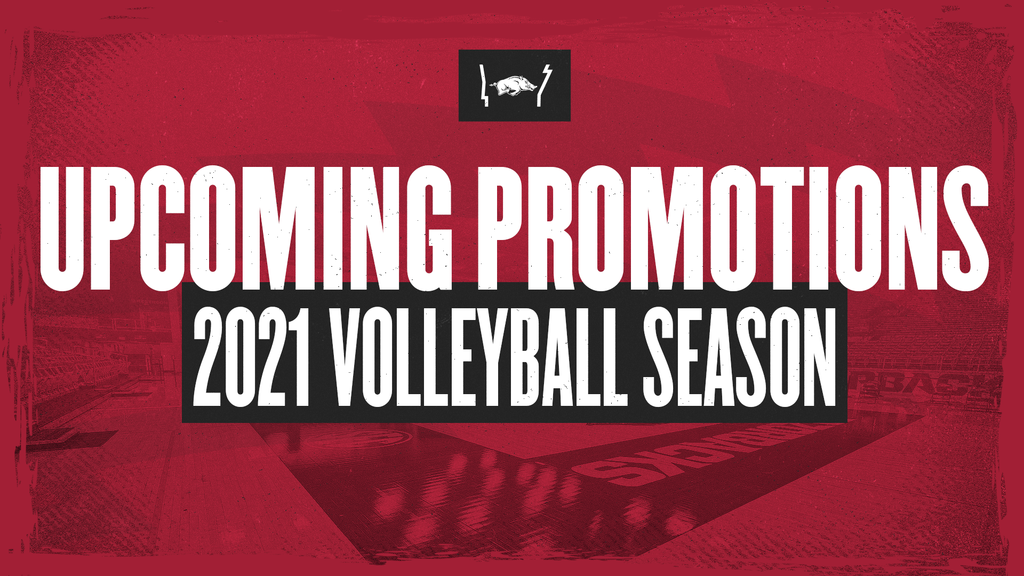 Promotions Schedule Announced for 2021 Volleyball Season
The Razorback volleyball team kicks off its 2021 season this weekend and also announces a schedule full of promotions for its 12 regular-season matches in Barnhill Arena.
The Volley Hogs host the Arkansas Classic August 27-28 and invite the students back to Barnhill with giveaways and special offers. The first 250 students to the match will receive a free Razorback volleyball t-shirt and can enter to win a free 65" TV. August 27 is also International Student and Athletics Staff Appreciation Night. The full pep band along with DJ Derrick will be in the building as Arkansas takes on Arkansas-Pine Bluff at 7 p.m.
Action continues the following day and the Razorbacks take on Louisiana Tech at 12 p.m. and Little Rock at 7 p.m. on August 28. For the evening match, head football coach Sam Pittman will welcome fans to Barnhill Arena and the back-to-school theme continues with a spiral notebook giveaway. Both August 27 and 28 are also Area School Nights, in which local volleyball teams receive free admission.
Arkansas hits the road for nearly a month after that but returns home on September 22 to take on LSU for a midweek match. It's also a Student Appreciation Beach Bash with free food and free Razorback beach towels to the first 200 students. The match against the Tigers is slated for 7 p.m.
The Razorbacks will play for a cause on Saturday, October 2, which has been designated the team's Breast Cancer Awareness Night. The match against Georgia will feature a pink theme, will honor survivors pregame and provide those who RSVP with free tickets, and the first 100 fans will receive a pink t-shirt. Arkansas also welcomes back its alumni for Alumni Weekend, and Saturday marks the third area school night. First serve is set for 5 p.m.
When Auburn comes to town October 9, Arkansas will host Faculty and Staff Appreciation Day. Players will be given the opportunity to invite a favorite faculty member who will receive free tickets and be honored during the game. The 3:00 match against the Tigers is jam-packed with promotions for the kids. It's Camper Reunion Day, in which summer volleyball campers will be invited back to Barnhill, Girl Scout Day, and the fourth Area School event.
The Razorbacks take on Missouri on October 27 at home, and the match will kick off Halloween celebrations early with a spooky theme. Action begins at 7:00.
November 12 is Military Appreciation Night at Barnhill, which will feature veteran recognition, service recognition, color guard and free admission for vets as the Razorbacks host Florida at 7 p.m.
Daddy-Daughter Date Day is back on Saturday, November 13 with pregame food and activities for dads and daughters in attendance. Daddy-Daughter packages are available for purchase for $15 and must be reserved by end of day Nov. 11 here.
It'll also be 80s Night in the arena. Fans born in the 80s can get a free ticket to the 5:00 match and are encouraged to wear their best 80s attire.
Saturday, November 20 will serve as the fifth and final Area School Night at Barnhill, and will also be Superheroes and Princesses and Women's Empowerment-themed. Arkansas plays Mississippi State at 5 p.m. that evening.
The final regular season home match for the Razorbacks comes on Sunday, November 21 at 3 p.m., and it will be Senior Day. Seniors will be recognized postgame for their careers and accomplishments as Razorbacks.
Promotions listed are subject to change and any modifications will be communicated to fans prior to the match.
Fans can purchase single match or season tickets online or by calling the Razorback Ticket Center at (479) 575-5151.
Visit ArkansasRazorbacks.com for the latest information on all things Arkansas Volleyball. You can also find the Hogs on social media by liking us on Facebook (Arkansas Razorback Volleyball) and following us on Twitter and Instagram (@RazorbackVB).