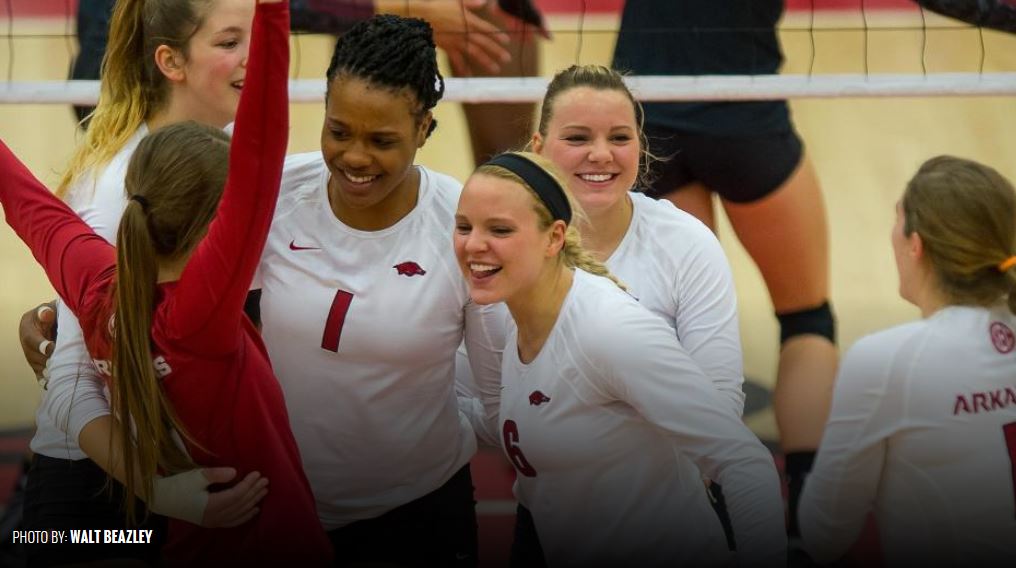 Promotions Set for Wednesday vs. Texas A&M
FAYETTEVILLE, Ark. – Fan promotions for Wednesday's conference matchup with Texas A&M have been announced which include fan giveaways and canned food drive. The midweek contest will be televised by the SEC Network with first serve scheduled for 6 p.m. (CT) at Barnhill Arena. The Razorbacks are on a three-match winning streak and are 8-6 in SEC play, just one game behind Texas A&M in the league standings.
Fan Promotions | Wednesday vs. Texas A&M
• FREE pizza for the first 100 UA students in attendance
• FREE team knit hat giveaway while supply lasts
• Can the Aggies: Bring four (4) or more canned good items for the University of Arkansas Full Circle Food Pantry to receive a FREE hot dog voucher
• Student Organization Challenge: Winning organization—based on highest attendance and participation—receives a $250 donation
Single-match tickets are $5 at the door while UA students and fans 17 years and younger receive free admission for all home matches. UA students are asked to use the street-level entrance on Stadium Drive. The pizza and vouchers will be located at that entrance. Doors at Barnhill Arena open at 5 p.m. Adam Amin and Missy Whittemore will handle the play-by-play and color commentary duties, respectively, for the SEC Network broadcast.
Wednesday's match will be the second meeting this season between Arkansas and Texas A&M. In the first match on Oct. 15, the Razorbacks knocked off then-No. 20 Texas A&M in four sets in College Station. The win was Arkansas' first over the Aggies and the program's first win over a ranked opponent since 2012. In the match, Monica Bollinger and Meredith Hays both moved into the top 20 of the program's all-time digs and kills rankings, respectively.
In its last outing, Arkansas won its third-straight match with a five-set victory over South Carolina at Barnhill Arena. The match was played in front of 2,349 fans, the second-largest home crowd in program history. Liz Fortado led all players with 19 kills to pace a quartet of Razorbacks—Fortado, Hays, Chanell Clark-Bibbs and Ana Sofia Jusino—with double-digit kills.
For more information on Arkansas volleyball, follow @RazorbackVB on Facebook, Instagram and Twitter.