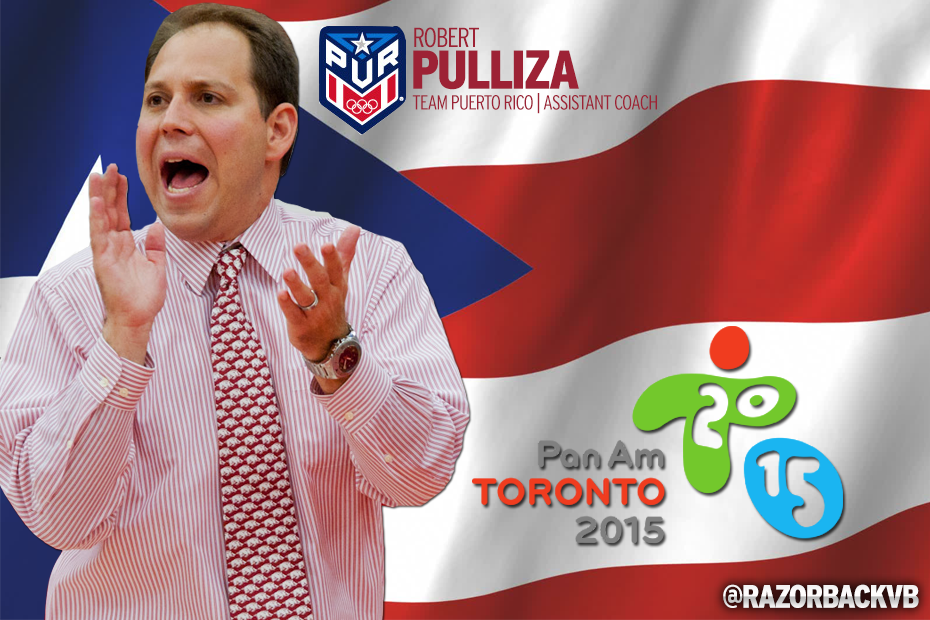 Q&A | Pulliza Tour with Puerto Rico National Team
FAYETTEVILLE, Ark. – Having helped lead the Puerto Rico National Team to the medal rounds at the XVII Pan American Games in Toronto, Razorback head coach Robert Pulliza recounts the summer spent representing his home country. Beginning in June at the NORCECA Champions Cup in Havana, Cuba, Pulliza served as an assistant coach during a run that saw Puerto Rico make history by advancing to the Pan Am medal rounds for the first time in the country's history.
You've coached several national teams before, what was different about this experience?
I've worked with the USA and Puerto Rico youth and junior national teams in the past, along with the USA A2 Team (which is now the USA National Collegiate Team) but this summer was with the senior national team which is more demanding and much more intense. This time around I was working with a group in search of a Pan Am medal and a team that is getting ready to make a run at an Olympic berth.
On the level of intensity compared to past national team coaching duties…
When the stakes are as high as they were this summer the rivalries become pretty heated. You are seeing those rivalries played out at the highest level. On both sides of the net, you have some of the best players in the world which is exciting on its own but it also offers a greater appreciation for the sport and the level of volleyball being played.
Puerto Rico standout Karina Ocasio was named Best Scorer at the Pan American Games. Having coached former Razorback All-Americans Jasmine Norton and Meredith Hays, what do you see as the mindset for a go-to player?
Those athletes expect the ball. They want the ball and they believe they're going to score. I think that's what separates them from other players who may be as physically talented but not a team's scoring leader. Not only do they get more opportunities but they make the most out of them.
On the atmosphere and crowds of international volleyball…
We were very fortunate to play in sold out arenas this summer. One thing that really sets international volleyball apart is that fans are allowed to have noise makers. We're lucky here in Fayetteville to have the Hog Wild Band which is awesome but imagine the band having help from the fans from a noise standpoint. With the noise makers, the fans can really get immersed in the action and impact the outcome because they can really change the atmosphere in the gym.
Having spent over a month with the Puerto Rico National Team, what was the highlight away from the court?
We were on the road pretty much the whole time so when you get to spend that much time with the players, you get to know them as people. You learn about their stories and how they got to where they are as people and players. We had all ages ranging from 19 and 20 year olds up to 35 who are in totally different spectrums of life and priorities. Watching the team dynamics was a really cool experience. They all came together because they love the game of volleyball and love playing for Puerto Rico.
Also, my grandfather earned a silver medal for Puerto Rico at the VIII Juegos Centroamericanos of 1958 so being able to follow in his footsteps and represent my country and family around the world was a real honor.
On traveling to Cuba for the NORCECA Champions Cup…
Traveling to Havana, Cuba, was a life-changing experience. Cuba is a country that has been closed for many, many years for political reasons. Growing up so close to Cuba, understanding the embargo early in my life, and now seeing the impact of it was shocking. It was like stepping back in time 70 years and it's less than 200 miles away from the greatest democracy in the world. It felt like being in a time capsule. It was also impactful seeing people with very little be so happy when we're coming from a place where we often think more is always better. Our trip to Cuba was beyond volleyball. Volleyball was the vehicle that took us there but when I reflect on it, the trip was a good reminder that what you really need is conviction to life and conviction to friends and family.
On the overall impression of the Pan American Games…
Of all the tournaments this summer, the highlight was playing in the Pan Am Games. I knew it was going to be a big deal but never really understood how big of a deal it was until we were there. It was run like the Olympics. Toronto is preparing for a possible bid campaign for the 2024 Olympic Games so they treated the whole event like it was the Olympics. From the opening and closing ceremonies to the schedule of competition, everything was done first class. It was an unreal event. There were 41 countries and more than 6,000 athletes in an unbelievable setting and city. Being part of the Pan Am Games is certainly one of the biggest highlights of my playing and coaching career.
On using #TeamworkIsEverything during your time with the Puerto Rico National Team…
Early on when I joined the team, I felt that the group was ready to make a difference and that everybody was on board to make history. They were ready to reach new heights and get to a place that had never been achieved by Puerto Rico volleyball. The ultimate goal is to qualify for the Olympics which has never happened but the number one summer goal was to win a medal at the Pan Am Games. Unfortunately we came just one match short but for the first time in its history, Puerto Rico was in the medal rounds. There was an early vibe from everybody involved that they were on a mission and throughout the summer, different players were stepping up at different times. It became very evident to me that regardless of the level, from high school and college up to the very best in the world, teamwork is everything.
What was the moment like advancing to the medal rounds with the win over Argentina in the quarterfinals?
That was the match that would give us the opportunity of winning a medal, which was our goal. At that moment, there was no other match. With the exception of one set, we felt that we had played well throughout the game so going into that fifth set, we felt good. Argentina must have felt the same way because it was back and forth almost the whole way. We were serving at match point and recognized the Argentina rotation and knew what they had been doing all match in that rotation. We knew how we needed to execute defensively and communicated that to the team. It was mostly from a blocking standpoint and our players executed perfectly. What we thought would happen actually happened so we were in the right position. It was a stuff block on what had been Argentina's best player to win the match. I still get chills talking about it because I remember every detail and ending it with a spectacular play. Winning that game is one of the best feelings I've ever had.
On playing with intensity when the stake are high…
In that moment, the intensity was about focus. For those teams that do great things and win championships, I believe they find a way to immerse themselves in execution in those moments. We were in a different world in terms of execution on that play. Looking back, it was a surreal moment how everything unraveled and developed into a victory.
What are the things you will take away from this summer that you can bring back to this year's team?
I want to help our team understand that if you want to be the best at something, you need to separate yourself from the competition along the way. Using the Puerto Rico National Team as an example, those players have separated themselves in fitness. I felt that we were more fit than the other teams we played. With a schedule as demanding as we had, it helped keeping them fresh and performing better than other teams for a longer period of time. With our team and players here, being able to separate ourselves in things that we can control is something we have to commit to doing consistently. I think being able to see the best volleyball players in the world prepare on and off the court will give me the chance to bring some new ideas to our team and help our student-athletes unlock their potential.
Additionally, here at Arkansas we've had eight players sign professional contracts over the past three years so we've created a culture that encourages our student-athletes to continue their playing careers. As we have more players go on to play professionally, I felt it was important for me to go to the national-team level and see what a summer tour is all about and what it takes to make those rosters at the next stage. It gave me a clearer idea of how to help our players, physically and mentally, prepare to make those cuts and be one of those 12 players on a national team or extend their professional careers.
When the Razorbacks return to the court, the roster will feature 12 returners from last year's team including seniors Monica Bollinger, All-SEC performer Chanell Clark-Bibbs and Liz Fortado. Beginning at $40, season tickets are on sale through the Razorback Ticket Center by calling 800-982-4647 or emailing raztk@uark.edu. Click HERE to purchase tickets online. Each purchase includes a free team knit hat.
For more information about Arkansas volleyball, follow @RazorbackVB on Facebook, Instagram, Snapchat and Twitter.