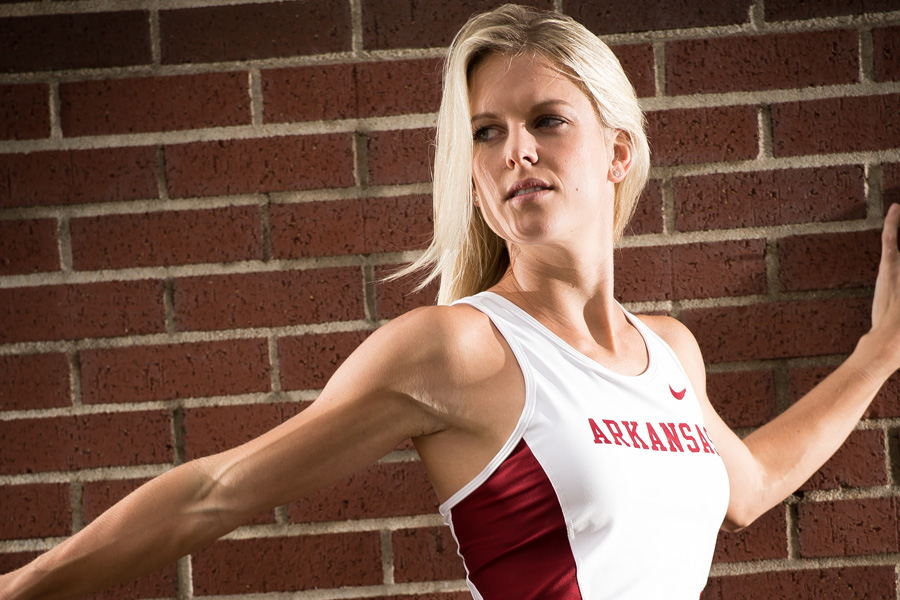 Scott Leading the Pack
FAYETTEVILLE, Ark. — Dominique Scott is accustomed to finishing at the front of the field. The University of Arkansas cross country and track and field star has racked up numerous NCAA and Southeastern Conference championships and top individual event finishes during the course of her illustrious Razorback career.
But as the senior begins to wind down her career at the University of Arkansas, she finds herself also right there in the lead pack of some of the greatest runners ever to compete not only at her alma mater, but in the history of the SEC.
Having your name mentioned along with some of the greatest athletes to compete in your sport is a rare achievement. But to be placed among the all-time greats in three different sports – cross country, indoor and outdoor track and field – are stuff legends are made of.
"When you look at the top runners we've had at the University of Arkansas, Dominique Scott is certainly right there at the top of the list," Arkansas women's track-and-field and cross country head coach Lance Harter said. "When you consider what she has done in her career, you mention her alongside names like Deena Drossin-Kastor, Amy Yoder Begley and Christin Wurth Thomas. They each have had their own list of individual and team successes, but in any comparison Dom can stand with any of them."
The path to greatness wasn't always an easy ride. Blessed with immense talent, Scott had to first buy into some major adjustments that in turn helped take her from a very good runner to one that ranks among the world's elite.
"She can do so many things well," Harter said. "She is gifted and an amazing talent. But she also has a great passion to be successful. She was willing to change everything, even her running style, to achieve at the highest level. It took some time, but she was patient for the opportunity to realize those dreams."
While there is room for healthy debate among greats at the University of Arkansas, when it comes to SEC accolades, Scott stands alone not only at her institution but in the history of the league.
"Dom is the best ever in SEC competition," Harter said. "There is no parallel. I can't think of anyone who has had as much success in all three sports. That is what makes her special. To be facing the competition you find at SEC indoors and outdoors, you're going against not only the nation's best, but world-class competition," Harter said. "To be able to hold off all those people in three different competitive venues is incredible."
Scott has experienced unparalleled success in indoor and outdoor track-and-field, and cross country. In a sport where many talented runners focus on competing for championships in one discipline, Scott has taken on the challenge of winning in all three. Harter says that type of versatility distinguishes the South African native from others who win titles in a more limited scope of events.
"She is multi-functional, Harter said. "It is very, very rare that someone who masters the hill and dale of cross country can then be the best on the indoor and outdoor track. Those who succeed on the track have the ability to run with a quicker cadence, they are able to use their leg speed. Dom has all the skills and has established herself as a dominant force in all three sports."
The very nature of track and field lends to a comparison of numbers, standards to judge individual performance against your contemporaries and even legendary athletes of the past. So, in this continued measure of legacy, how does Scott's talents and achievements rank against other elite Razorback runners such as Deena Drossin-Kastor, Amy Yoder Begley and Christin Wurth Thomas?
| Name | 1,500-m | Mile | 3,000-m | 5,000-m (XC) | 5,000-m (Indoor) | 5,000-m (Outdoor) | 6,000-m (XC) | 10,000-m |
| --- | --- | --- | --- | --- | --- | --- | --- | --- |
| Deena Drossin Kastor | N/A | N/A | 9:20.87* | 16:42.00 | 15:52.80 | 15:52.80 | N/A | N/A |
| Jessica Dailey | 4:21.55* | 4:44.62* | 9:29.03* | 16:45.25 | N/A | 15:48.89 | N/A | N/A |
| Megan Flowers | N/A | N/A | 9:35.75* | 16:39.00 | 16:02.95 | 16:02.95 | N/A | N/A |
| Lilli Kleinnmann | N/A | 4:48.60* | 9:11.21 | 16:48.80 | 15:55.43 | N/A | 20:06.59 | N/A |
| Dominique Scott | 4:08.65 | 4:32.48 | 9:02.33 | 16:01.00 | 16:00.73 | 15.32.55 | 19:22.74 | 32:11.60 |
| Christin Wurth Thomas | 4:10.49 | 4:36.94 | 9:23.36 | N/A | 16:30.41 | 15:54.99 | 19:33.55 | N/A |
| Amy Yoder Begley | N/A | 4:50.22* | 9:37.96* | 16:29.00 | 15:46.89 | 15:49.85 | N/A | 33:06.84 |
(* Denotes time ran to win an SEC individual championship and may not be best personal performance)
Based on the top times data in the chart, Scott's versatility becomes clear. She is able to competitively run (and win) in several events ranging from the 1,500-meter all the way to the 10,000-meter. In contrast, other Razorback runners at Scott's level can be regarded as specialists; for example, Harter said Yoder Begley was more of a "blend" runner, while Wurth Thomas was more of a speedster.
In terms of placing Scott in the "Greatest of All-Time" category, that's up for continued debate. As a comparison, Yoder Begley is a 15-time All-American and was an individual indoor and outdoor national champion, but not in cross country.
Thus far, Scott is a seven-time All-American on track and a two-time All-American in cross country. She also has several individual championships under her belt, including the 2015 SEC Outdoor for 1,500 and 5,000-meters and SEC Indoor for the 3,000-meter and the mile. Scott also won the 3,000-meter at the NCAA Indoor Championships last season.
This year, in four cross country events, Scott has won three: The 5K Chile Pepper Festival, the 6K SEC Championships, and the 6k NCAA South Central Regional Championships.
Perhaps the most compelling argument for Scott is her unprecedented NCAA championship collection. No other female runner at the University of Arkansas can claim is three NCAA championships. Scott stands alone in that category and still has a chance to add to her resume.
For now, Harter isn't spending much time distinguishing between the phenomenal success of Scott and the many extraordinary student-athletes who have helped make Arkansas Women's Track and Field consistently on the nation's top overall programs. He is simply going to enjoy the remainder of her career in a Razorback singlet and then turn his eyes to what is next.
"I guess as a coach having just one of those student-athletes like Dom in a coaching lifetime is rarified air," Harter said. "To be able to have more than one is very unique. I am very grateful for it. And deep down, even while she finishes up her extraordinary career at the University of Arkansas, you are always looking for the next one."