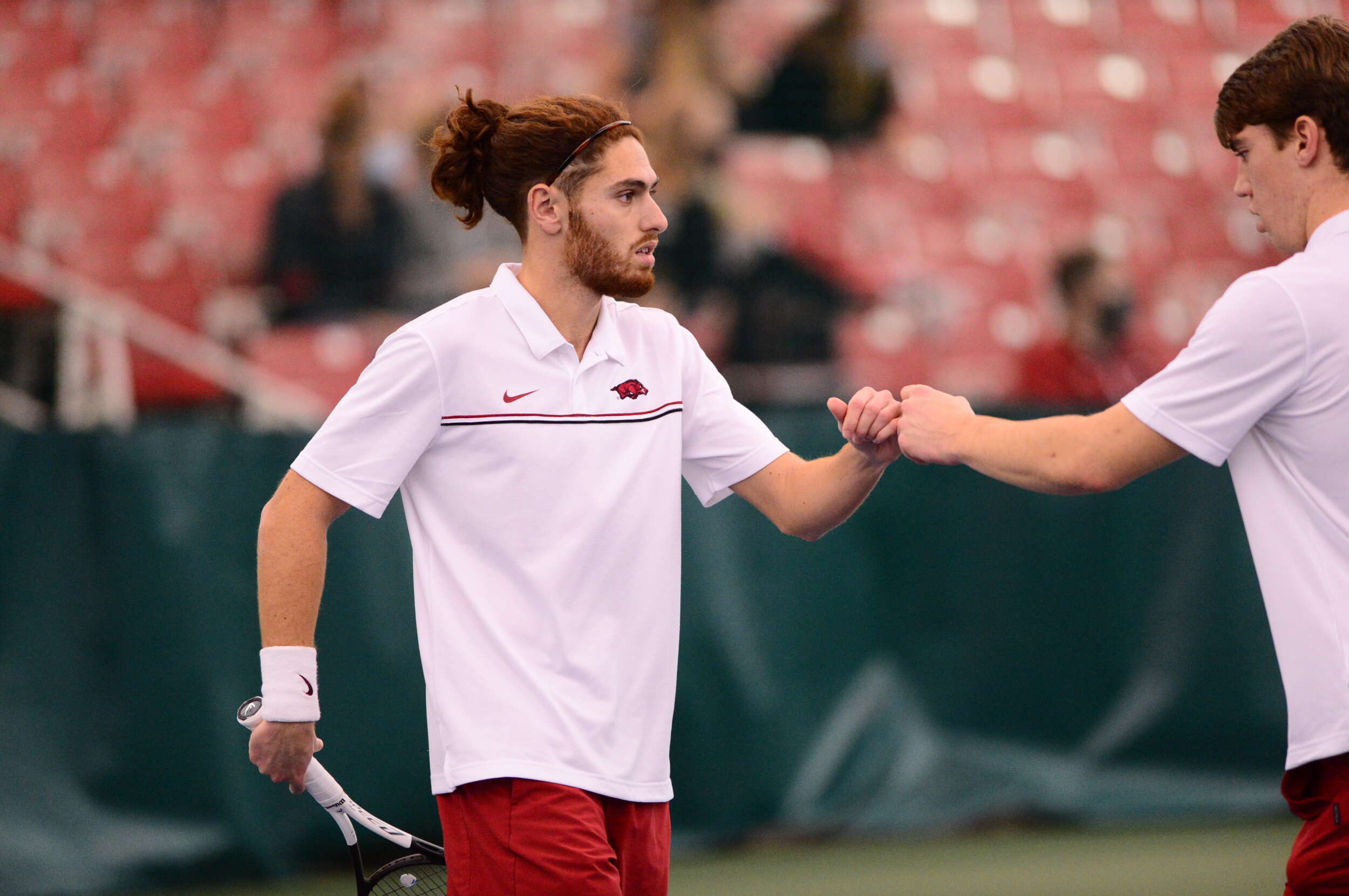 Razorback Men's Tennis Sweeps Doubleheader with Omaha
FAYETTEVILLE, Ark. – Razorback Men's Tennis (2-0) opened the dual season with a pair of victories against the Omaha Mavericks (0-2) on Friday night at the Dills Indoor Tennis Center. Arkansas swept all 12 singles matches en route to their season-opening wins.
After dropping the doubles point in the first match, the Hogs bounced back to take all six singles matches. Melvin Manuel got out to a hot start by sweeping Philip Olsson, 6-0, 6-0. Enrique Paya and Nico Rousset followed up with their own straight-set wins at the No. 6 and No. 2 spots, respectively. Alex Reco and Aleksa Bucan took down their Mavericks opponents before Adrien Burdet closed out the win with a 6-2, 6-2 victory in his collegiate debut.
In the nightcap, Jose Dominguez Alonso and Enrique Paya jumped up to the No. 2 spot and picked up their second doubles win of the night, downing the duo of Lawley/Piles Ballester, 6-2. Melvin Manuel then teamed with Razorback rookie Avery Zavala to clinch the doubles point with a 6-3 win.
The Hogs went on to use their same singles lineup from the previous match and took five straight-set wins in a row. The night was capped off by a victory from Rousset in a third set tiebreaker. After winning the first set, 7-6 (12-10), the junior dropped the second but cruised for a 10-3 win in the final set.
"Omaha played well in the first doubles point and we were so tight. After that we were much better the rest of the day," said head coach Andy Jackson. "Next we go to top 15 Oklahoma State, which is a top half of the league SEC type match, so we are eager for the challenge."
The Hogs head to Stillwater, Okla. to face No. 14 Oklahoma State on Thursday, Jan. 28th. First serve is scheduled for 4 p.m. CT.