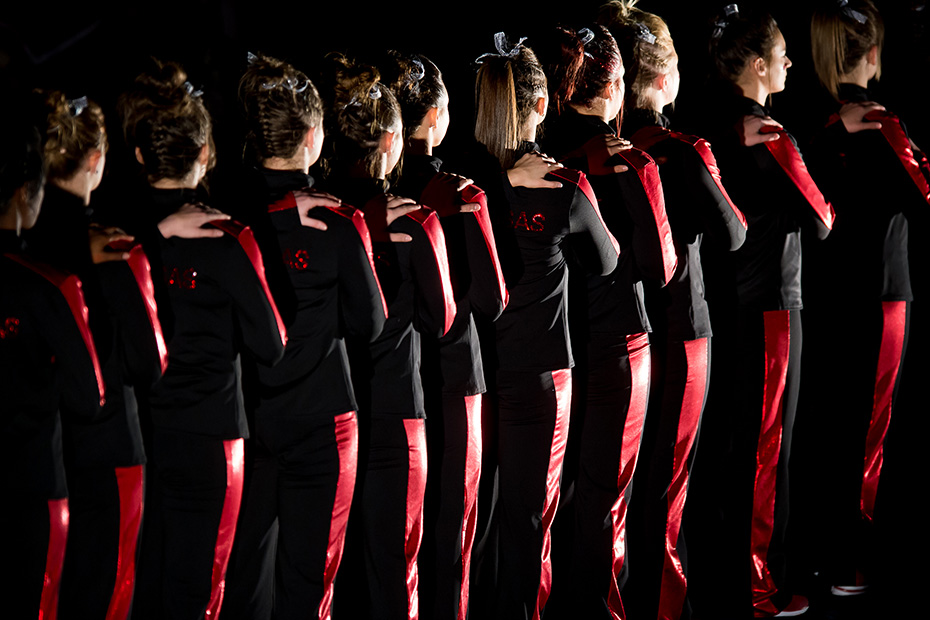 @RazorbackGym Moves Up To No. 12 in Gyminfo Rankings
Team Rankings: Overall, Vault, Bars, Beam, Floor
Individual Rankings: Vault, Bars, Beam, Floor, All-Around

FAYETTEVILLE, Ark. — The University of Arkansas gymnastics team moved up one spot from its preseason ranking to No. 12 after posting a season-opening score of 194.900 at now top-ranked Oklahoma last Friday at the Lloyd Noble Center.
The No. 12 ranking keeps Arkansas inside the top 15 for the second consecutive poll to start the 2015 season. Their score of 194.900 also places them inside the top five as a team in the South Central Region, coming in at No. 4 in the 13-team region.
In event rankings, the Razorbacks placed inside the top 10 nationally in both the floor exercise and vault, coming seventh and eighth respectively. Arkansas was placed at No. 26 in both the uneven bars and balance beam.
In the individual rankings, freshman Paige Zaziski's score of 9.900 on the vault placed her in a tie for 10th nationally. Zaziski's score is tied with Stanford's Elizabeth Price for the third-highest vault total for a freshman in the nation. The Chesterfield Township, Mich., native also placed inside the top 25 in the bars, as she was tied for 23rd.
Sophomores Samantha Nelson and Amanda Wellick tied for 12th in the nation in the floor exercise, as they both scored a 9.875 against the Sooners.
The Southeastern Conference continued its dominance in the women's gymnastics rankings, as the conference had four teams featured inside the top 10 and had six of its seven schools place inside the top 25 for the second straight poll this season.
LSU moved up to No. 2, while co-defending champion, Florida, fell from preseason No. 1 to No. 3. Alabama, who the Razorbacks will face on Friday in Barnhill Arena, dropped two spots to No. 6, whereas Auburn slipped to No. 21. Missouri made its 2015 debut in the top 25 this week, coming in at 25th.
The Razorbacks will open the home portion of their 2015 schedule on Friday, Jan. 16, as they entertain No. 6 Alabama in Barnhill Arena. The meet will be the nightcap of the SEC's first-ever live gymnastics broadcast, which will take place on the SEC Network. Events are scheduled to begin at 8 p.m.
For more information on Arkansas gymnastics, follow @RazorbackGym on Twitter.