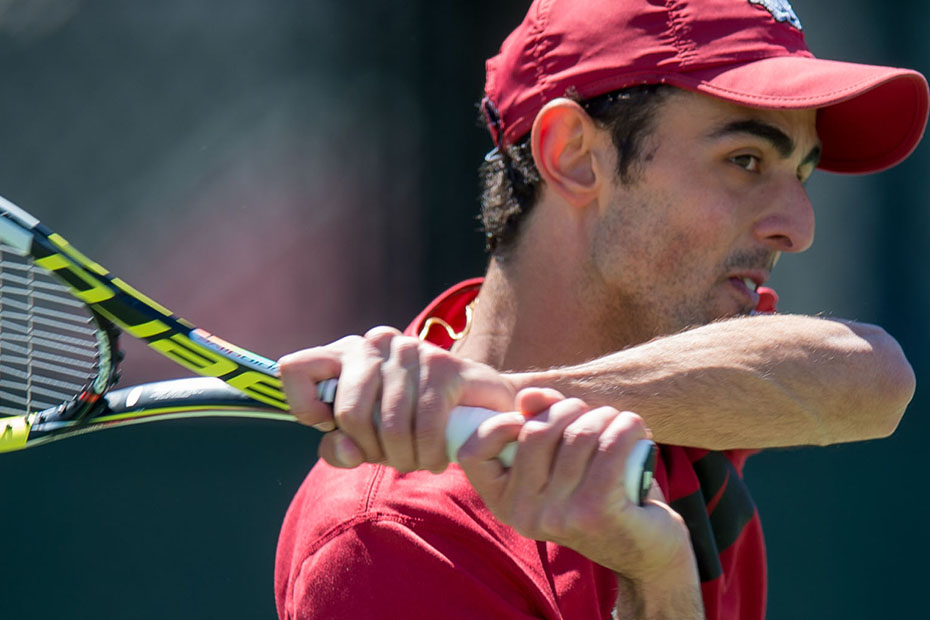 @RazorbackMTEN Defeated by Tennessee
FAYETTEVILLE, Ark. – Despite making a comeback late in singles play, Arkansas men's tennis fell to Tennessee, 4-0, in its final home match of the season at the George M. Billingsley Tennis Center on Saturday.
With the loss the Razorbacks fell to 11-13 overall, 1-9 in the SEC, while the Volunteers improved to 12-10 overall and 4-5 in conference play.
Just before play began, senior Jovan Parlic was honored. An active leader of his team both on and off the courts, Parlic will graduate in May with a degree in pre-professional exercise science and hopes to pursue a graduate degree in physical therapy.
Tennessee took control early as it claimed the doubles point. Jess Jones and Mikelis Libietis first defeated Arkansas duo of junior Giammarco Micolani and Parlic, 6-1, in the No. 2 position. Then, Razorback pair of junior Santiago Munoz and freshman Branch Terrell fell to Andrew Dromsky and Igor Smelyanski, 6-2, in the No. 1 spot.
Carrying that momentum into singles, the Volunteers took courts one and two in straight sets. But the Razorbacks battled back, playing through to third sets in the No. 3, 4, 5 and 6 positions. den Toom netted a 6-2 win in his first set against Jones before falling 7-6 (7-4) in the second. Munoz, Parlic and sophomore Juan Marino all lost their first sets but rallied back to win in the second. Playing in the No. 6 spot, Marino won a thrilling 7-6 (8-6) second set over Dromsky, but fell in the third 6-4 to give Tennesee its final point.
Munoz hung on in his second set to defeat Smelyanski 7-5, and was tied 3-3 in the third when play was called. Like Marino, Parlic also played a nail-biting tiebreaker in his second set, bettering Luis Valero 7-6 (8-6). Parlic and Valero were at two apiece and den Toom was trailing 2-3 when the match was concluded.
The Razorbacks next hit the road for their final two regular season matches. Arkansas will first face No. 6 Georgia in Athens, Georgia at 4 p.m., CT on Thursday and then South Carolina in Columbia, South Carolina at 10 a.m., CT on Saturday.
Arkansas vs Tennessee
April 4, 2015 at Fayetteville, Ark.
(George M. Billingsley Tennis Center)
Tennessee 4, Arkansas 0
Doubles Competition
1. Andrew Dromsky/Igor Smelyanski (TENN) def. Santiago Munoz/Branch Terrell (ARK) 6-2
2. Jess Jones/Mikelis Libietis (TENN) def. Giammarco Micolani/Jovan Parlic (ARK) 6-1
3. Johan den Toom/William Albanese (ARK) vs. Jack Schipanski/Luis Valero (TENN) 3-4, unfinished
Singles Competition
1. #16 Mikelis Libietis (TENN) def. #81 Giammarco Micolani (ARK) 6-2, 6-3
2. #115 Jack Schipanski (TENN) def. William Albanese (ARK) 6-3, 6-1
3. Jovan Parlic (ARK) vs. Luis Valero (TENN) 3-4, 7-6 (8-6), 2-2, unfinished
4. Santiago Munoz (ARK) vs. Igor Smelyanski (TENN) 3-6, 7-5, 3-3, unfinished
5. Johan den Toom (ARK) vs. Jess Jones (TENN) 6-2, 6-7 (4-7), 2-3, unfinished
6. Andrew Dromsky (TENN) def. Juan Marino (ARK) 6-2, 6-7 (6-8), 6-4
Match Notes:
Tennessee 12-10
Arkansas 11-13
Order of finish: Doubles (2,1); Singles (2,1,6)
For more information on Arkansas men's tennis, follow @RazorbackMTEN on Twitter.