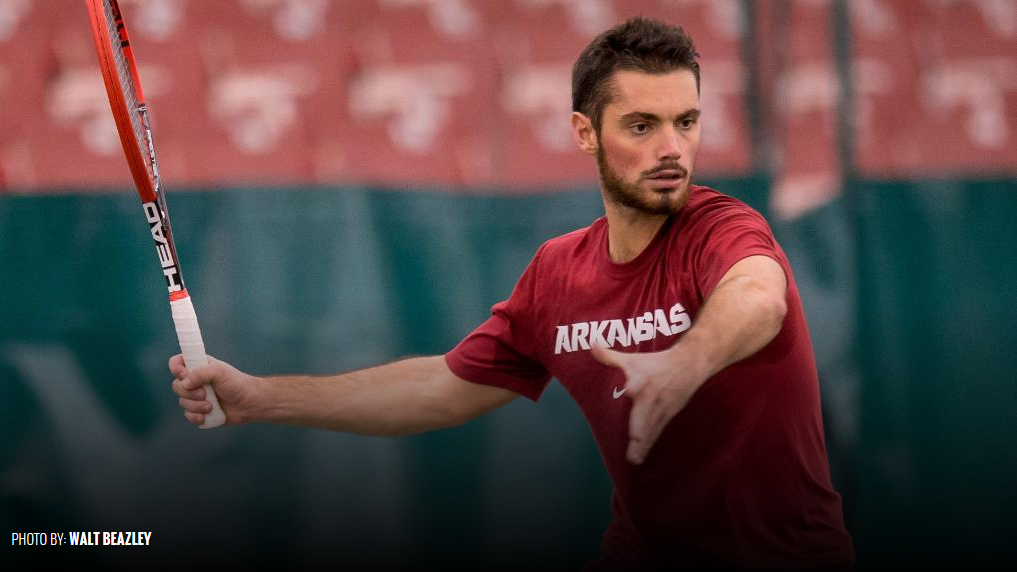 @RazorbackMTEN Downed By No. 13 Ole Miss
OXFORD, Miss. – Despite winning four-of-six first sets in singles play, the University of Arkansas men's tennis team fell to No. 13 Ole Miss 4-1 at the Gillom Sports Center on Thursday.
With the loss the Razorbacks fell to 11-7 overall, 1-3 in the SEC, while the Rebels improved to 10-4 overall and 2-1 in conference play.
Ole Miss got momentum on its side early as Nik Scholtz and Zvonimir Babic beat Razorback pair of junior Santiago Munoz and freshman Branch Terrell 6-1 in the No. 1 spot. Arkansas rallied back as sophomore Johan den Toom and junior William Albanese won their third-straight, defeating Ricardo Jorge and Grey Hamilton 6-3. For the third match in a row, the doubles point came down to the No. 2 court. Arkansas senior Jovan Parlic and junior Giammarco Micolani battled with Gustav Hansson and Stefan Lindmark, but ultimately lost 6-4.
The doubles loss did not seem to shake the Razorbacks as they came back and won four-of-six first singles sets. However, Ole Miss answered these wins in stride and pushed the No. 1, 2 and 3 courts to third sets.
Arkansas' biggest and only singles win of the day came from Micolani. The junior faced reigning SEC Player of the Year and No. 23 ITA-ranked Nik Scholtz. Micolani won the first set a commanding 6-2, but then lost in the second set by the same score. Forced into a third set, Micolani came away victorious as he beat Scholtz 6-3.
Albanese and Parlic also battled through three sets. First, Albanese won a 6-2 set against Gustav Hansson. Unfortunately, the junior could not hold on and fell in the last two sets 6-3, 6-3. Parlic also was victorious in his first set, defeating No. 82 Stefan Lindmark 6-4. Like Albanese though, Parlic lost momentum and ultimately fell 4-6, 6-3, 6-3.
The Razorbacks return to Fayetteville for two home matches next week. Arkansas faces No. 18 Florida at 2 p.m., CT on March 20 and Auburn at 1 p.m., CT on March 22 at the George M. Billingsley Tennis Center.
Arkansas vs Ole Miss
March 12, 2015 at Oxford, Mississippi
(Gillom Sports Center
No. 13 Ole Miss 4, Arkansas 1
Doubles Competition
1. Nik Scholtz/Zvonimir Babic (OM) def. Santiago Munoz/Branch Terrell (ARK) 6-1
2. Gustav Hansson/Stefan Lindmark (OM) def. Jovan Parlic/Giammarco Micolani (ARK) 6-4
3. Johan den Toom/William Albanese (ARK) def. Ricardo Jorge/Grey Hamilton (OM) 6-3
Singles Competition
1. Giammarco Micolani (ARK) def. #23 Nik Scholtz (OM) 6-2, 2-6, 6-3
2. #82 Stefan Lindmark (OM) def. Jovan Parlic (ARK) 4-6, 6-3, 6-3
3. Gustav Hansson (OM) def. William Albanese (ARK) 2-6, 6-2, 6-3
4. Vinod Gowda (OM) vs. Johan den Toom (ARK) 7-6 (7-3), 2-2, unfinished
5. Zvonimir Babic (OM) def. Juan Marino (ARK) 6-4, 6-1
6. Ricardo Jorge (OM) vs. David Herrerias (ARK) 4-6, 1-0, unfinished
Match Notes:
Arkansas 11-7, 1-3; National ranking #64
Ole Miss 10-4, 2-1; National ranking #13
Order of finish: Doubles (1,3,2); Singles (3,1,2,5)
For more information on Arkansas men's tennis, follow @RazorbackMTEN on Twitter.