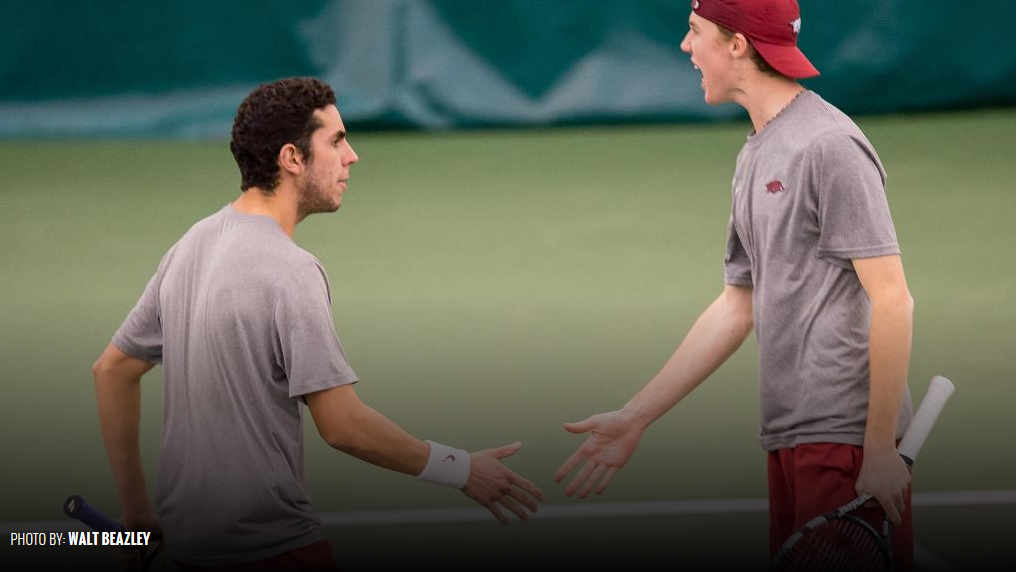 @RazorbackMTEN Drops Match Against Northwestern
NORMAN, Okla. – The University of Arkansas men's tennis team quickly claimed the doubles point, but ultimately fell to Northwestern 4-2 in the first day of play at the ITA Kickoff Weekend at the Headington Family Tennis Center on Saturday.
With the loss, the Razorbacks dropped to 4-2 overall, while the Wildcats improved to 2-1.
Getting the day off to a good start, Arkansas collected the doubles point by winning the No. 1 and 3 positions. Playing in the No. 3 spot, sophomore Johan den Toom and junior William Albanese bettered Alp Horoz and Sam Shropshire 6-2. Next, freshman Branch Terrell and junior Santiago Munoz clinched the point for the Razorbacks, defeating Alex Pasareanu and Mihir Kumar 6-4.
Claiming the lone singles win of the day for Arkansas was senior Jovan Parlic. Parlic netted a 6-2, 6-4 win over Logan Staggs to take the No. 2 spot. Albanese had won his first set 7-6 (9-7) then was up 4-3 in his second against Kumar in the No. 4 position when play was called.
NEXT UP:
Arkansas will face the loser of the No. 2 Oklahoma (1-0) versus University of New Mexico (4-2) match (Saturday at 2 p.m., CT) in the ITA Kickoff Weekend consolation match, scheduled for Sunday at 10 a.m., CT in Norman, Oklahoma.
Northwestern vs Arkansas
Jan 24, 2015 at Norman, Okla.
(Headington Family Tennis Center)
Northwestern 4, Arkansas 2
Doubles Competition
1. Branch Terrell/Santiago Munoz (Ark) def. Alex Pasareanu/Mihir Kumar (NU) 6-4
2. Giammarco Micolani/Jovan Parlic (Ark) def. Fedor Baev/Strong Kirchheimer (NU) 3-3 UNFINISHED
3. Johan den Toom/William Albanese (Ark) def. Alp Horoz/Sam Shropshire (NU) 6-2
Singles Competition
1. Sam Shropshire (NU) def. Giammarco Micolani (Ark) 7-5, 6-3
2. Jovan Parlic (Ark) def. Logan Staggs (NU) 6-2, 6-4
3. #108 Strong Kirchheimer (NU) def. Johan den Toom (Ark) 6-3, 6-3
4. Will Albanese (Ark) def. Mihir Kumar (NU) 7-6 (9-7), 4-3 UNFINISHED
5. Fedor Baev (NU) def. Santiago Munoz (Ark) 6-4, 7-6 (7-5)
6. Alp Huroz (NU) def. David Herrerias (Ark) 6-2, 6-4
Match Notes:
Order of finish: Doubles (3, 1); Singles (6, 3, 2, 1, 5)
For more information on Arkansas men's tennis, follow @RazorbackMTEN on Twitter.