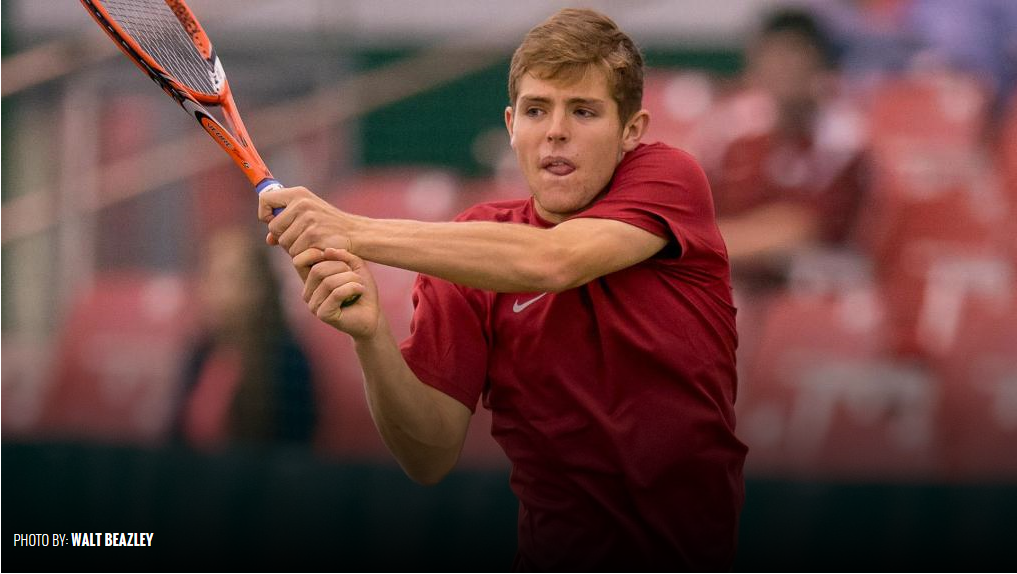 @RazorbackMTEN Returns To Action At Oklahoma State
FAYETTEVILLE, Ark. – After a two-week break from dual competition, the University of Arkansas men's tennis team (5-2) will face Oklahoma State at the Michael and Anne Greenwood Tennis Center in Stillwater, Oklahoma at 1 p.m., CT on Sunday.
LAST TIME OUT:
The Razorbacks split at the ITA Kickoff Weekend in Norman Oklahoma on Jan. 24-25. Arkansas faced Northwestern on the first day of competition. Though the Razorbacks were able to come away with the doubles point, they ultimately fell to the Wildcats 4-2. Claiming the lone singles win of the day for Arkansas was senior Jovan Parlic. Parlic netted a 6-2, 6-4 victory over Logan Staggs to take the No. 2 spot.
Going up against New Mexico on the second day of the ITA Kickoff Weekend, Arkansas got momentum on its side early, claiming the doubles point. After Razorback losses in the No. 1 and 2 positions, sophomore Johan den Toom was able to get the first Arkansas singles win of the day. Playing in the No. 3 spot, den Toom defeated Bart Van Leijsen 7-6, 7-5. Then, junior William Albanese battled through three sets to beat James Hignett 0-6, 6-1, 6-3. Clinching the match for the Razorbacks was freshman David Herrerias who netted a 6-4, 2-6, 6-3 victory over Jorge Escutia.
A LOOK AT OKLAHOMA STATE (5-2):
The Cowboys most recently suffered a 4-1 upset by Minnesota in Minneapolis on Sunday. Oklahoma State fell behind early, losing the doubles point with 6-2 losses on courts one and three. The Gophers extended their lead to 3-0, taking the singles matches on courts one and two. The Cowboys' lone point of the day came at the No. 6-spot where freshman Jurence Mendoza stormed back to win in three sets over Mathieu Froment, 4-6, 7-5, 6-2. Just a week before this loss, Oklahoma State claimed a 4-1 win over No. 17 Tennessee on Jan. 25 at the ITA Kickoff Weekend.
For more information on Arkansas men's tennis, follow @RazorbackMTEN on Twitter.