Razorbacks 4th After Day 1 At NCAA Regional
AUSTIN, Texas – Arkansas got off to a hot start in the opening round of the 2019 NCAA Austin Regional – played at the par 71, 7,355-yard University of Texas Golf Club – before finishing day one in fourth place with a score of 2-under-par 282 Monday.
Freshman Julian Perico is tied for second, one shot off the lead, after posting a 4-under-par 67. Junior Tyson Reeder turned in a bogey-free 70 (-1) to stand in a tie for ninth while William Buhl is tied for 13th (71).
The course was a tale of two nines with the front nine playing more difficult than the back. In fact, eight of the 12 toughest holes were on the first nine holes while five of the final eight played the easiest. Arkansas and Texas helped prove the point.
The Razorbacks, starting on hole 10, raced out to be 8-under par through seven holes. Perico led the way with two eagles and two birdies. Arkansas played the remaining 12 holes at 6-over par to finish the day -2 (282). Texas, the host and co-leader through round one at -6 (278), started on hole 1 and was second-to-last after the opening nine holes. However, the Longhorns rallied with 11 birdies on the back nine to take a share of first.
Texas (278) shares the lead with Pepperdine (278) followed by TCU (280) in third, Arkansas (282) and Clemson (284) to round out the ever-important top five. The next three include Southern Cal (290), Marquette (290) and San Jose State (291).
For the Razorbacks, Perico had two eagles and two birdies through five holes. He was the only player in the field to have two eagles in round one and he played the par-5's at an event-best, 5-under par. Perico, staring on hole 10, opened with a par and then went eagle, birdie, par, eagle, par, birdie to stand 6-under through seven holes. He would bogey the 18th to close his round and drop shots on holes 2 and 3 to fall to -3 for the day. However, he reeled off five pars and capped his round with a birdie on the 605-yard, par 5 9th hole for his 4-under-par 67 – his team-leading 12th round in the 60's this season.
Reeder led the field on day one with 17 pars. The junior opened with a par, had a birdie on his second hole (the par-5, 11th hole) and finished the day with 16 straight pars for a 1-under-par round of 70.
Buhl off-set three bogeys with three birdies, adding 12 pars, to shoot an even-par 71 to tie for 13th after 18 holes.
Mason Overstreet and Luis Garza are tied for 34th, each shooting a 3-over-par 74.
Round two of three of stroke play will be Tuesday. The top five teams and highest placing individual not on the top five teams after round three will advance to the NCAA Championship, hosted by Arkansas at Blessings Golf Club.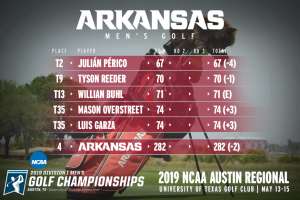 NCAA Championships
The University of Arkansas and Blessings Golf Club are the proud hosts of the 2019 NCAA Women's and Men's National Championships. The women's event begins May 17 and is immediately followed by the men's championship beginning May 24. For more information or to volunteer for the event, log on to www.NCAAGolf19.com.
For more information on Arkansas Men's Golf, follow @RazorbackMGolf on Twitter.