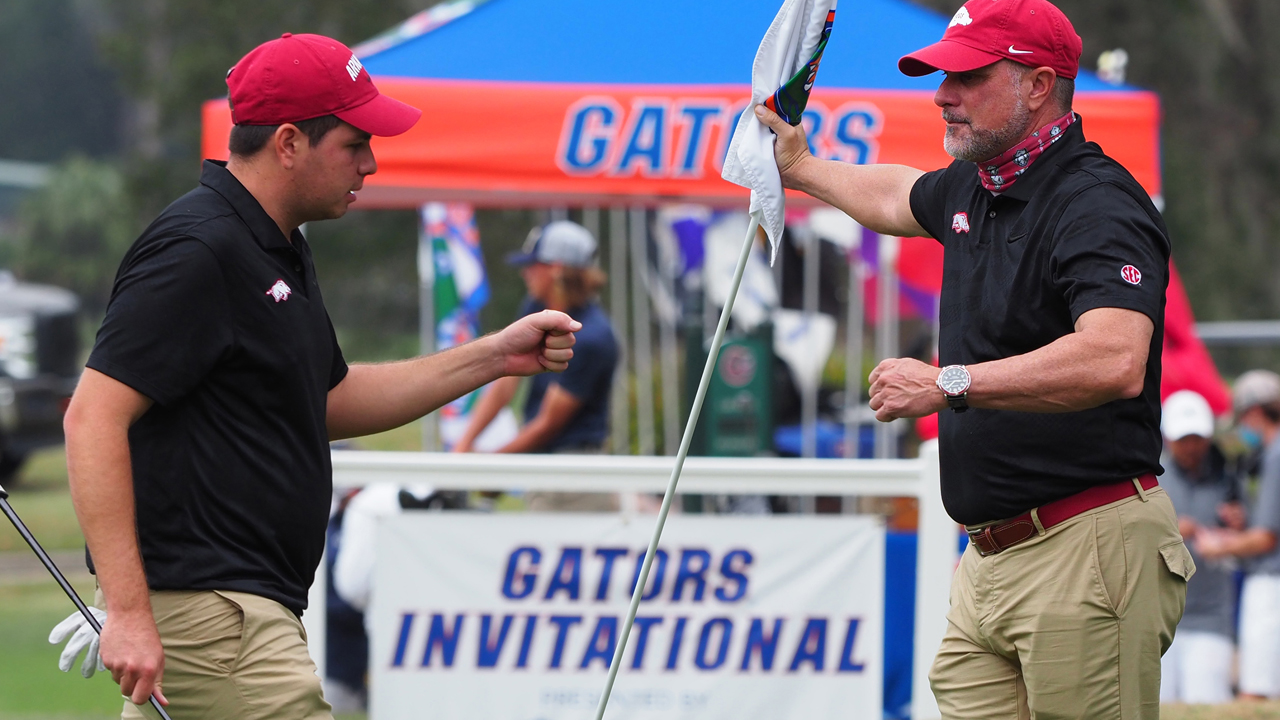 Razorbacks at Mid-Point of Season Opener
GAINESVILLE, Fla. – Due to the threat of inclement weather, day one of the Gators Invitational featured 30 holes. The plan for Saturday is to wrap up round two in the morning and then finish the final 18 holes Saturday afternoon.
The Razorbacks finished 30 holes at the par-70, Mark Bostic Golf Course Friday and stand in 13th place at 3-under-par. The team started hot and lead deep into round one at -11. However, the Hogs would ultimately finish round one at -6 and tied for fourth.
Julian Perico played his first 15 holes bogey free with six birdies to share the lead. He suffered double-bogey on the par-4 first hole but rallied to close his round with a birdie on the par-5 third hole. Perico posted a 5-under-par 65 and was tied for third after 18 holes. He was 4-over-par through his first five holes to start the second round before carding birdies on three of his next four holes and had two pard before play was halted. The junior is currently -4 and tied for eighth.
Segundo Oliva Pinto is 1-under par through 30 holes and tied for 42nd. He shot a 1-under-par 69 in the opening round – with a bogey, two birdies and 16 pars – and is even par through 13 holes in round two – with four bogeys and four birdies.
Tyson Reeder is tied for 54th at even par. He, like Oliva Pinto, finished with a 1-under-par 69 in the opening round – with three bogeys and four birdies – and is 1-over to this point in round two thanks to birdies on two of his last three holes.
William Buhl, making his return to competitive golf after a six-month layoff due to a back injury, is tied for 78th. He was -over in round one and one-over in round two through 12 holes. Mason Overstreet is tied for 97th. He was 2-over in round one and two-over so far in round two prior to play being suspended.
Manuel Lozada, playing as an individual, is tied for 116th at +9 through 30 holes.
For more information on Arkansas Men's Golf, follow @RazorbackMGolf on Twitter.