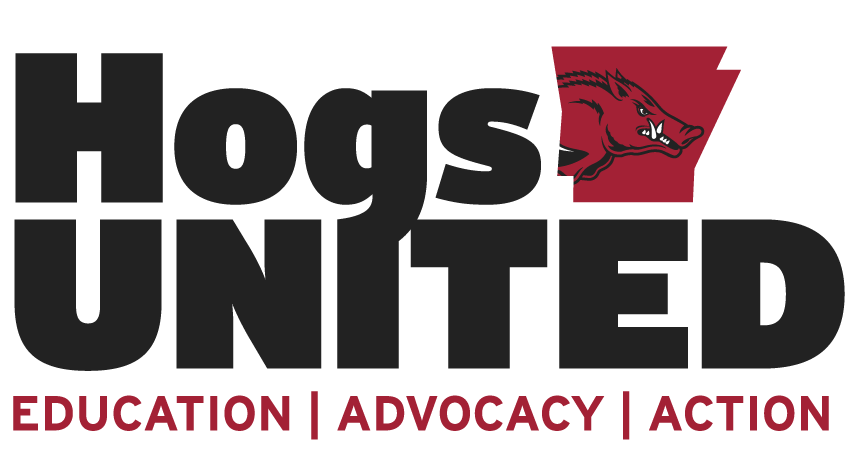 Razorbacks Athletics Launches Hogs UNITED
FAYETTEVILLE – The University of Arkansas Department of Athletics has restructured, expanded and rebranded its diversity and inclusion program into Hogs UNITED.
Calls for action regarding social injustice from around the country prompted the department to examine and enhance its existing Cultural Competency Working Group under the leadership of Dr. Christopher Bader. Bader joined the University in July 2019 as the Assistant Athletics Director for Mental Health and Performance.
One of the first priorities of Hogs UNITED was to create a collaborative effort between the student-athletes, coaches, and staff. This effort is aimed at promoting education, advocacy, and action in the areas of diversity and inclusive excellence.
"Hogs UNITED provides us an opportunity to join together to work to address vital issues within our program, on our campus and in society," Vice Chancellor and Director of Athletics Hunter Yurachek said. "While open dialogue and education are integral components to these efforts, we must also be intentional in identifying ways in which we can, both individually and collectively, be agents for positive change. I am grateful to our student-athletes, Dr. Bader and others on our staff for stepping forward to help lead at this important moment."
"The relaunch of Hogs UNITED gives me hope for change and a more inclusive environment within the athletic department and throughout our campus," Student-Athlete Advisory Committee (SAAC) representative Matthew Young said. "We must do better to advocate for our students and staff. I hope that HU can grow without distorting its purpose of advocacy for marginalized communities. As the liaison for SAAC, I get to make change and hear about change that is happening is real time. I'm working to develop a pledge that can be adopted by all those in the athletic department. By working together, we can facilitate change within our program and have an impact on the greater Razorback community."
"I'm honored to have been selected to lead such an amazing and inspiring group of student-athletes, staff, and coaches," Bader said. "To have so many administrators involved in the movement is encouraging and it demonstrates the importance of this initiative. Our three pillars are reflective of our directionality – we want to offer educational opportunities given our academic setting and given the importance of education on D&I topics; we want to serve as advocates at all times; and we are all about action! We feel those pillars will get us to a place of meaningful change in our department, on our campus, in our region, and across the country. We will continue to have great opportunities for collaboration come from this movement."
The mission of Hogs UNITED aligns with Chancellor Joseph Steinmetz's Guiding Principles – specifically, enriching campus diversity and inclusion, and building a collaborative and innovative campus. Hogs UNITED will communicate those messages throughout the Department of Athletics and beyond.
Currently, Hogs UNITED features four committees including:
Programming and Events
• Hosting events and/or workshops and providing resources relating to diversity and inclusion initiatives
Messaging
• Sharing information regarding awareness and events on our campus, in our community and around the country
Data Collection and Analysis
• Keeping up with and supporting relevant research on the topics of diversity and inclusion within Athletics
Facility Review
• Reviewing current and future facilities to provide inclusive messaging and access to under-represented groups
A fifth committee focused on Hiring and Retention of individuals from marginalized or underserved groups, is under development.
Each of the working groups will center their programing around three pillars which include Education, Advocacy and Action. Although Hogs UNITED is in its early stages, action has begun with the creation of a virtual meeting titled "Uncomfortable Conversations with a Razorback" and Hogs VERI-fied, a voter education and registration initiative.
Be sure to follow the group's activities online at http://bit.ly/HogsUNITED and on social media @HogsUNITED.