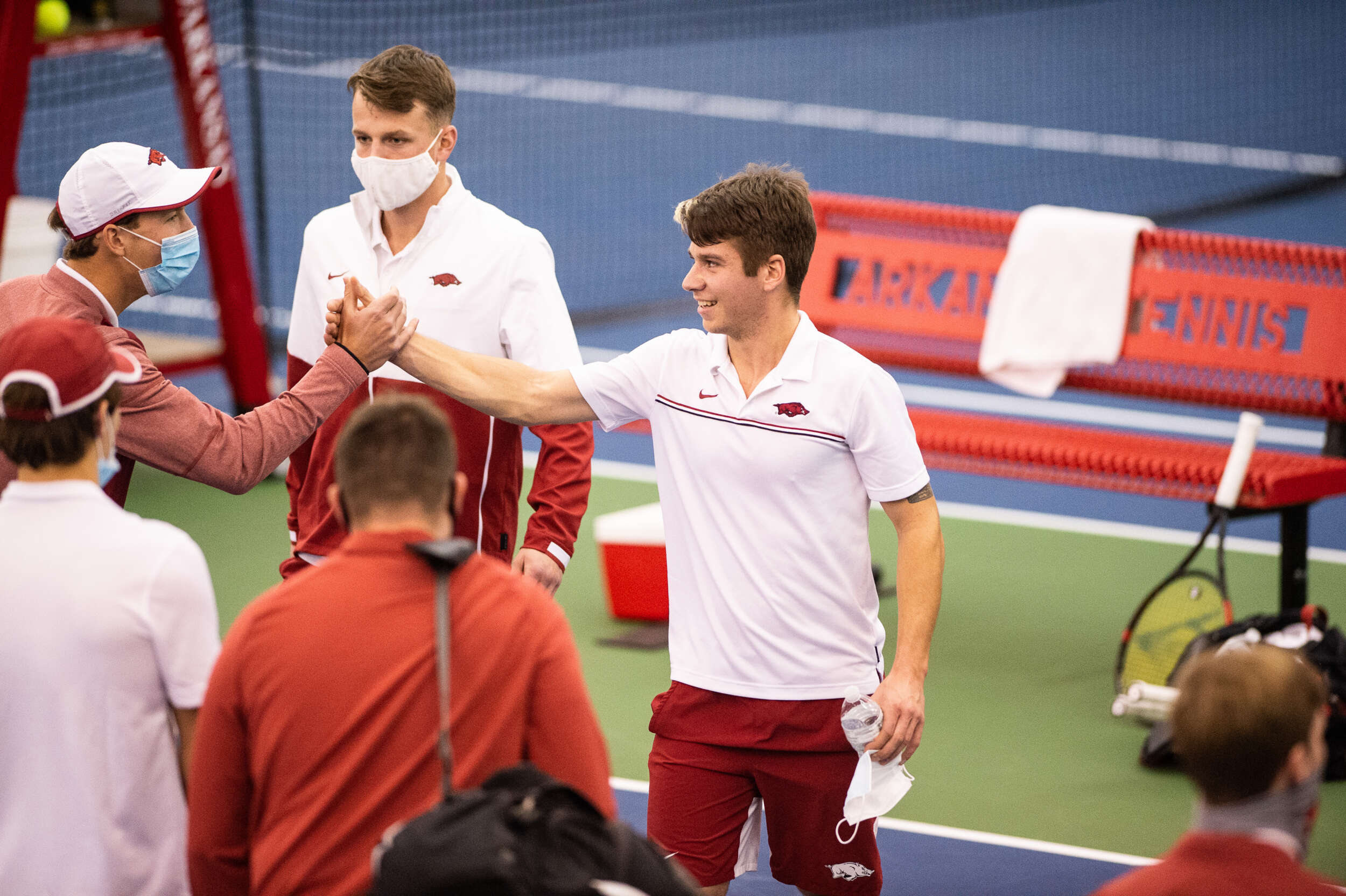 Razorbacks Back in Action on Day Two of ITA Regionals
LINCOLN, Neb. – The Hog tennis squad notched seven wins with six losses Friday at the ITA Central Regional Championships in Lincoln. All 11 Hogs invited to the championships were back in action Friday for day two of the four-day tournament. 
It was solely singles play Friday, and the Hogs were caught in the position of having four of their six players in the main draw matched up against each other. Aleksa Bucan faced Nico Rousset while Oscar Pinto Sansano took on Adrien Burdet. Bucan had a big day, taking down teammate Rousset and then Tulsa's Stefan Hampe to reach the quarterfinals. Burdet defeated fellow Hog Pinto Sansano but fell in the round of 16.
Singles Results:
Foster Rogers (ARK) def. Tom Thelwall Jones, 6-1, 6-4
Zach Grueber (WSU) def. Josh Bortnick, 6-4, 6-4
Hunter Harrison (ARK) def. Aaron Brewer (ORU), 6-1, 6-2
Riccardo Trione (ARK) def. Cameron Luhring (UNO), 6-0, 6-2
Riccardo Trione (ARK) def. Jaydn Richardson (WSU), 6-1, 6-1
Dario Huber (UNL) def. No. 13 Melvin Manuel (ARK), 6-4, 6-3
Will Gleason (UNL) def. Avery Zavala (ARK), 6-2, 6-1
Aleksa Bucan (ARK) def. No. 11 Nico Rousset (ARK), 6-3, 3-6, 6-3
Adrien Burdet (ARK) def. No. 3 Oscar Pinto Sansano (ARK), 6-4, 4-6, 7-6(2)
Aleksa Bucan (ARK) def. Stefan Hampe (TU), 6-1, 7-6(5)
No. 9 Welsh Hotard (OU) def. Adrien Burdet (ARK), 7-5, 6-2
Day three of play begins Saturday morning with both singles and doubles back in action. Bucan is set to face 15th-seeded Nicolas Acevedo in the quarterfinals at 3 p.m. All four Razorback doubles teams will play their first match at 8 a.m.
For updates follow @RazorbackMTEN on Twitter.