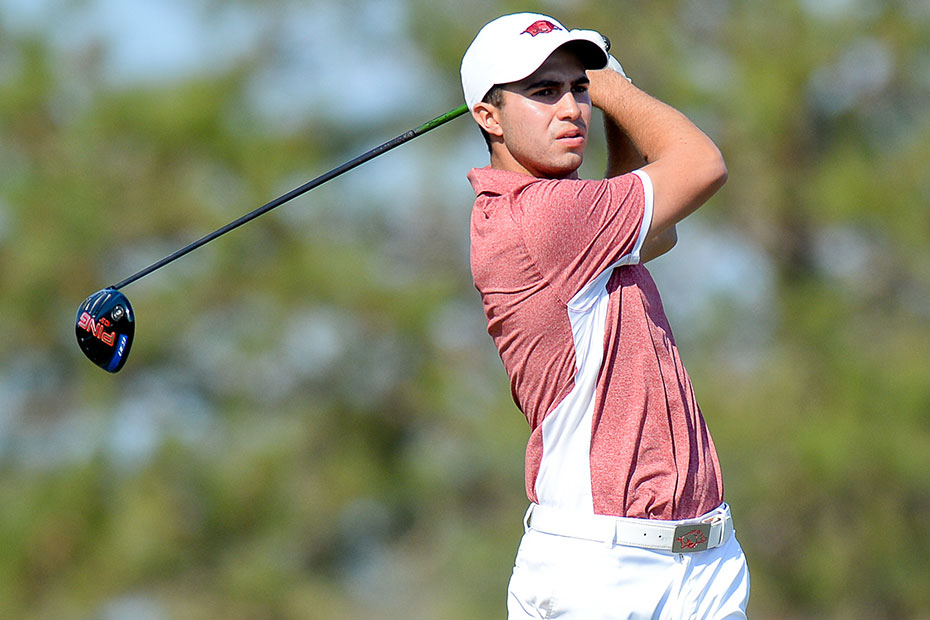 Razorbacks Back in Action Sunday in Mexico
Live Scoring  |  McMakin/Moore Preview
FAYETTEVILLE, Ark. – The Arkansas men's golf team will look to keep its momentum going on Sunday when it opens play in the Querencia Cabo Collegiate at the Tom Fazio designed Los Cabos Querencia in Los Cabos, Mexico.
The three-day event, running Feb. 28 – March 1, features a loaded field of 15 teams with 12 of them ranked in the nation's top 35 according to the latest GolfStat rankings, including six in the top 15.
The 54-hole tournament will have a shotgun start Sunday morning with No. 28 Arkansas teeing off on holes 6-10 at 9 a.m. and playing alongside Houston, Stanford and Georgia. Live scoring will be available on Golfstat.com by clicking here.
Coming off an epic 22-shot comeback last week to capture the All-American Intercollegiate title, Arkansas is looking for its fifth consecutive top five finish as it plays in the Querencia Cabo Collegiate for the third straight year. The Razorback starting lineup has combined to play 21 rounds at Los Cabos Querencia over the last two seasons.
Taylor Moore will take the lead for the Razorbacks Sunday morning, as the senior is coming off his first collegiate victory last weekend. He was nothing short of dominant over the final two days at the Golf Club of Houston, firing rounds of 66 and 68 to go 10-under and turn a six shot deficit into a three stroke victory.
After bogeying three of the first seven holes on the opening day, Moore locked in and never looked back. He was bogey free over the next 43 holes that spanned three days, including 10 birdies and one double-eagle on a par five, holing out for an albatross. Moore enters Sunday with a team-best 71.8 stroke average through 18 rounds this year.
Nicholas Echavarria is coming off his first top-10 finish of the year, posting consecutive rounds under par for the first time this season to finish tied for 10th at the All-American Intercollegiate. He has a team-best eight rounds under par this year is tied for second on the team with 50 birdies through 18 rounds.
Third in the lineup is Kolton Crawford, who is four-under over his last two rounds, including a three-under 69 on the final day last weekend for his third top 20 finish of the year. He has played six rounds at Los Cabos Querencia with five of them counting, including a personal best three-under 69 in 2014.
Alvaro Ortiz makes his second straight start at No. 4 in the lineup after an even-par showing last weekend, good for 14th place overall. He has posted a counting score in seven of the last nine rounds with two of those in red numbers.
Charles Kim rounds out the lineup as he make his third collegiate start. A week removed from SEC Freshman of the Week honors, Kim has had a counting score in each of his first two appearances as a Razorback, including a one-under 71 to cap off his tournament last weekend in Houston.
@RazorbackMGolf Lineup (Stroke Average)
Taylor Moore, Sr. (71.8)
Nicholas Echavarria, Sr. (72.0)
Kolton Crawford, R-Sr. (72.6)
Alvaro Ortiz, So. (72.7)
Charles Kim, Fr. (73.0)
Querencia Cabo Collegiate Participants (GolfStat Rankings)
Arkansas (28)
Baylor (34)
California (14)
Florida State (3)
Georgia (11)
Houston (31)
LSU (18)
Ole Miss (79)
Oregon State (65)
Rice (153)
South Florida (30)
Stanford (7)
Vanderbilt (15)
Wake Forest (2)
Washington (29)
For more information on Arkansas men's basketball, follow @RazorbackMGolf on Twitter.