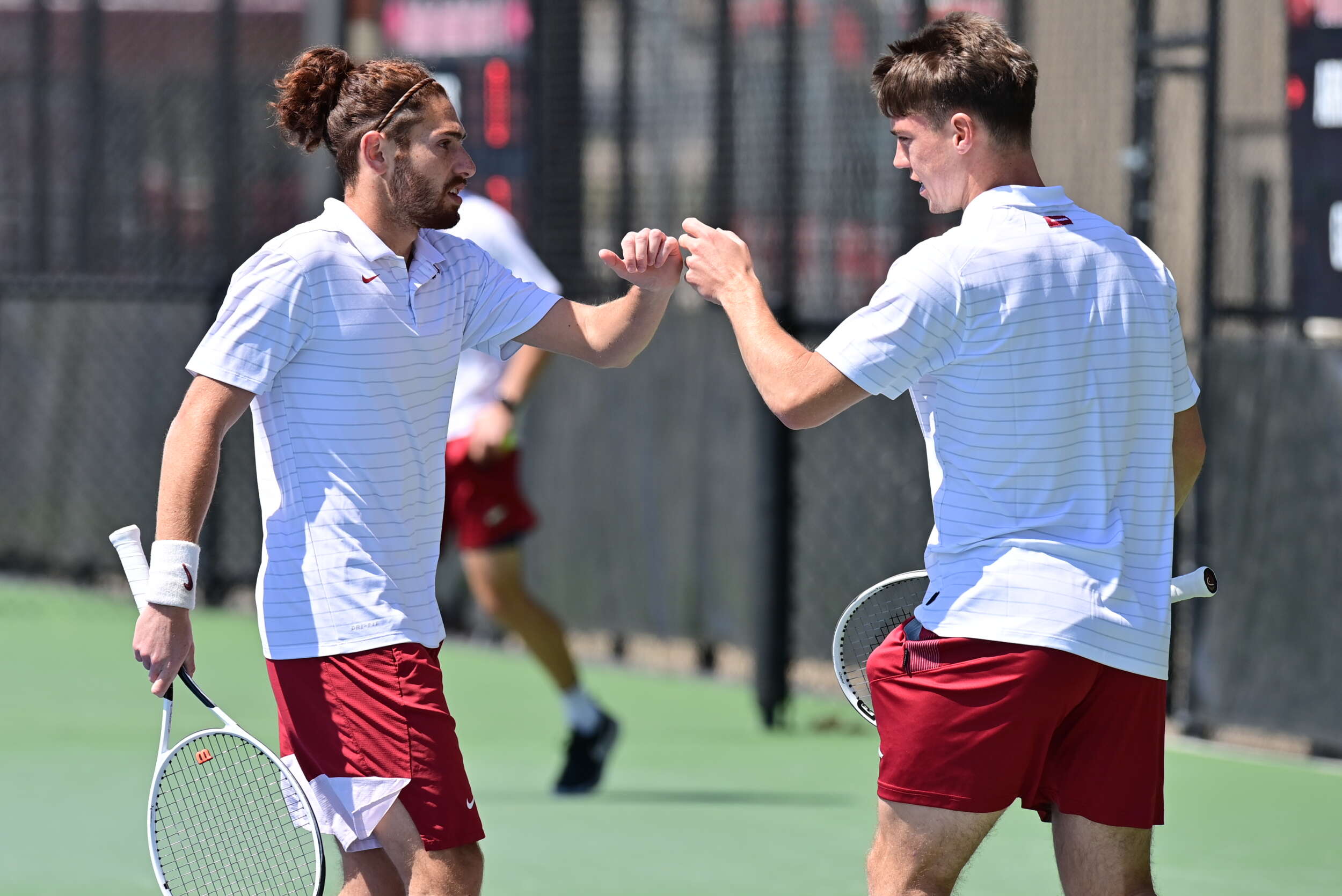 Razorbacks Bested by No. 6 Gamecocks in Fifth-Straight Ranked Matchup
FAYETTEVILLE, Ark. – In the midst of a brutal six-match stretch, Arkansas Men's Tennis (10-10, 1-6) ran into a difficult, sixth-ranked South Carolina team (16-5, 5-2) on Sunday afternoon, and the Gamecocks managed to win a few tight matches late to win, 7-0. It was the Hogs' fifth-straight matchup against a top 25 team, with a date against No. 4 Tennessee coming up on Friday.
"South Carolina was better and won all the close matches today," Arkansas Head Coach Andy Jackson said. "We want to be better about getting into the match in all seven points. We're looking forward to playing at a top 5 Tennessee program, and we are going to continue to try to get better."
The Gamecocks tallied the first point of the match in doubles, winning on courts one and two. A new Razorback doubles pairing of Adrien Burdet and Avery Zavala left its match unfinished on court three. The Hogs were up 5-4 on court three when the point was clinched.
Singles action provided plenty of close matches Sunday, as the Hogs and Gamecocks traded blows early on. Arkansas seniors Nico Rousset and No. 107 Alex Reco each won their first set on the top two courts, and No. 67 Aleksa Bucan also took the first set for the Hogs in his match on court five. 
Rousset rebounded from a 0-6 second set to push No. 57 Toby Samuel in the third to 5-5, but lost his serve late and fell in the third set, 5-7.
Reco gave the third best player in the country, Daniel Rodrigues, all he could handle, but fell in three sets, 6-4, 3-6, 4-6. Bucan fought until the end but fell on court five, 6-2, 3-6, 4-6. 
Razorback sophomore Avery Zavala delivered some impressive tennis in his first singles action since Feb. 27, falling in a first set tiebreaker before coming back to win a second set tiebreaker. The Allen, Texas, native fell in the third set in a super tiebreaker. 
Arkansas will travel to Knoxville, Tennessee, to take on the No. 4 Volunteers on Friday. First serve is set for 5 p.m. CT.