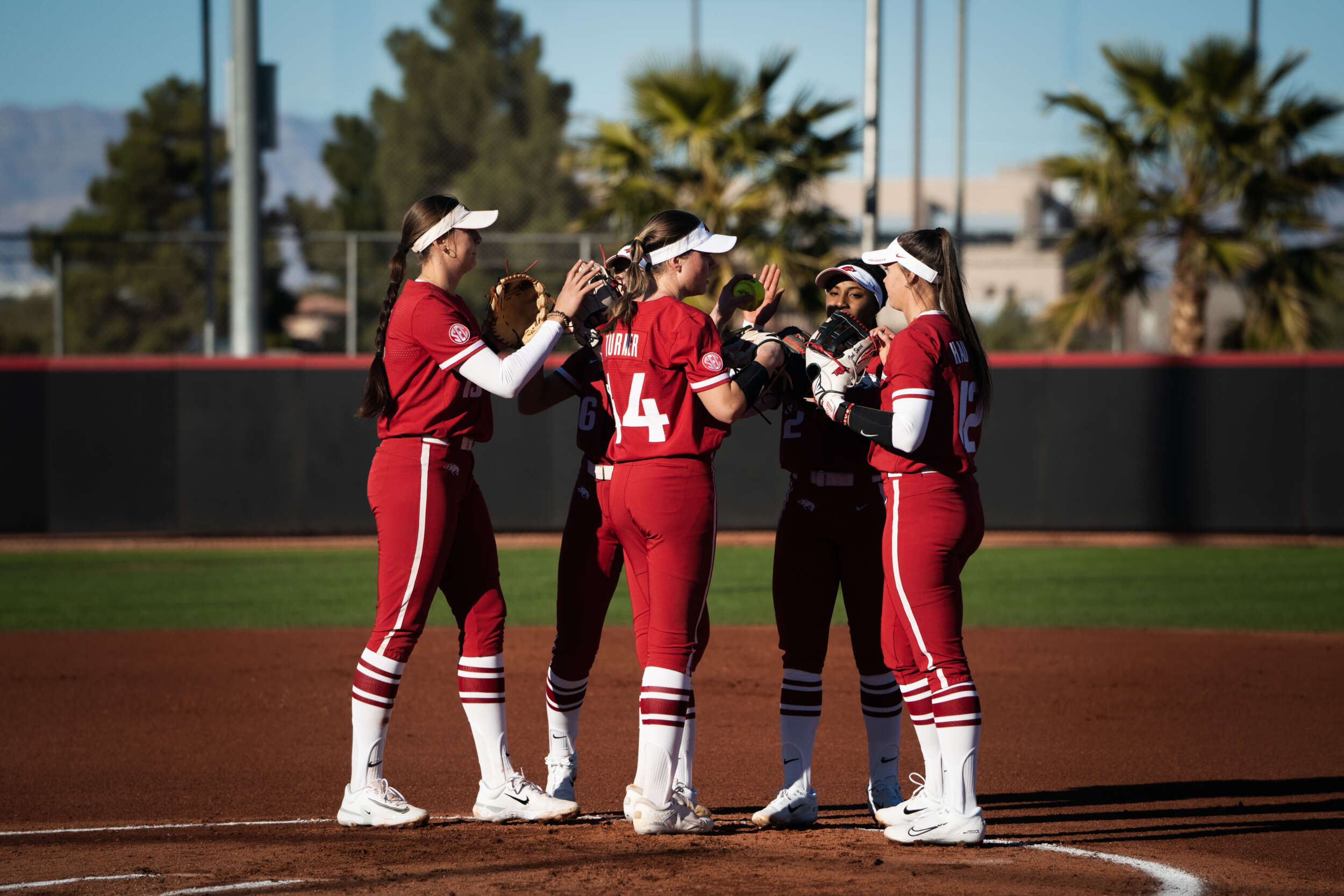 Razorbacks Blank Weber State in Season Opener
LAS VEGAS – Junior LHP Callie Turner and freshman LHP Robyn Herron dominated in a two-hit shutout to power the No. 6 Arkansas Razorbacks to an 8-0 (5 inn.) win over Weber State in the opening game of the Rebel Kickoff Friday evening. Arkansas' offense was sensational through five innings, combining for eight runs on nine hits.
Junior southpaw Callie Turner (1-0) got the start and picked up the first win of 2023. In four innings, Turner surrendered just two hits while fanning three. The Land O'Lakes, Fla., native did not allow an extra base hit throughout the ballgame. Freshman Robyn Herron made her Razorback debut in the fifth inning. In a 1-2-3 frame, the rookie forced two groundouts and punched out one to seal the five-inning victory.
Eight Hogs recorded a hit led by junior Cylie Halvorson's 2-for-3 day. Sophomore third baseman Spencer Prigge led Arkansas with three RBIs after her bases-clearing double to the right center fence in the first inning. Graduate Kristina Foreman blasted a solo shot for the Hogs' first home run of the season. Reagan Johnson, Hannah Gammill, Rylin Hedgecock and Raigan Kramer recorded a hit apiece.
How It Happened
Arkansas blew the game open in the first. In her first career at bat, freshman Reagan Johnson dropped a base hit into right field. Reaching on a fielder's choice, Foreman stole second to put the Razorbacks in scoring position early. Halvorson moved Foreman to third on a single to left and Gammill followed suit, driving in Arkansas' first run on a slow-moving chopper up the middle that allowed Foreman to beat out the throw to home. A Hedgecock walk loaded the bases for Prigge, who then scored a bases-clearing double to the right center wall and put the Hogs up 4-0. Kramer tacked on Arkansas' fifth run of the game on an RBI single to shallow left center.
Kristina Foreman's solo home run in the second pushed the lead to 6-0.
The Hogs added another run in the third on Reagan Johnson's sacrifice fly to left to score Prigge, who reached on a walk, from third.
Kacie Hoffmann kissed a two-out double to the right field wall to inch Arkansas closer to the eight-run mark. Rylin Hedgecock's RBI single to center scored Cally Kildow (pinch running for Hoffmann) to end the game in five.
Notes
Callie Turner and Robyn Herron combined for a two-hit shutout
Arkansas outhit Weber St. at a 9-2 clip
Junior Cylie Halvorson went 2-for-3 to pace Arkansas offensively
Graduate Kristina Foreman hit the Hogs' first home run of the 2023 season
Courtney Deifel picked up her 239th career win at Arkansas and is only six wins away from becoming the program's all-time winningest head coach
Freshman Reagan Johnson singled in her first career at bat
Eight different Razorbacks amassed a hit
Freshman LHP Robyn Herron made her Arkansas debut
Reagan Johnson, Kristina Foreman, Cylie Halvorson and Atalyia Rijo made their first career starts as Razorbacks
True freshmen Reagan Johnson and Atalyia Rijo cracked Coach Deifel's opening day lineup, getting the nods at center field and shortstop
Arkansas' is now 3-0 all-time against Weber State. The Hogs last beat Weber State 5-2 in 2018. Head coach Courtney Deifel is 2-0 vs. the Wildcats.
Up Next
Arkansas will take on UNLV in Friday's nightcap scheduled for 9:45 p.m. The game will be available to stream on UNLV's YouTube page. A link to live stats can be found on Arkansas' schedule page.