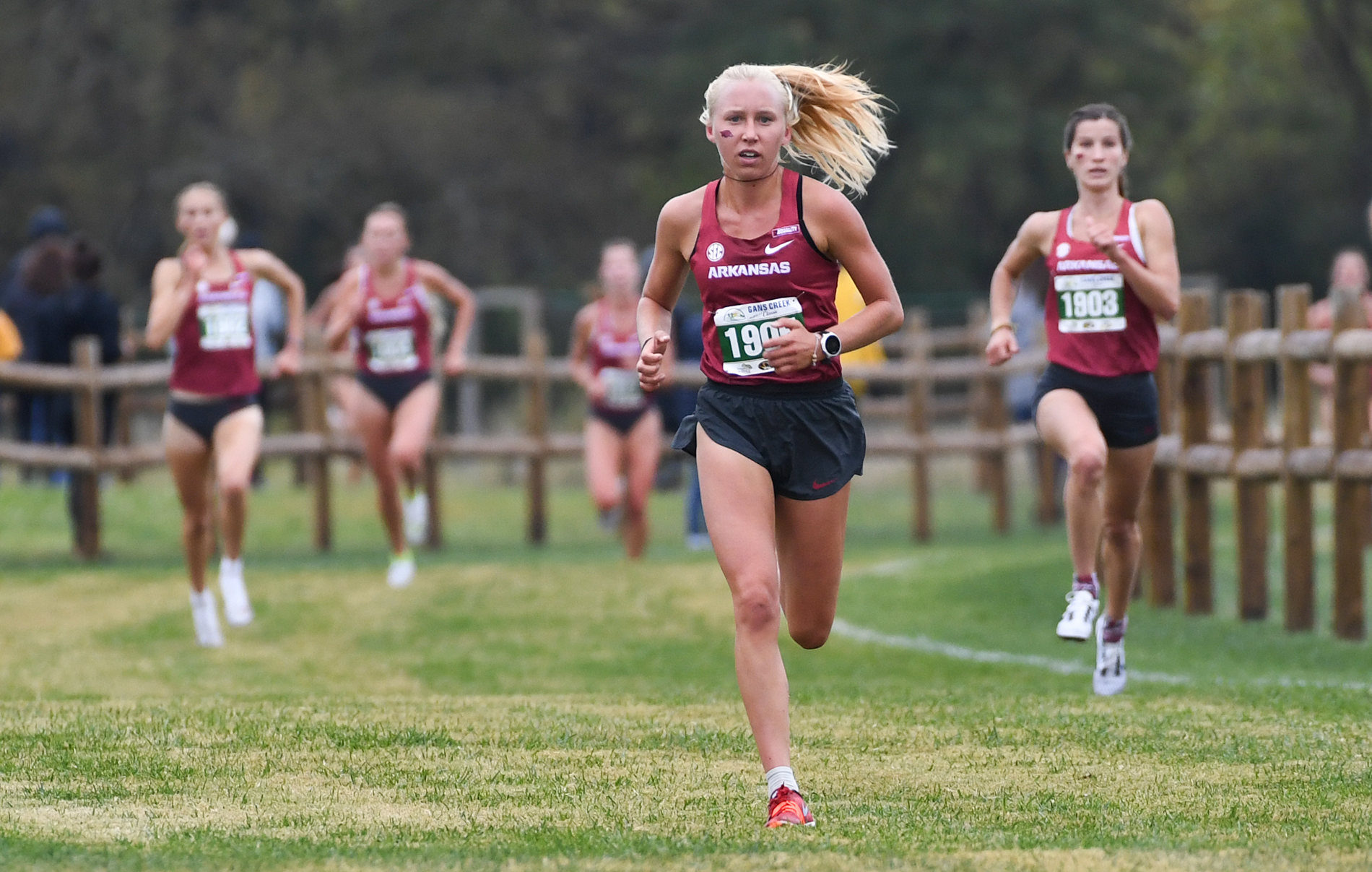 Razorbacks claim another team victory paced by Lauren Gregory
COLUMBIA, Mo. – Lauren Gregory led the Razorbacks to a team title in the Gans Creek Classic, placing second overall in a time of 20 minutes, 6.2 seconds over 6,000 meters, as Arkansas scored 20 points for the victory.
The Razorbacks occupied places second through ninth, the crew of eight separated by 35.5 seconds. Arkansas' first five finishers were separated by 18.9 seconds.
"It was great to have a total team effort and have everybody on the line for the first time," said Arkansas women's head coach Lance Harter. "This turned out to be an absolutely beautiful course that I think deserves to be a national championship site. We'll be here next year for the SEC Championships, so this was an opportunity for us to preview what it's all about.
"Lauren Gregory is starting to show her experience and, obviously, her talent. She led the way but was followed closely behind by a mass of Razorbacks. We're super excited and in two weeks we will have another opportunity when we go to Texas A&M and see some new faces."
Missouri senior Sarah Chapman won the women's race in 20:01.1, closing with a 3:12.7 over the final 1,000m. The host Tigers were runner-up in the team chase with 61 points while Texas A&M (72) finished third and Vanderbilt (93) placed fourth.
Following Gregory among the scoring Razorbacks were Krissy Gear (20:07.1), Taylor Ewert (20:15.1), Abby Gray (20:20.5) and Corie Smith (20:25.1). Gear and Gray set personal best times at the distance while Ewert and Smith produced impressive times in their first race at 6k.
"It was a fun course," stated Gregory. "It reminded me of past courses in Wisconsin or Terre Haute a little bit. We had a plan to just run with a group of Hogs and it worked out. We had a large squad racing today, it's always fun to run with this many girls.
"We're all just getting back used to racing. That first race was just a bit of a shock to everyone's system. Now it's like kind of refining it and we have something to base it off of, so we're just working together and getting better."
Isabel Van Camp (20:32.8), Kennedy Thomson (20:40.5) and Logan Morris (20:41.7) rounded out the pack. Van Camp and Thomson registered big personal bests, improving upon previous times of 21:50.2 and 22:27.7, respectively.
"We had a great effort today," noted Harter. "Again, our depth rings through and had exceptional depth across the board, in our front group and then in our second group they had a great race day.
"We had big PRs across the board and that's what we're super excited about. These kids are really coming on."
At the first 1k split, Gray led the field in 3:13.1 with Ewert at 3:13.6 and Chapman a few strides back in 3:14.8. Gray maintained her edge at 2k in 6:37.6 and was followed by Gear (6:37.7), Ewert (6:37.8) and Chapman (6:37.8).
Halfway through the race Gray and Ewert shared the lead at 9:59.8 ahead of Chapman (10:00.1), Gear (10:00.4), Smith (10:00.5) and Gregory (10:00.6). At 4k, Gray and Ewert were still leading at 13:28.0 with Chapman (13:28.2) a step back.
Chapman took over the lead at 5k in 16:48.4 as Gregory moved into second place at 16:48.7 and they were followed by Gear (16:49.7), and Ewert (16:50.9). Gregory covered the final 1k in 3:17.6 while Gear went 3:17.4.
Arkansas had three more runners grouped together for places 11-12-13 led by Meghan Underwood (20:50.2, PR) and included Julia Paternain (20:53.6) and Quinn Owen (20:54.9, PR).
Also racing for the Razorbacks among a field of 45 were Gracie Hyde (19, 21:36.0, PR); Alex Ritchey (23, 21:41.7); Lainey Quandt (28, 22:00.7); Josie Carson (30, 22:05.2); McKenzie Wilks (32, 22:16.4); Tori Willis (33, 22:18.9).