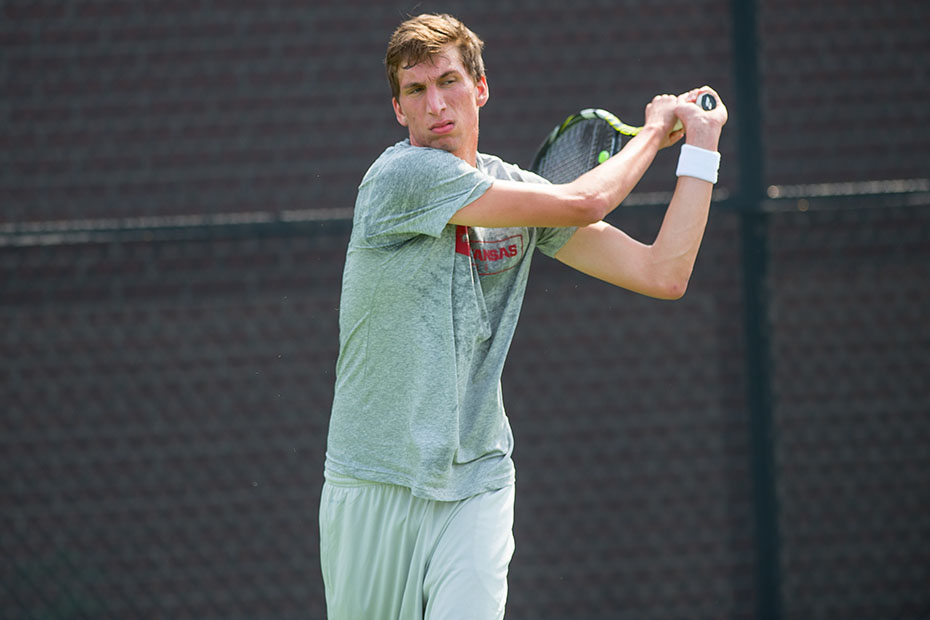 Razorbacks Close Out Competition at USTA/ITA
FAYETTEVILLE, Ark.-The University of Arkansas men's tennis team picks up a win in the quarterfinals on the fourth day of competition at the USTA/ITA Central Regional Championships on Sunday.
After defeating UMKC on Saturday, Jacob Herndon and Austin Robles competed in the doubles quarterfinals Sunday morning. Robles and Herndon ended up falling to the No. 1 seed, Arjun Kadhe and Julian Cash of Oklahoma State, 8-3.
In the quarterfinals of the main doubles draw, No. 4 seed Marco Micolani and Mike Redlicki defeated the No. 5 seed Benn Lott and Vinny Gillespie of Drake University, 8-4. Micolani and Redlicki advanced from the quarterfinals to the semifinals in the doubles main draw. Micolani and Redlicki went neck-and neck-in the semifinals against No.1 seed Kadhe and Cash of Oklahoma State University. The Razorbacks pushed the No.1 seed to a tie-breaker in the first set, but ultimately lost 7-6(8), 6-3 in the semifinals.
No. 10 seed Redlicki competed in the main singles draw in the semifinals against the No. 3 seed Alex Ghilea from OU. Redlicki came up short and lost 6-3, 6-4. Redlicki ended the weekend with four singles wins.
This concluded play for the Razorbacks at the USTA/ITA Central Regional Championships. Arkansas will travel to Auburn, Ala. from Oct. 23-26 at the SEC Fall Coaches Championship.
Sunday's Results:
Singles Semifinals:
• 3 Alex Ghilea (OU) def. 10 Mike Redlicki 6-3, 6-4
Doubles Quarterfinals:
• 4 Mike Redlicki/Marco Micolani def. 5 Ben Lott/Vinny Gillespie (DU) 8-4
• 1 Arjun Kadhe/Julian Cash (OSU) def. Austin Robles/Jacob Herndon (ARK) 8-3
Doubles Semifinals:
• 1 Arjun Kadhe/Julian Cash (OSU) def. 4 Mike Redlicki/Marco Micolani (ARK) 7-6 (8), 6-3
For more information on Arkansas men's tennis, follow @RazorbackMTEN on Twitter.