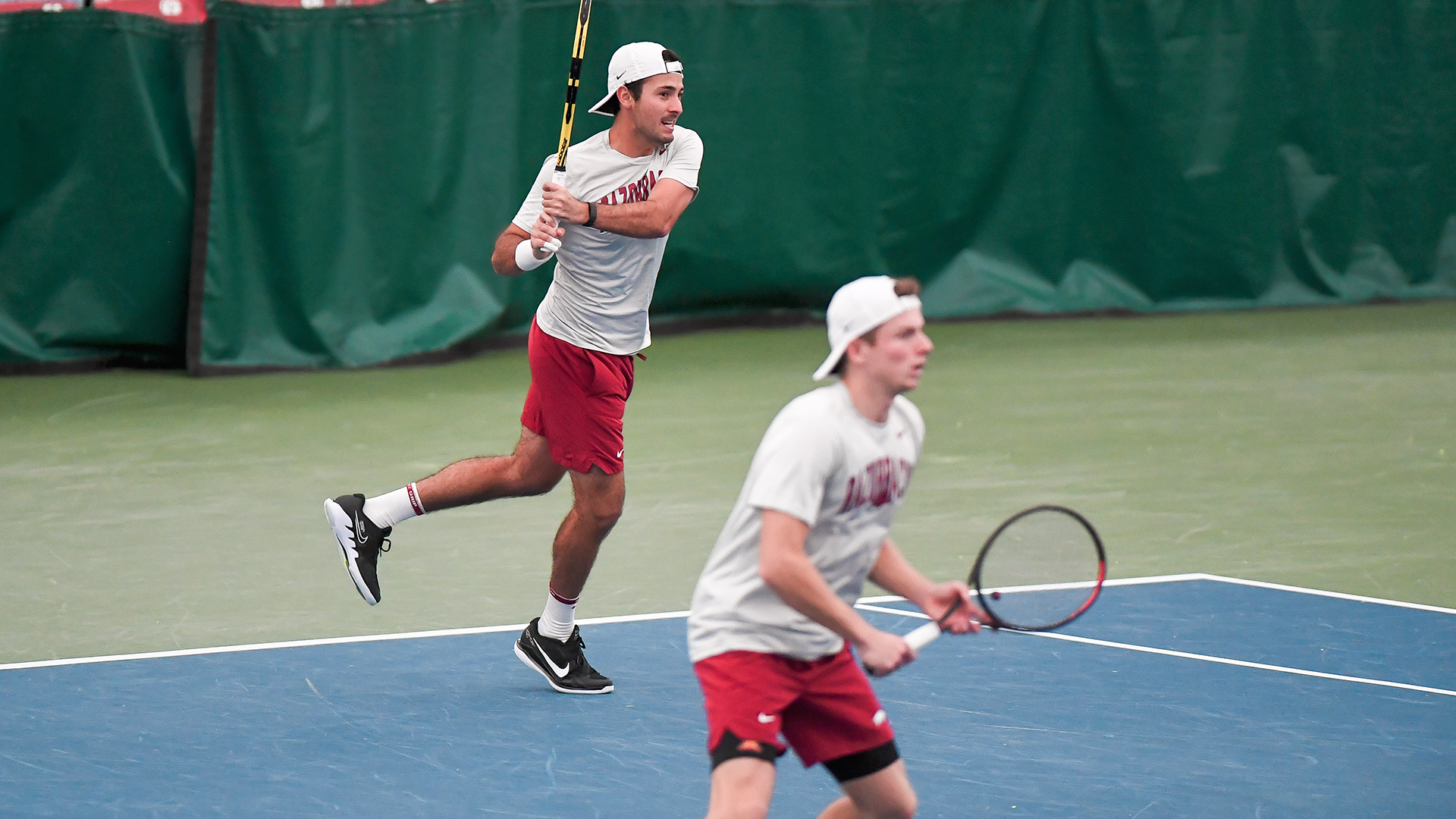 Razorbacks Defeat Cal Poly at ITA Kickoff, 4-1
ANN ARBOR, Mich. – The Arkansas men's tennis team end the ITA Kickoff Weekend with a 4-1 win over Cal Poly on Sunday. The Razorbacks improve to 6-1 overall as they return home and prepare for a pair of weekend matches.
The Razorbacks jumped out to an early lead, claiming a 1-0 advantage with the doubles point. On court two, the duo of No. 60 Adrien Burdet and Alan Sau Franco took a 6-3 win over Cal Poly's Berry/Smith, but the Mustangs fired back with a win on court one. The doubles point came down to court three with Razorbacks' Jakob Mosvold and Gerard Planelles Ripoll outlasting their opponents 6-3 for the win and the point.
In singles play, every court was in a battle with Arkansas looking to get three wins for the match victory. Junior Alan Sau Franco struck first, defeating Cal Poly's Bastiaan Westrate 6-4, 6-1 to give the Hogs their first singles point. On court two, Melvin Manuel took a first set tiebreaker 7-6 (4) winning his match 6-2. The Mustangs put their first point on the board with a 6-2, 7-6 (4) win on court one, but Foster Rogers clinched the match for the Razorbacks defeating his opponent 7-6, 6-4.
The Razorbacks are back home at Billingsley Tennis Center this week, hosting East Tennessee State on Friday, Feb. 3 and Illinois State for a doubleheader on Sunday, Feb. 5.
For the latest information on all things Arkansas Men's Tennis, follow the Hogs on social media by liking us on Facebook (Arkansas Razorback Men's Tennis) and following us on Twitter and Instagram (@RazorbackMTEN).