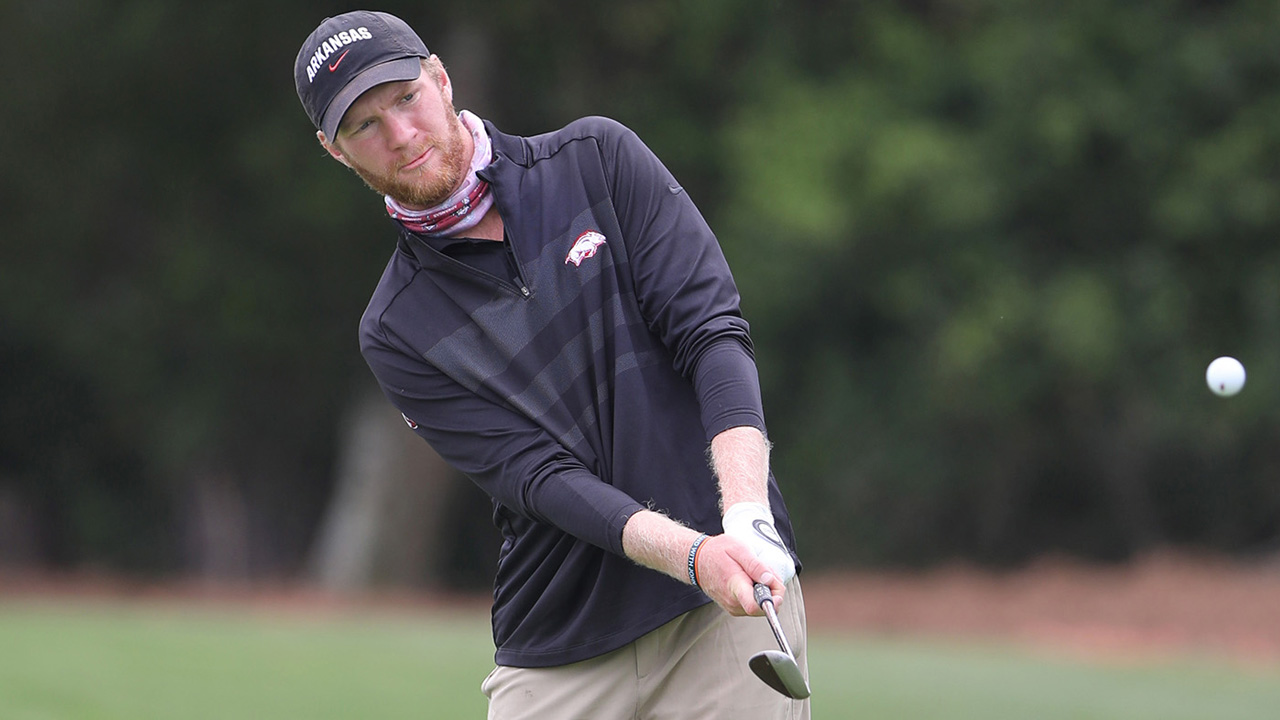 Razorbacks Defeat LSU in SEC MGolf Quarters; Semis Pushed to Sunday
ST. SIMONS ISLAND, Ga. – With the match tied 2-2, Arkansas freshman Manuel Lozada won holes 16 and 17 for a 3 & 1 victory and clinched a 3-2 decision over #23 (4 seed) LSU in the SEC Match Play Quarterfinals, played Saturday morning at Sea Island Golf Club – Seaside Course.
Inclement weather forced the semifinals, set for Saturday afternoon, to be suspended until Sunday morning. Arkansas, ranked 22nd and seeded fifth, will face #11 (eighth seed) Texas A&M in the SEC Semifinal. The Razorbacks and Aggies will tee off at 9 am (CT) and start on hole #10. The other semifinal will feature Alabama and Vanderbilt.
William Buhl got the Razorbacks on the board with a 2 & 1 victory over Michael Sanders in the opening match. Starting on hole 10, Buhl won the second hole and either led or was tied the rest of the match. Sanders won the 12th hole to square the match and the two tied the 13th hole. Buhl won the 14th hole with a bogey. He then had a par on the 16th hole to take a 2-Up lead. The pair tied on the 17th hole to secure the 2 & 1 win for Buhl.
LSU won the next two matches to take a 2-1 lead, but Arkansas was in control with the final two matches on the course.
SEC Champion Segundo Oliva Pinto took an early lead and was in command throughout for a 4 & 2 win over Nicholas Arcement. After tying the first hole, Arcement won the second. Oliva Pinto birdied the second hole to square the match and birdied the fourth to take a lead he would not relinquish. Oliva Pinto was 4-UP at the turn and again with 13 holes to play. Arcement won the 14th hole and the two tied the 15th for a 3-UP Oliva Pinto lead. Oliva Pinto birdied the 17th hole, while Arcement had a bogey, to take the 4 & 2 win and level the match 2-2.
Lozada was the final match on the course and was 2-UP over Drew Doyle through 15 holes when the first four matches ended. Doyle trimmed his deficit to one with a par on the 15th hole. However, Lozada won the 16th hole with a par and he rolled in a six-foot birdie putt the 17th to clinch the win for the Razorbacks.
For more information on Arkansas Men's Golf, follow @RazorbackMGolf on Twitter.