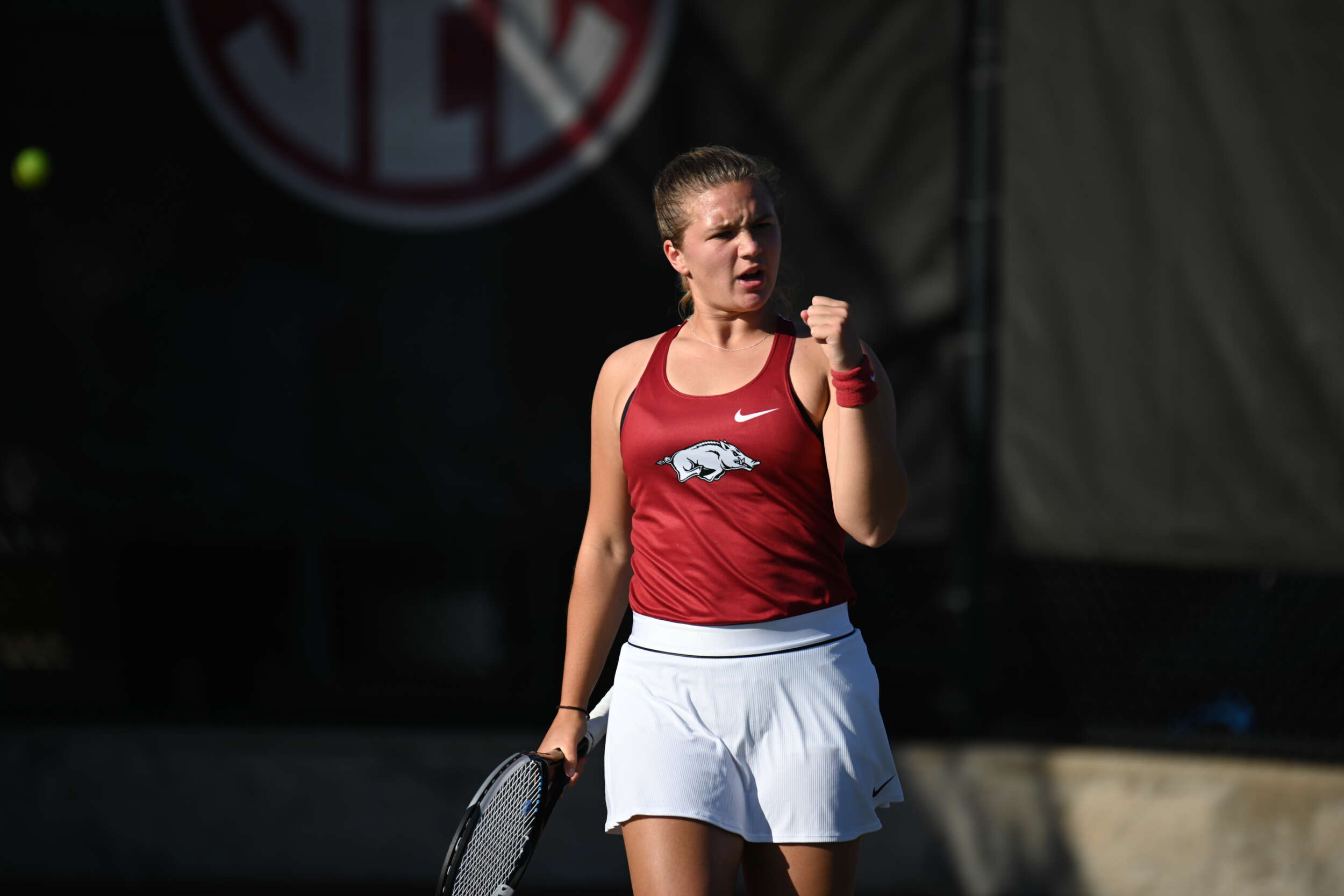 Razorbacks Defeat Mizzou in Theatrical 4-3 Win
TUSCALOOSA, Ala. – Freshman Morgan Cross completed an epic comeback against Missouri's Valentina Vazquez Pongruber on day one of the SEC Tournament on Monday evening, securing a 3-6, 6-2, 7-5 win to clinch the team victory and lift No. 30 Arkansas over Mizzou 4-3.  
The Hogs won the doubles point with big wins on courts two and three. The Tigers took the first doubles match on court one, but senior Jackie Carr and sophomore Kelly Keller quickly responded with a 6-4 win on court three. Freshman Indianna Spink and partner senior Lauren Alter defeated Gabrielle Goldin and Serena Nash 7-5 and the Razorbacks took a 1-0 advantage into singles play.
Mizzou tied the match at one point apiece as No. 35 Indianna Spink suffered a tough 6-2, 6-2 loss to No. 66 Bronte Murgett in the number one position. The Tigers took a 2-1 lead after junior Laura Rijkers dropped her match to Marta Oliveira on court five 6-3, 6-2.
Arkansas fought back and tied the score once again as Rice took down Serena Nash 6-4, 6-3 as the Hogs' number three. After falling 6-4 in her first set, Keller was neck and neck with Ellie Wright in the second set and managed to force a tiebreak, but ultimately fell 6-4, 7-6 (5).
The Razorbacks cheered on Alter and Cross on courts six and four as the two went head-to-head with their Tiger opponents in tiebreaker sets with the match hanging in the balance. Alter inched the Hogs closer to victory with a 6-3, 5-7, 6-2 decision over Elys Ventura before Cross clinched the match to send the Razorbacks to the second round.
With the win, Arkansas advances to face the sixth seed and No. 21 Auburn on Tuesday, April 20 at 6 p.m.
Fans are encouraged to visit ArkansasRazorbacks.com for the latest information on all things Arkansas Women's Tennis. You can also find the Hogs on social media by liking us on Facebook (Arkansas Razorback Women's Tennis) and following us on Twitter and Instagram (@RazorbackWTEN).