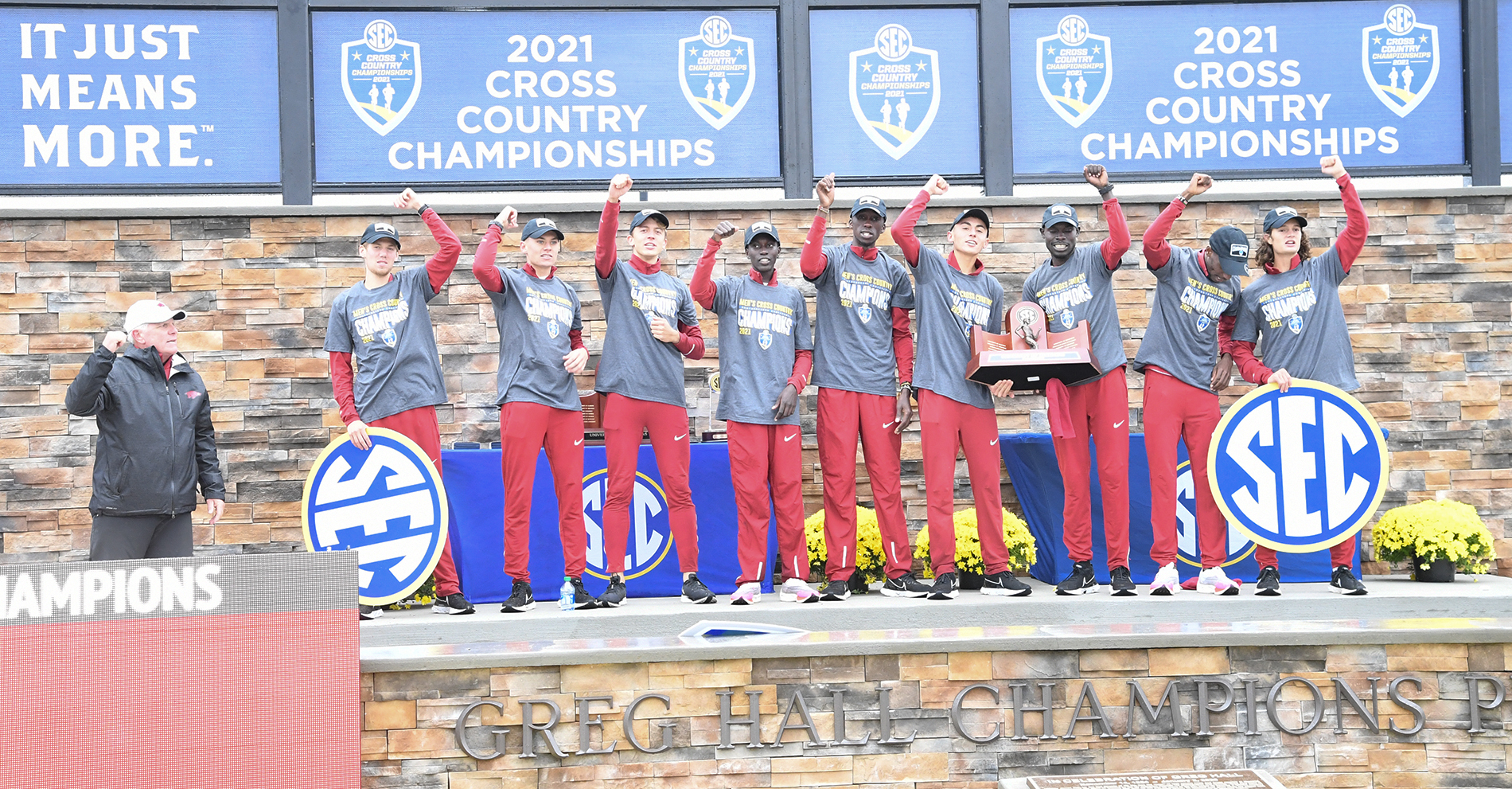 Razorbacks defend SEC cross country title, claim 27th overall
COLUMBIA, Missouri – Amon Kemboi finished as the silver medalist in the SEC Cross Country Championships, leading the No. 6 Razorback men to a successful title defense as Arkansas claimed its 27th SEC title on the Gans Creek course.
"It's a big meet for us, and a big day for us to win the SEC Championship," said Razorback men's head coach Chris Bucknam. "I was really proud our athletes and how hard they competed. From the start of the race we went out and got after it, trying to put the meet away early and got that job done."
The Razorbacks totaled 40 points in defeating No. 28 Ole Miss, who was runner-up with 59 points, and Missouri, who scored 105 points. The rest of the top six teams included No. 22 Alabama (132), Tennessee (169), and Kentucky (183).
"This is amazing, and the second time a bit easier," stated Kemboi of Arkansas' title defense from last year. "We worked through the conditions and it's nice to come out and see the guys perform.
"It's just not about me, but all the guys who worked together through the tough conditions and came out with a win. Different guys were running in the lead pack as we worked together towards the end of the race."
Kemboi posted a time of 23:37.0 on the saturated 8,000m course, finishing behind individual winner Eliud Kipsang of Alabama, who covered the course in 23:33.5. Mario Garcia Romo of Ole Miss finished third in 23:38.2.
"There were three to five studs up front in this race from other schools and including ours," noted Bucknam. "It was a tough competition on a raw, windy and wet day. It wasn't perfect conditions for a team like us.
"Amon did a great job, he challenged for the win and I think there is more in the tank. We realize this is taken care of, now we can move on to nationals and try to make some noise there."
Jacob McLeod was the second Razorback finisher, placing fifth in 23:43.8. Then Arkansas had three finish together in places 10-11-12 with Myles Richter, Andrew Kibet, and Emmanuel Cheboson completing the team score.
Richter covered the course in 23:56.0 with Kibet and Cheboson each crossing the finish line in 23:58.4.
The Razorbacks 40 points came from a 2-5-10-11-12 effort as they had the leading team score at each 1k split during the race. Ole Miss had a finish order of 3-7-8-20-21 to tally 59 as runner-up, matching their score as runner-up from last season.
Another pair of Razorbacks placed 17th and 18th with Gilbert Boit (24:04.9) and Ryan Murphy (24:06.4). Josh Shearer (24:43.7) finished 35th while newcomer Elias Schreml did not finish.
For the 19th time since Arkansas joined the league in 1991, the Razorbacks swept the men's and women's team titles.
SEC Cross Country Championships | Gans Creek course
Teams: 1. No. 6 Arkansas 40, 2. No. 28 Ole Miss 59, 3. Missouri 105, 4. No. 22 Alabama 132, 5. Tennessee 169, 6. Kentucky 183, 7. Florida 215, 8. Georgia 223, 9. Texas A&M 229, 10. Auburn 250, 11. Vanderbilt 253, 12. LSU 261.