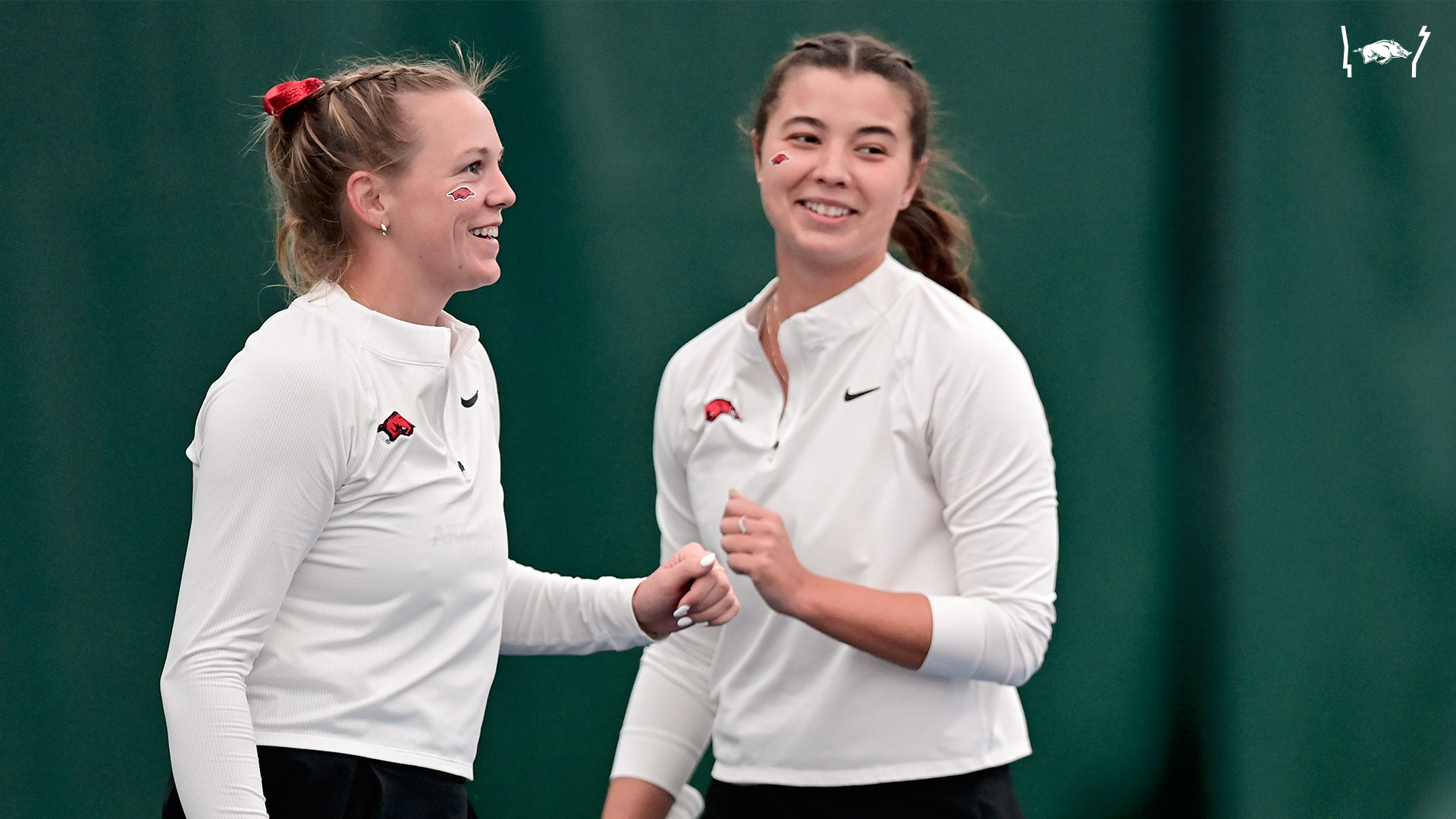 Razorbacks Dominate in 7-0 Sweep of Mississippi State
FAYETTEVILLE, Ark.  – The Arkansas women's tennis team completed the sweep of Mississippi this weekend, defeating the Mississippi State Bulldogs 7-0 on Sunday afternoon. The Razorbacks earned their second win in league play and improve to 8-7 overall this spring.
The Hogs continue their impressive performance in doubles play, having won the doubles point in nine of their matches this dual season. On court two, No. 78 Lenka Stara and Grace O'Donnell took a 6-2 victory over Cohen/Bemisderfer to put the Razorbacks within one. No. 23 Morgan Cross and Indianna Spink clinched the doubles point with their ninth-straight win, 7-5, over MSU's Antonaki/Niroshan.
Arkansas kept in rolling into singles play, taking the first set on all six courts. Freshman No. 68 Carolina Gomez Alonso took care of business quickly, blanking her opponent 6-0 in the first set and taking the second 6-2 for the win on court two. Lenka Stara followed with her fourth-straight win 6-4, 6-2 on court four to put the Razorbacks one away from the match victory. On court one, senior Kelly Keller mailed in the win with a 6-4, 6-4 win over Bulldog Antonaki to secure the victory for Arkansas.
The Razorbacks continue conference play at home, hosting No. 23 Vanderbilt on Friday, March 24 and No. 68 Kentucky on Sunday, March 26 at the Billingsley Tennis Center.
For the latest information on all things Arkansas Women's Tennis, follow the Hogs on social media by liking us on Facebook (Arkansas Razorback Women's Tennis) and following us on Twitter and Instagram (@RazorbackWTEN).