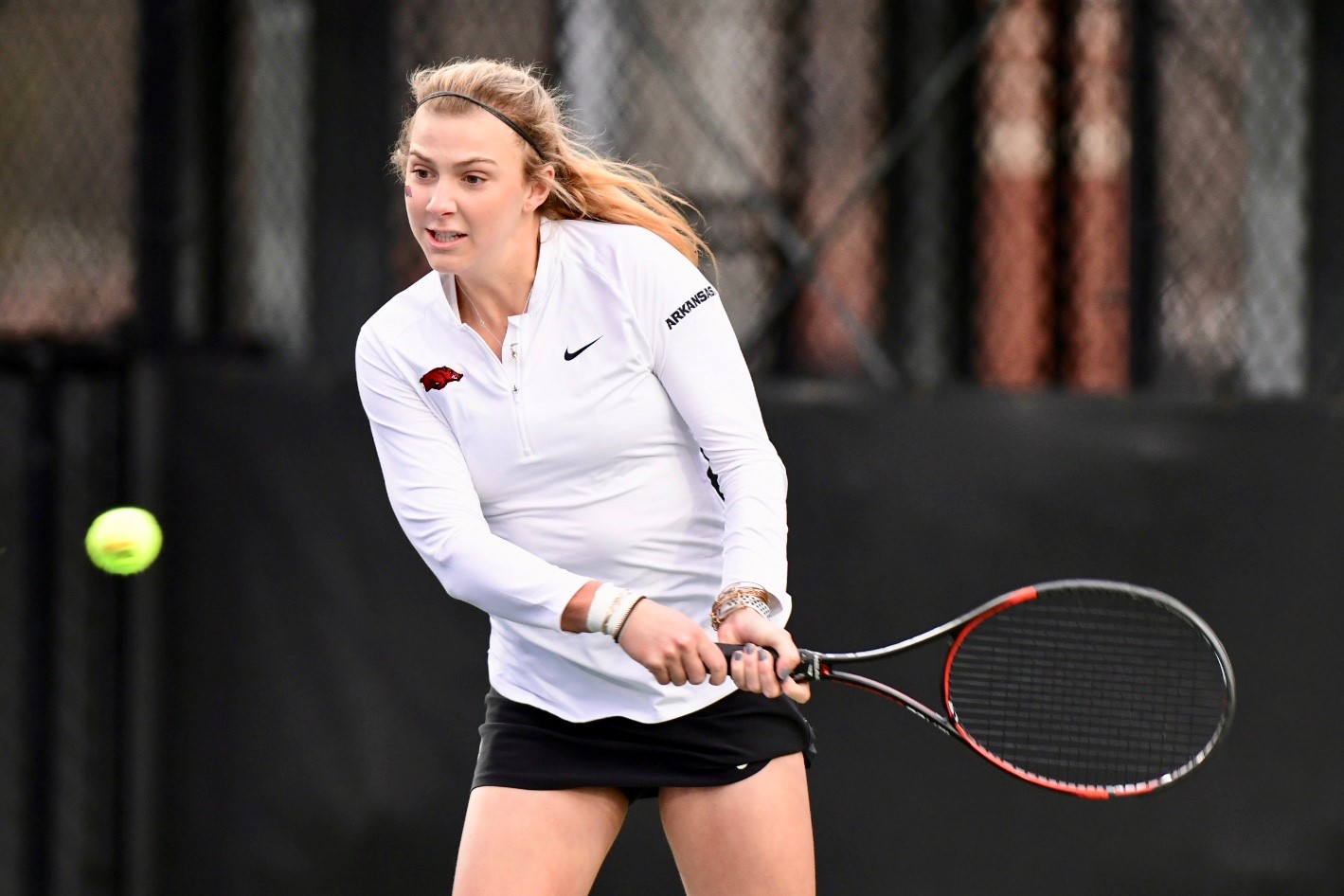 Razorbacks Drop Heartbreaker to Florida, 4-3
FAYETTEVILLE, Ark. – The No. 44 Arkansas women's tennis team was edged out by No. 45 Florida, 4-3, in a three hour and 47 minute battle on Friday night at the George Billingsley Tennis Center.
The Razorbacks dropped the doubles point on a pair of 6-3 decisions on courts one & three. Lauren Alter and Tatum Rice fell to Victoria Emma and McCartney Kessler on court one, while Miruna Tudor and Jackie Carr followed with a loss to Anastasia Kharitonov and Marlee Zein on the third court.
Martina Zerulo and Thea Rice held a 5-4 advantage before the Gators clinched the doubles victory.
Tatum Rice pulled the Razorbacks even with the first singles finish of the night on court two. The Hot Springs native won in straight sets 6-2, 6-2 to put the first point of the night on the board for Arkansas. Zerulo quickly followed with a 6-2, 6-3 victory on court one to give the Razorbacks a 2-1 lead.
The Gators tied the match at two behind a court three finish for Victoria Emma. Laura Rijkers dropped the contest 5-7, 0-6 to pull the score even. However, it wouldn't stay tied long as Lauren Alter claimed court five after a 7-5 tiebreak-win in set one and a 6-3 victory in the second frame to push the Razorbacks ahead, 3-2.
Florida sent the match into its third tie of the night after claiming court six in a three-set affair. Miruna Tudor picked up a 6-4 set one win, but dropped the next two 1-6, 5-7 to pull the score to three-all.
On court four, Jackie Carr and Marlee Zein battled in a three-set showdown to determine the winner of the over three-and-a-half hour match. Zein took the first set in a 7-6 tiebreak, then Carr cruised to a set two victory at 6-2. The third frame saw tied scores at two, three, four, five and six, sending the set into a tiebreak, where Zein would claim a 7-4 score to push Florida to a 4-3 win.
For more information on Arkansas women's tennis, follow @RazorbackWTEN on Twitter.
No. 45 Florida 4, No. 44 Arkansas 3
Doubles Results – Order of Finish (1,3,2)
Victoria Emma/McCartner Kessler (UF) def. Lauren Alter/Tatum Rice (ARK) 6-3
Martina Zerulo/Thea Rice (ARK) vs. Tsveta Dimitrova/Ida Jarlskog (UF) 5-4, unfinished
Anastasia Kharitonov/Marlee Zein (UF) def. Miruna Tudor/Jackie Carr (ARK) 6-3
Singles Results – Order of Finish (2,1,3,5,6,4)
Martina Zerulo (ARK) def. No. 12 Ida Jarlskog (UF) 6-2, 6-3
98 Tatum Rice (ARK) def. No. 43 McCartney Kessler (UF) 6-2, 6-2
52 Victoria Emma (UF) def. Laura Rijkers (ARK) 7-5, 6-0
Marlee Zein (UF) def. Jackie Carr (ARK) 7-6, 2-6, 7-6
Lauren Alter (ARK) def. Anastasia Kharitonov (UF) 7-5, 6-3
Tsveta Dimitrova (UF) def. Miruna Tudor (ARK) 4-6, 6-1, 7-5