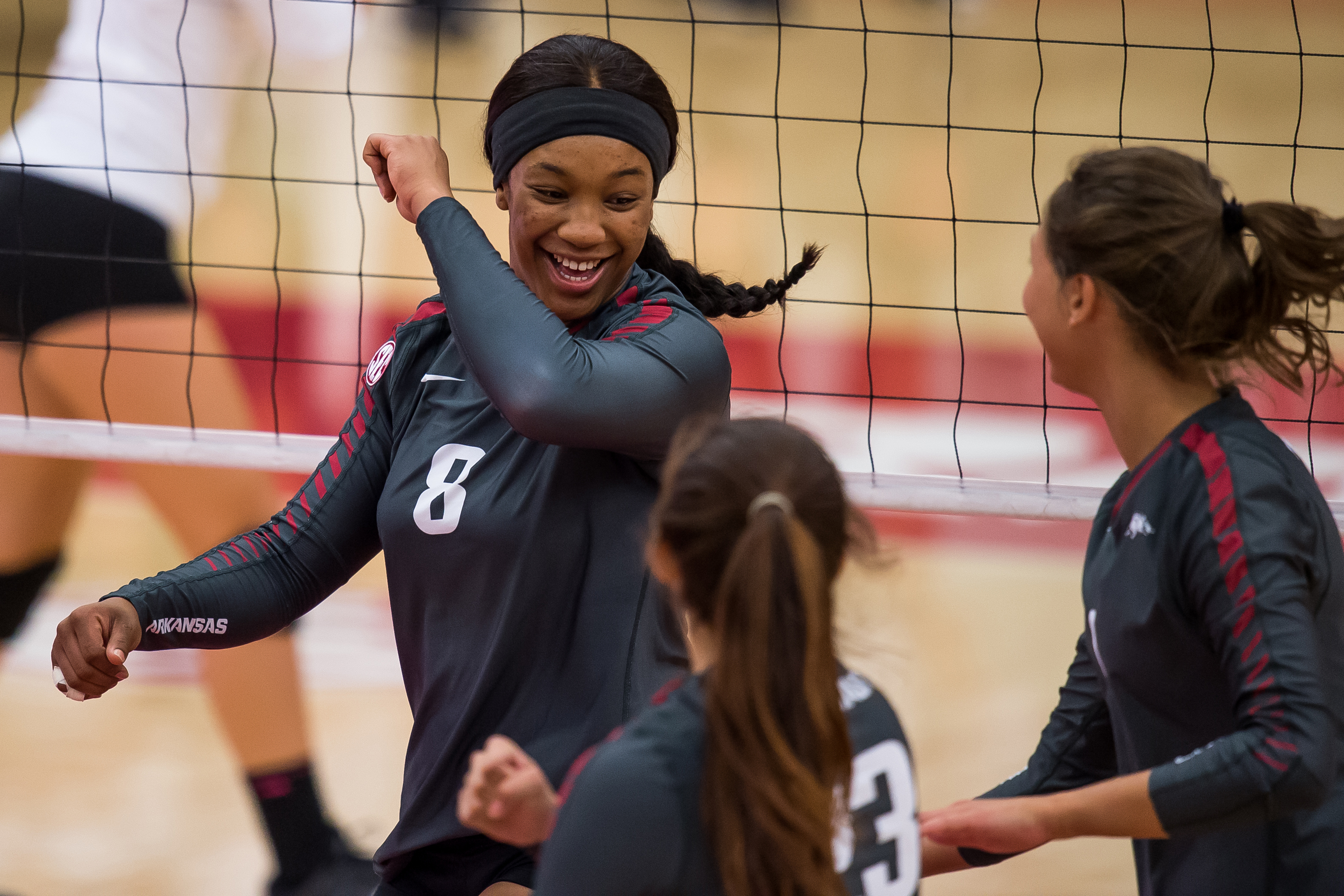 Razorbacks Earn AVCA Team Academic Award
FAYETTEVILLE, Ark. – For a second-consecutive season, the University of Arkansas volleyball team has been recognized for its collective performances in the classroom with Monday's release of the AVCA Team Academic Awards for the 2017-18 academic year. This honor marks the third for the program in the last four years.
The Razorbacks open their 2018 season Aug. 24 against Kansas at Barnhill Arena, marking the start of the third year under head coach Jason Watson.
2018 Arkansas Volleyball Schedule
On its way to AVCA academic honors, Arkansas had 12 student-athletes earn all-conference academic accolades over the past year. Fernanda Güitron, Krista Kolbinskie, Kori Ortiz, Rachel Rippee, Reagan Robinson and Pilar Victoria were named to the 2017 SEC Fall Academic Honor Roll while Logan Brown, Hailey Dirrigl, Paige Johnson, Elizabeth Pamphile, Maia Stripp and Klaire Trainor earned spots on the 2017-18 SEC First-Year Academic Honor Roll.
The AVCA Team Academic Award, which was initiated in 1992-93, honors collegiate and high school volleyball teams that displayed excellence in the classroom during the year by maintaining at least a 3.30 cumulative team grade-point average on a 4.0 scale. Arkansas tallied a 3.34 team GPA during the fall semester and capped the academic year with a 3.42 mark in the spring.
2017-18 AVCA Team Academic Award recipients
Beginning at $40, season tickets are now on sale through the Razorback Ticket Center by calling 800-982-4647 or ordering online by clicking HERE. The team's 10-3 record at Barnhill Arena last season was Arkansas' highest home-win total since 2012.
The Razorbacks return 11 players from last year's team that posted a 19-11 record which was a 10-win increase over the previous season. Dirrigl and Pamphile are the team's top returning offensive performers after averaging 2.77 and 2.02 kills per set, respectively, during their freshman year. Rippee was second in the SEC last season at 11.23 assists per set while Okiana Valle surpassed 1,000 career digs.
For more information about Arkansas volleyball, follow @RazorbackVB on Facebook, Instagram and Twitter.