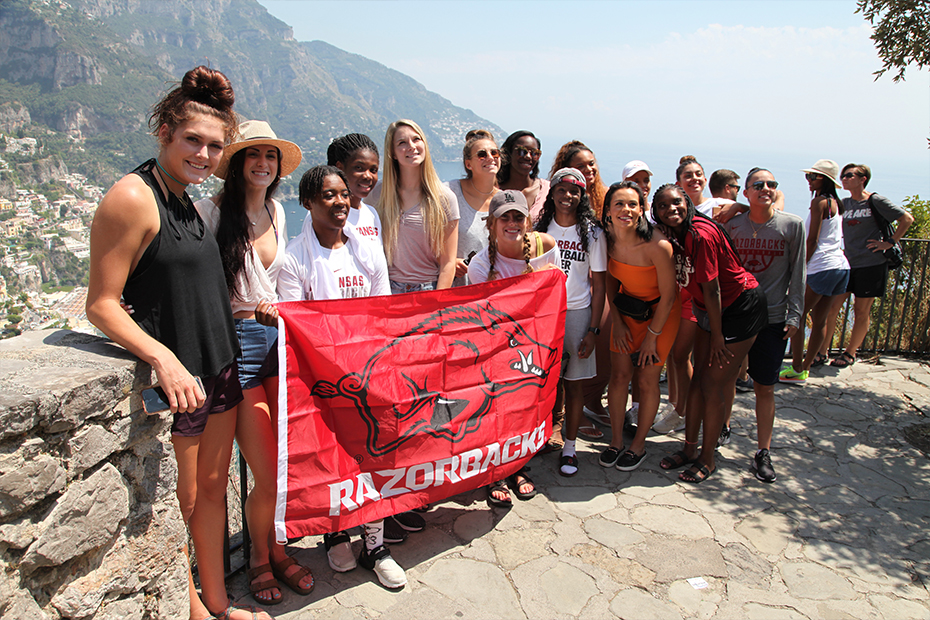 Razorbacks Explore Amalfi Coast
Photo Gallery
NAPLES, Italy — Tuesday was a mixture of windy roads, postcard-worthy land and seascapes and a quick dip into the Mediterranean Sea for the University of Arkansas women's basketball team.
The day began with a light breakfast at the hotel with players enjoying American favorites such as eggs and cereal along with local fare that included pastries, meats, cheeses and croissants.
The team and fans who made the trip loaded into two buses for a short drive from Naples to the Amalfi Coast. The windy roads were often less that one car-width (or bus-width) wide with drivers taking turns navigating the hairpin turns.
The first stop was Sorrento where the team enjoyed a quick walking tour with some free-time that included lunch stops for most of the group. The area is well-known for its citrus, specifically lemons and oranges and the lemoncello gelato was a must-try.
Also recommended by our guides was the Margarita pizza, named for the Queen of Italy, Margherita di Savoia in 1889. The thin crust is topped with a simple tomato sauce, cheese and basil. The color combination of red, white and green also represents the flag of Italy.
The trail meanders up the coastline with small towns sprouting up out of the cliffs in a landscape that resembles stairs. Some of the municipalities, or cities, include Cetara, Maiori, Tramonti, Scala, Amalfi, Praiano and Positano.
The tour stopped in Amalfi allowing the players a chance to dip their toes in the water and to tour the local coastline.
The full day of adventure returned the team back to Naples in time for dinner before a quite night. Arkansas departs Naples tomorrow morning and travels to Rome. The team will visit Pompeii before playing its first game against Deep 3 Select as the tour continues.